You've read our Kpop Music Video Breakdowns featuring the likes of SM fan favourites EXO with their recent hit Wolf, the teenagers who started off the idol craze H.O.T., and even YG's Baddest Female CL. While they take a momentary break I'd like to introduce you to their slightly irregular sibling.
A lot of you have one. He or she maybe dresses funny, reads an unusual selection of books, hangs obscure posters on their wall, and most certainly likes an eclectic set of music. In fact, maybe you are that irregular sibling, I could argue in my situation I am not it, but then how would I qualify to write this section of UnitedKpop?
Kpop may be the most known form of music from the country but just like every other country creating music, that isn't where it ends. So, here is where I, the twenty-something English girl, with the iTunes full of Korean music from almost every genre possible, is going to expand our breakdown collection.
Each week I will bring you a music video from Korea where I will explore: the music; the video concept; the styling; even the choreography if appropriate; as much as possible, to bring you all you'd possibly want to know about someone you may not have heard of during your time in the kpop world.
What I ask of you? Watch the mv, you might be surprised. Comment, let me know what you thought, even if you hated it. Curious about Korean Country music? Tell me and I'll search for a country singer!
So here we are. Week one. To ease us in we're going to start with a company that are becoming more known amongst Kpop fans and with one of their artists that has collaborated with a sub-unit of an idol group that will be heading to our shores later this year.
BrandNew Music
BrandNew Music are a company with a long history. Owned by rapper Rhymer they started in 2003, but the newsworthy parts of their story probably lies after their merger with Cho PD's Stardom. The two companies parted ways in 2011 and with him Rhymer took some of the biggest names in hip hop and a trainee group that were soon to hit the big time. One of the company's more popular acts is that very trainee group, the hybrid hip hop unit PHANTOM. The group have just celebrated their first anniversary since debut. Also with the company is one of the most respected rappers in the business, Verbal Jint. We're going to begin our breakdowns with one of the company's newer signings however.
BUMKEY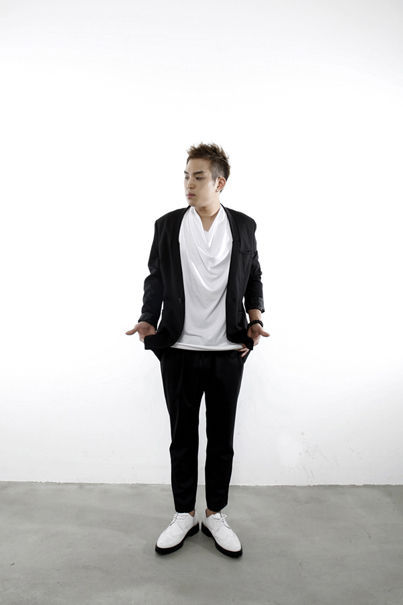 Though fairly new to BrandNew, he's not new to the industry, Bumkey has been making music for around a decade. You'll find him under the hip hop, rap and even pop tags in iTunes, but he's described as having an R&B and soul flare, and Bumkey's influences are immensely wide pulling styles from his loves in all kinds of music, which you'll be able to hear in his music.
With his current company he's made a highly successful solo debut, and is a trainee with a four-piece hip hop unit named TROY who are 'coming soon' according to BNM.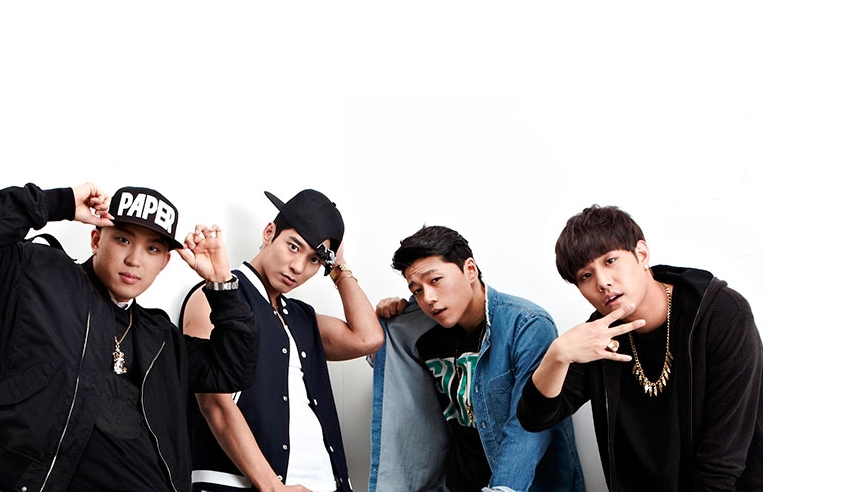 TROY left to right: Bumkey, Jaewoong, Changwoo, Kanto
In his years in music he's been in 2Wins and had a long time collaboration with guitarist Rhythmking, but kpop fans might know his name from his more recent collaboration with fan favourites Infinite H.
Just shy of a fortnight ago Bumkey released his second single, Attraction, featuring hip hop masters Dynamic Duo. Many of you will be familiar with the term 'All Kill' and Bumkey achieved this in the Korean download charts hitting the top spot in all the charts possible, and continued to hold that spot as competitors released, not bad for someone who isn't the Kpop norm and is only on their second release!
So what is all the fuss about?
Music, Lyrics and Production
Unlike his first release Attraction is layered with more hip hop influences, even featuring a piece of scratch at the beginning. Scratch is the sound created by manipulating a disc on a turntable in combination with the use of the crossfader. The track is a rhythmic blend of synthesised beats and guitar mixed with the transition between the smooth vocals of Bumkey and pacey rap of Dynamic Duo.
Attraction's lyrics are full of rhyming couplets that are easily picked up throughout. The occasional line is the perfect double entendre, lyrics such as 'Ma lady, na neol gatgo nollae / Ma lady, I'll play with you' are completely open to interpretation in the context of this song.
LOENTV live stage provide a great translation of the lyrics through YouTube's caption feature, new label mate San E provides his own new take on the rap section, though different to the original it's equally as cheeky as Bumkey's intent.
Bumkey writes his own lyrics, with rappers contributing sections at times, Dynamic Duo being the contributing rappers on the official track here. The song is produced by himself and Duble (Side)kick. You may have heard of Duble Kick before, they're a duo made up of One Way's Chance also known as Mikey and lyricist Park Jang Geun. They've recently produced the NU'EST comeback and one of their productions, ZE:A's The Ghost Of Wind, is currently number three in three UKP K-Pop Chart.
Narrative
Attraction has a fairly simple mv narrative to follow. Crayon Pop's Ellin features as the desired lady in Attraction, and as the title states Bumkey is attracted to her. It is his aim to get closer to her, but his friends quickly interrupt those plans. Its clear Ellin is not only attractive in his eyes but to his friends too, and Bumkey is not lacking in attention from females either. So Bumkey has to go that little step further to rid his apartment of his friends and get Ellin alone.
Style and setting
Bumkey's general style varies a lot just like his musical taste, but he's always fairly well dressed even when casual, this isn't anything you couldn't imagine him wearing. Last week he stepped out to the Mnet 20's choice awards with label mate Verbal Jint wearing a somewhat similar ensemble.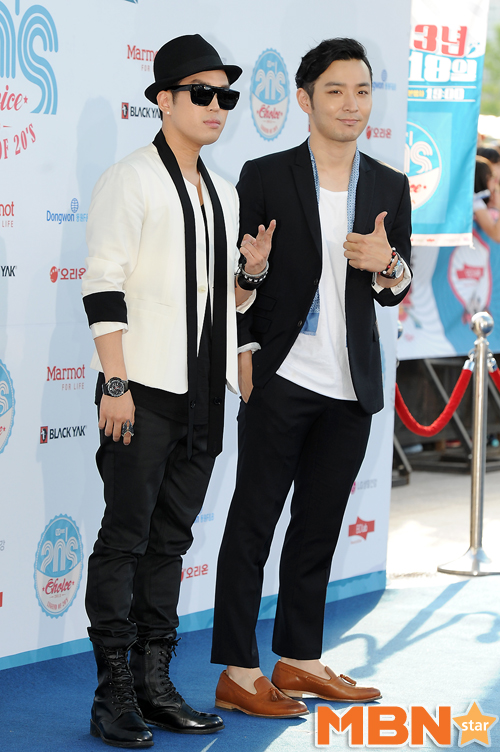 The style in the mv is sophisticated and reflects the smooth music of Attraction. Everything about Bumkey speaks of money and status, from his Ferrari to his clothing, to his lavish apartment. This isn't the first time we've seen this apartment in a BrandNew Music video. It's also featured in the mv for Would You? by rapper Swings featuring Seo In Guk easily distinguished by the colouring of the walls and the door frame frequently featured. Some of the furniture even appears in both mvs.
Choreography
Surprisingly, Bumkey isn't a stranger to dancing. The TROY guys can all dance. Dancer and choreographer Lee Sang Geun is responsible for the slight piece of choreography in Attraction (Male next to Bumkey).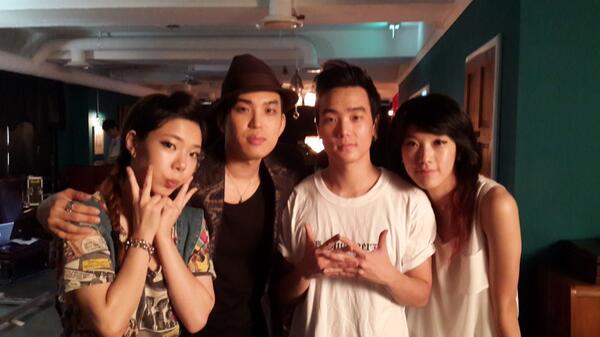 Although nothing elaborate it shows Bumkey can at least move. I wouldn't be taking this as a teaser for things to come from him with TROY in the dance department however. This video of TROY gives you a little taster of what they could be like, however it's sadly sans his R&B vocal flare as it was pre-Bumkey's signing.
Back to Attraction, here are Bumkey and Ellin doing one of Crayon Pop's choreography poses whilst behind the scenes of the mv.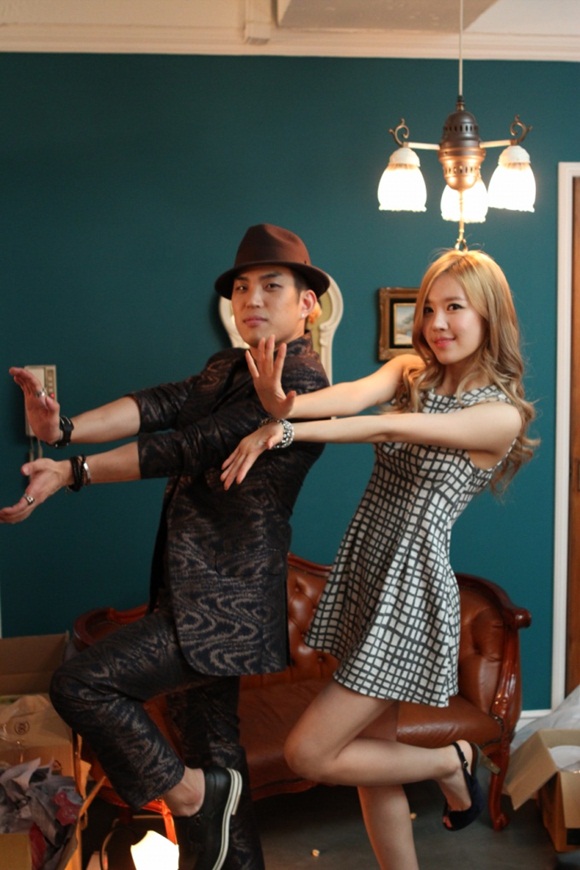 So, where else can you find Bumkey?
Why not check out his solo debut Bad Girl? The mv features all the TROY members! Watch out for the plot twist featuring Jaewoong (tallest member, dark blue shirt) and Bumkey! This track has a jazz rhythm added to his soulful kick and is produced by Bumkey, Primary and Zion T even lent a hand.
Or how about Walking In The Rain by Verbal Jint featuring Bumkey. Stunning visuals, again from BrandNew, and with an mv including 2/3 of TROY (Kanto is the only one missing). The two sing and rap of walking in the rain in the hopes that the pain of their break up will wash away. The mix of these two voices may have the song stuck in your head.
Want to hear his English? Check out his cover of English jazz-pop dynamo Jamie Cullum's These Are The Days or Blackstreet's No Diggity on Verbal Jint's Pop Pops KBS Cool FM radio show.