Revisited Jee's Restaurant as it was the place I went to eat in when I first visited New Malden and wanted to try food in K-Town.
When we first came to New Malden my family just randomly picked this place to eat an early dinner because most of the restaurants in the same street had closed after lunch hour had finished on a Sunday afternoon and this was the only restaurant still open. For a first timer in K-Town it was a treat and it's safe to say I still like this restaurant on my second visit.
The kitchen is actually close by but because of the walls you don't see it as easily unless you stand up from your tables and walk about. Jee's restaurant layout might look small at first glance but it's not squashed or cramped whatsoever. I read in a Korean restaurant guide that the owner takes pride in keeping the restaurant clean and I definitely think this is true.
The manageress greeted us with Annyounghaseyo then realised we weren't Korean and switched to English, showing us to a table near the door. For the second dining at Jee's we wanted something quick before they closed for lunch and didn't want to delay the staff in last minute cooking. However the waitress serving us was incredibly patient, not at all bothered we came a little late (an hour before closing time) and was polite enough to leave a spare menu by our table in case we were still hungry.
After giving us a free bottle of water and taking our orders, the same waitress came back with the Banchan and Pajeon five minutes later. Super quick arrival. The Dolsot Bibimbab and Jap Chae followed another five minutes after that. The Banchan was delicious. Kimchi was not too sour, the jelly was soft and tasty with soy sauce and topped with spring onions and garlic. The sliced cucumber in chilli sauce was great and not spicy at all.
Pajeon is my family's favourite. We finished that starter very quickly between us. Seafood pancake is the one we tend to go for. The Dolsot Bibimbab was fantastic. It sizzled for a very long time and stayed temperature hot for a while so it took some time to finish for all of us. My Jap Chae was freshly fried, soft and slippery through my chopsticks. That too was temperature hot for more than five minutes. I loved the sliced omelettes in my Jap chae. Gave the dish some extra egg flavour. Even the little pieces of minced beef was a great touch.
Banchan and Pajeon (latter cost £4.80)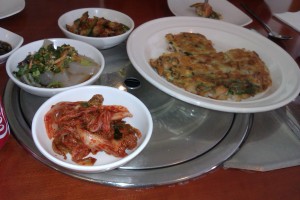 Dolsot Bibimbab with beef (£8)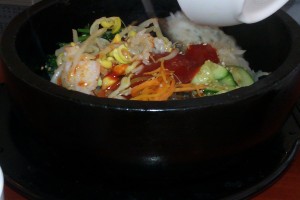 Jap Chae (£6.80)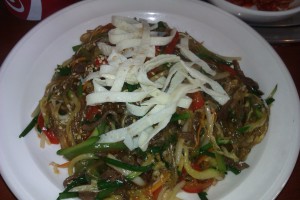 Overall: Jee's is an incredibly welcoming restaurant thanks to the staff. The menu prices were similar to what you could find in the Korean restaurants back in Soho. Jee's do have special set meals which are from £20 – £30+ (perhaps more appropriate if you are dining in a large group) but the menu overall has a lot to choose from and has the main favourites foodies tend to order. They do add 10% service charge on the bill but with the courteous staff I guess this could be acceptable.
Jee's is not actually in the main town centre/high street of New Malden and about an 8 minute walk from New Malden station. If you walk down Burlington Road you'll definitely see Jee's Restaurant because of the green paint outside. Of course there are lots of restaurants in the high street to choose from but if you want to go past the high street or have tried all the restaurants in the main part of K-Town definitely pay Jee's a visit.