Last week we brought you the introduction to Alternate Listening Tuesday, where we looked at Bumkey's second solo single Attraction featuring Dynamic Duo.
Alternate Listening Tuesday is where, on a Tuesday, I bring you a music video from Korea and I explore elements within it, such as: the music; the video concept; the styling; even the choreography if appropriate; as much as I can, to bring you all you'd want to know about someone you might not have encountered during your time in the kpop world.
So what can you do? Watch the mv, you might be surprised! Comment and let us know what you thought, even if you hated it!
Want me to find a Korean string quartet? Tell me, you might find I feature one in the next ALT post! 
Today though we're going to look at an indie track from an artist with a hip hop background.
SALTNPAPER
SALTNPAPER is the one-man-band stage name of the artist otherwise known as MYK. Really called Michael Y. Kim, the Korean-American musician is maybe best known to many as being the honorary 4th member of Epik High, and a founding member of Epik High label mapthesoul.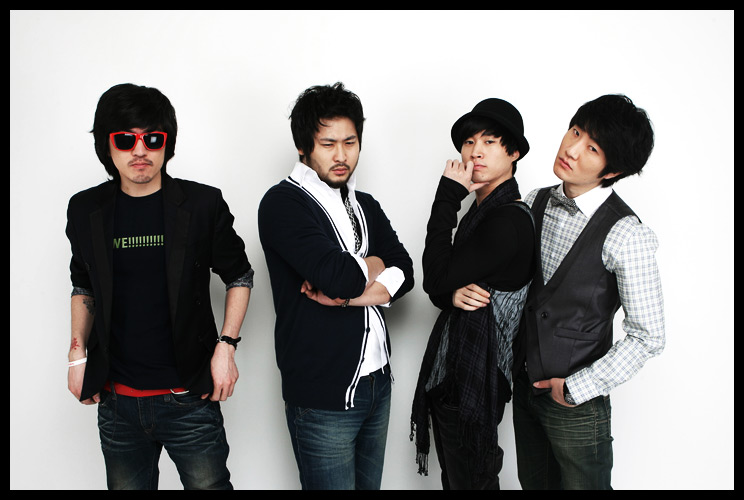 Left to right: MYK & Epik High's Mithra Jin, Tablo & DJ Tukutz
MYK is a singer-songwriter, producer, guitarist, dj and rapper, a musical powerhouse that has been creating music since a young age. After leaving San Francisco for Seoul after his first group Weekend Sesh parted ways MYK met Tablo and began writing music with him.
Over the years MYK has collaborated with the likes of Kero One, Planet Shiver, Dumbfoundead, and Dok2.
2010 saw him release his first solo EP Lost In Translations, which showcased his abilities in hip hop though blended a variety of styles.
Now with label dreamfactoryclub it was in April MYK became SALTNPAPER and cameback with his self titled album. It hit number one in pre-sale charts in Korea as fans of his previous work pre-empted the album and the artist hinted on his twitter that this album would involve much more of him singing, a big difference from past tracks.
The album has 9 tracks with a variety of English and Korean, including a collaboration with Tablo who raps in English, called LoveStrong.
He's currently preparing for Autumn, his first concert as SALTNPAPER, which takes place on 28th September in Hongdae.
So, what did the title track bring?
Music and Lyrics
MYK penned the original version of Hats himself, whilst the Korean version was re-written by famous KPop and rock singer / songwriter Lee Seung Hwan, the English version can be found as the closing track on the album.
The lyrics are about memories and moments that are left behind and forgotten but things can happen that remind you and make you recall that just like the first time it happened it feels the same.
MYK's voice has matured with him, lending nicely to the singing he's favoured over his earlier rapping. The instrumental is traditional to any indie track, acoustic guitar and drums accompany the verses and the chorus has the addition of heavier drums, and an electric section.
MV Concept
The mv sees MYK enter dream-like, digital, and space-like worlds of suspension. These are representative of the memories and moments that are suspended in time in his life, the feelings that are left to drift away until they come crashing back in a moment of recognition.
Sometimes it seems like you can't quite focus on him as you watch, emphasising those memories that are just beyond grasp, left in your past.
The dream-like imagery fits seamlessly with the flow of the music and the SALTNPAPER indie style of MYK's voice.
Style and Setting
MYK is a man of simple style, you'll often find him wearing a plain t-shirt or a plaid shirt when he is performing. So the mv's styling is slightly different for him, but not to far from the MYK look.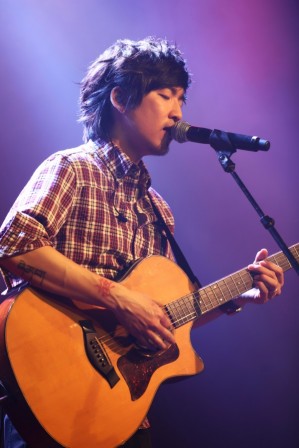 The settings are where the video gets inventive. As most of the world in the mv are suspended and digital they were created using green screen technology, which involved computer graphics and getting the singer up in the air!
He was kind enough to share a behind the scenes photo of him flying during the making of Hats!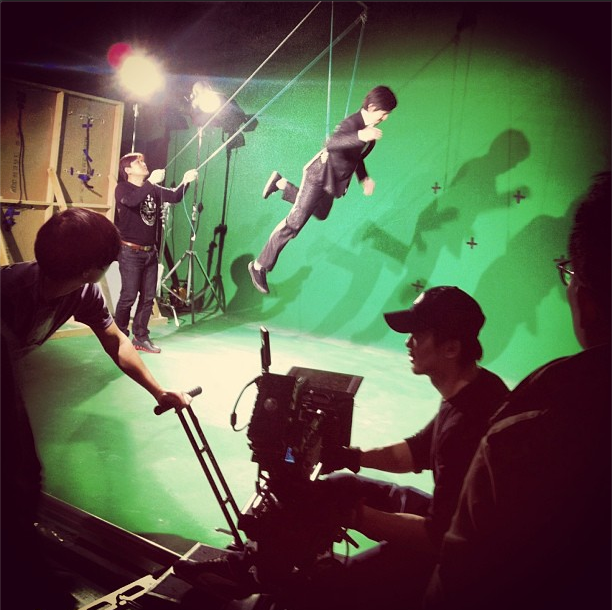 So, where else can you find SALTNPAPER?
How about a live performance of that album track with Epik High's leader Tablo? This is LoveStrong, all in English from both performers.
Or taking on Britpop-rock giants Oasis and their track Champagne Supernova at Seoul Jazz Festival.
Want to hear him rap with Epik High? Check out Excuses from [e].