TEENTOP are back again, this time with the crazily energetic and fast-paced electro-pop track 'Rocking'! Everyone, limber up your legs ready for dancing and look here to see how you can mimic their style on the British High Street!
The entire style of this MV is covered in deep, yet bold colouring and a lot of gold, silver shining metals on top. The whole concept looks like a modern K-Pop take on a Pirate's treasure den. The vibrant colours and metallic looks are mirrored through the members' clothing, which equals some very brave and shiny gear!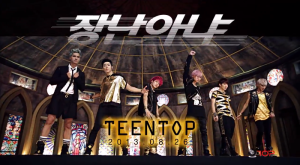 Once again, this look is very difficult to locate for the males. The fashion industry is getting more diverse and a lot bolder now, but sadly this has not spread to the male clothing sector as much yet, leaving the more unique items for the ladies. However, if you are a guy that doesn't mind sporting clothing originally designed for females (and can actually fit in them too), then there is no problem for you. Every other man shouldn't despair though, thanks to the more fashion-forward outlets, there is still some glittery garb for guys that doesn't push the gender envelope as much.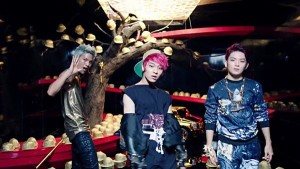 Whilst you may have previously reserved the sparkling gear for the parties and raves, this concept encourages you to bring it all to the front and be confident in standing out. Of course, this look is not for everyone, but I know there are a lot of you out there that are willing to try this out for yourself.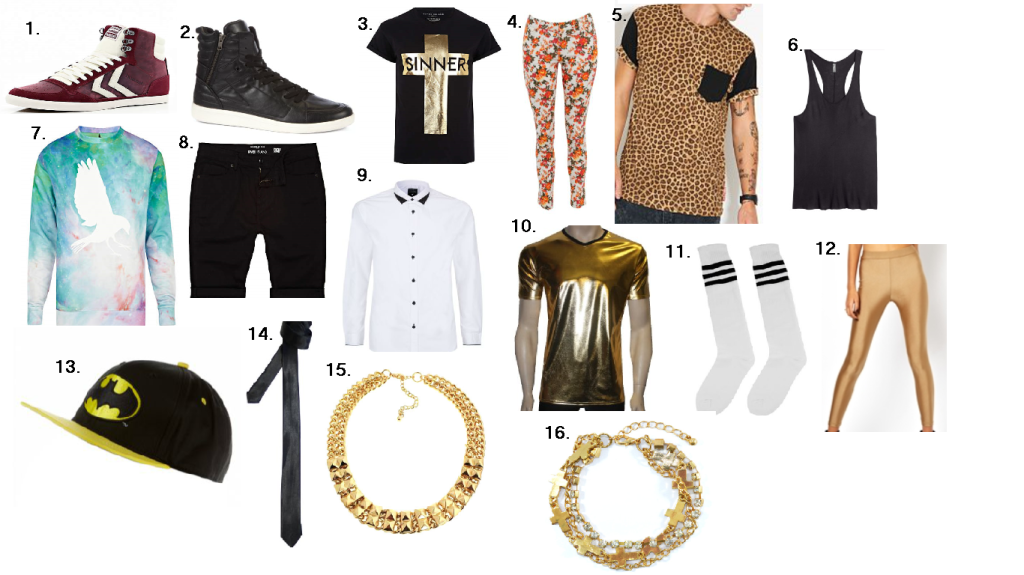 Men's Red Contrast Panel Hummel High Tops – River Island: £70

Men's Black Side Zip Lace Up Hi Tops – New Look: £15

Men's Black Metallic Cross Sinner Print T-Shirt – River Island: £16

Women's Jumpo 32in White and Orange Floral Low Rise Skinny Jeans – New Look: £10

Men's Criminal Damage Wildlife T-Shirt – bankfashion.co.uk: £25

Men's Vest Top – H&M UK: £6.99

Blue Hack Cosmic Raven Print Sweatshirt – River Island: £45

Black Skinny Stretch Shorts – River Island: £25

White Black Tipped Collar Shirt – New Look: £14.99

Men's Metallic Wetlook Shiny PVC Gold T-Shirt Club Wear Rave by BLUE MAGIK – amazon.co.uk: £17.99 [+ £1.99 UK Delivery]

Soccer Baseball Football Basketball Sport Over Knee Ankle Men Women Socks (Black and White) – amazon.co.uk: £3.29
Women's Glamourous Metallic Leggings – asos.com: £10

Black and Yellow Batman Snapback – New Look: £9.99

Skinny Tie (Black) by Retreez – amazon.co.uk: £3.30

Double Chain Pyramid Stud Necklace (Gold) – ringsandtings.com: £8

Triple Chain Bracelet – ringsandtings.com: £5
If you keep to bold colours and prints and stick to golds and silvers for your accessories, you won't be far off TEENTOP's latest look! It is a fun concept, fit for a night out in the club and K-Pop has, once again, made something that is usually assigned to the girls, fit for both sexes. So no one should be afraid to give it a try!
On a sidenote, please do be careful if you choose to attempt the choreography from this song, it looks like an accident waiting to happen! 😛
What do you think of this style?
Will you be giving it a go, let us know in the comments section!