This 2007 comedy film is about retiring millionaire, Soon Boon, who has spent her life building up her handmade soup business, and over the years she has distributed most of her wealth between her four grown-up children.
While taking a walk with her granddaughter one day, three amateur criminals kidnap Soon Boon with the intention of holding her to ransom to make some money quickly. The situation soon changes when it comes to light that Soon Boon's children are reluctant to pay the relatively modest ransom of $50,000, and an infuriated Soon Boon takes charge of her own hostage situation. She leads her kidnappers-turned-accomplices into the biggest kidnapping case of all time as they attempt to get their hands on ten times the ransom they had previously demanded.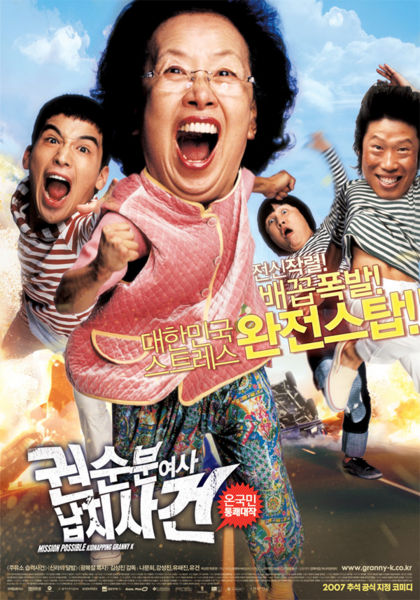 This film was absolutely delightful, and I would highly recommend it to absolutely anybody who enjoys silly comedy. There is nothing hugely sophisticated about the comedy material, so if body gags and slapstick humour aren't your thing then maybe this film isn't for you, but the ingenuity behind the hostage situation set up by Granny K herself is thrilling and keeps you guessing until the end.
On a slight tangent, I definitely enjoyed this film more as I was pleasantly surprised to find a Korean comedy that contained no real romance or any kind of tragedy, which is a rare occurrence I feel. I would say that this film is pretty much 95% comedy with a dash of drama, which makes Kidnapping Granny K a fun and light-hearted watch.
Have you ever seen this film before?
Planning on watching it?
Let us know what you think!