Naru is a small restaurant situated in Shaftesbury Avenue, slightly further away from the rows of Korean restaurants near Centre Point in Tottenham Court Road.

I arrived just as the doors opened for lunch and was immediately seated at a small table further down the traditionally laid out restaurant. Only one waitress was working and she had been eating a quick snack when I walked in so I let her finish before I placed my order for the afternoon. I wanted a light, affordable lunch and took a browse through the lunch menu which had some interesting choices.
You had various toppings for Bibimbap, fried noodles, Ramyun and fried rice, as well as BBQ dishes and the popular Dolsot Bibimbab. I'd probably say the Dolsot Bibimbab was one of the bigger lunch sets. At £11.50 you get a side of Kimchi and soup to go with the hot stone bowl with a topping of your choosing from beef, tofu and vegetables.
Cute cup of Jasmine tea (the waitress said she'd come over to refill my cup later on and she did. Wasn't expecting her to but she was polite!)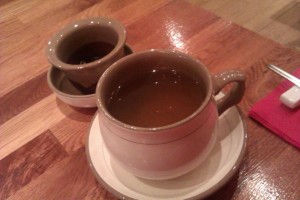 I decided on a Tofu Bibimbap which was £6.50 to go with the hot Jasmine tea which cost £2. The waitress had asked me if I was vegetarian as she curious as to why I chose Tofu instead of a meat addition but I told her I wasn't vegetarian…sadly I forgot to explain I had had a meat overload this week which was why I opted for a Tofu topping instead.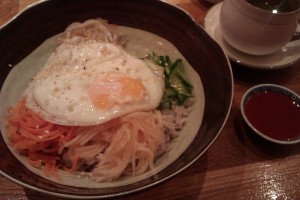 After mixing the Gochujang into the bowl. I didn't realise the Tofu cubes were hidden underneath the fried egg. I wanted a light lunch meal and I got it in this Bibimbap. The Gochujang was not too spicy. There was enough in the little saucer for me to mix with the mixed grain rice, beansprouts, shredded carrot and cucumber.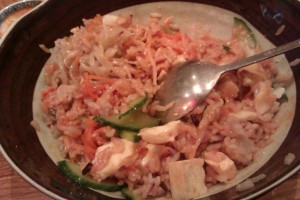 Overall: I didn't get adventurous with my lunchtime meal so I can't say too much on how I felt about the restaurant, unless I pay another visit. One thing I can say is that the food arrival was incredibly fast but this is possibly down to the fact the food had already been prepared, plus there was no need to fry too many things with exception to the egg. After placing my order the food came five minutes later. If I had ordered say a Pajeon or a pork Bulgogi for example it might take longer for the food to arrive. However, still rather impressed with how quick my food came to the table. By the time I had finished my food I realised my tea was still hot to drink.
Service from the waitress was good. She was polite enough to remember to refill my cup of Jasmine tea even though she didn't have to. But maybe it was a good thing she did because I was able to relax for five more minutes before paying my bill off…and enjoy the Kpop music in the background (they had some relaxing acoustic tunes when I first walked in). Thank you for then playing EXO's Growl followed by G-Dragon's Crooked and Black before I left.
If you wanted the appetising Banchan you often find in some restaurants, you had to pay for them here. It didn't come free with the meal like in other places. Not all the lunch sets had Banchan included either, with exception to the big Dolsot Bibimbab lunch set. My final bill had a 12% service charge added so altogether it was almost £10 for the afternoon meal. Perhaps if you wanted what you paid for in a big lunch set you might be better off with the Dolsot Bibimbab instead.
Despite the service charge and lack of free Banchan, Naru is a nice restaurant with a warm, welcoming environment. The main menu has a lot to choose from if you want to eat a big feast – no doubt ideal for evening meals with friends or families. However if you want reasonably priced lunch time meals, definitely pay this place a visit.