For this week's Style Steal, we're going to have a look at how to get the look from Hyolyn's MV for One Way Love!
I absolutely love this song, and I felt like it was quite unusual that there were so many different outfits featured in just one MV. I chose my favourite two and put together a selection of items that were similar in the picture below!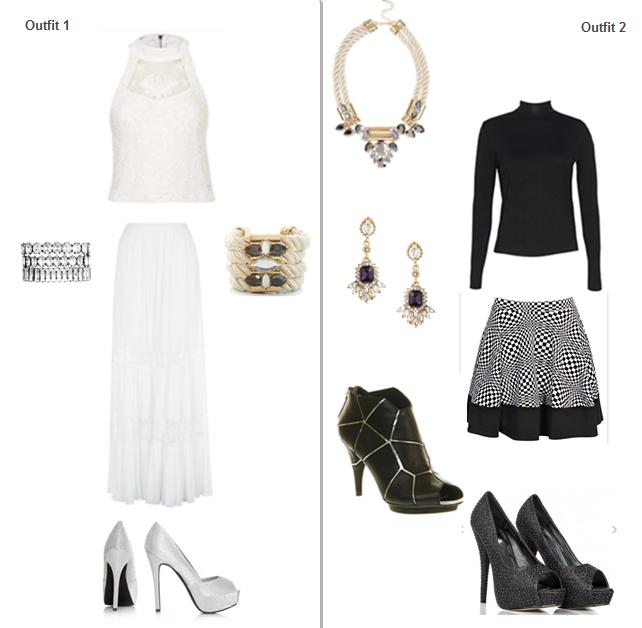 (To find out where to buy these items, information is below)
The first outfit was based on the outfit that is seen the most throughout the MV, and consists of entirely white clothing.
Obviously you could go for a more reserved look and switch out the crop top for something more modest, but remember that the key point to this look is how sheer it is, so look for something with lace or crocheting.
Outfit 1 information
– Embellished High Neck Top – TopShop (now £25.00 in sale)
– White Crinkle Crochet Panel Maxi Skirt – New Look (£24.99)
– River Island 3pk Crystal Stretch Bracelets – River Island (£6.00)
– Limited Cream Cord Teardrop Gemstone Bracelet – New Look (now £4.00 in sale)
– Silver Diamante Peeptoe Heels –  New Look (£29.99)
The second outfit is a much more wearable look for day to day, and has a slightly more mature feel to it.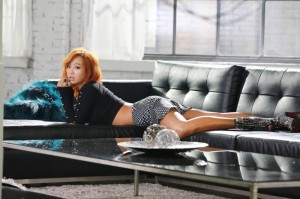 I love this look because monochrome will forever be one of my favourite trends. The key points to this outfit are definitely the eye-catching skirt and the statement necklace, and with the shoes, you could go as daring as you want! You could go for a similar heeled boot like Hyorin is wearing in the picture, or you could tone it down a little and go for a plainer shoe and let the rest of the outfit speak for itself. It's up to you!
Look 2 information
– Freya Monochrome Check Print Skater Skirt – Boohoo.com (£10.00)
– Jackie Long Sleeve Turtleneck Top – Boohoo.com (£10.00)
– Cream Doubled Corded Jewel Necklace – New Look (£17.99)
– Fuji Embellished Peep Toe Heels In Black – Missguided.com (£29.99)
– United Nude, Mosaic Peeptoe – Office (now £76.50 in sale)
– ASOS Eastern Jewel Drop Earrings – ASOS.com (£12.00)
I hope you enjoyed this Style Steal, and if there's a certain look you'd like us to help you figure out, then let us know. And if you haven't already checked out the MV for One Way Love, then check it out below, and we'll see you next week!
http://www.youtube.com/watch?v=0CbE3SqbOdY">http://www.youtube.com/watch?v=0CbE3SqbOdY