It might be YG's reigning girl group that have released their mvs today in the girl group release battle but for MV Monday this week we're going to take a look at the video for the title track of Girls' Generation's fourth mini album, Mr.Mr. The mv comes days after the release of the album, an unconventional way to release, but was definitely worth the wait. 
[youtube id="Z8j_XEn9b_8″]
Mr.Mr is lyrically about a man who cannot recognise a girl's love for him, and how he makes her feel. The girl wills him to be stronger, and recognise her emotions, and therefore his own.
The narrative of Mr.Mr's mv is set in an operating theatre, and two of the first images we see are that of a jewelled heart and apple, it is these two symbols that are most important to the narrative.

In the theatre we see a man lying on the operating table, the Girls' preparing him for surgery. The explanation of this surgery lies in the symbols of the apple and the human heart.
The symbolism of an apple goes all the way back to the Bible. The presence of the apple begins as a symbol of his blind innocence to the girls feelings towards him, and the effect he has on her. The heart symbolises feeling, and love.
During the dance break we see one of the girls unbutton his suit jacket, the beginnings of exposing his chest for surgery. It is the image of Hyoyeon picking up the heart that tells all.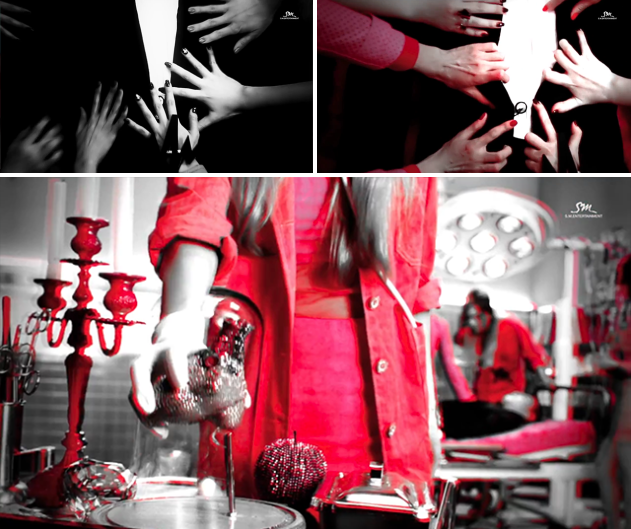 Hyoyeon leaves behind the apple on the surgery trolley and takes the heart to the operating table. The Girls' are taking away his innocence and giving him a strong, feeling heart. This is his awakening, something also strongly symbolised by an apple.
All the imagery surrounds this surgery, such as Taeyeon using the stethoscope to check if he yet has a heart.
Around this one can forget the lax quality, the vast difference in dance content to that we would normally see from Girl's Generation, maybe we can put that down to SM having discovered some of their footage was corrupt.
What is important is that this mv continues to take SM to new heights in the music video market. Always the company who hits their target market with their mv style, they were however the company that would most often lack in narrative content. Narrative concept is now something we are seeing as a more solid addition to SMTown mvs.
Mr.Mr is a fantastic mv from Girls' Generation and SM Entertainment, and just what was needed to raise the stakes and set them on top in the current girl group release battle.
 The content of this article may be similar to that appearing on the personal website of the writer
  Do you like the Mr.Mr mv? Have you heard the mini album yet?