SHINee's Key and INFINITE's Woohyun have teamed up to form the duo named Toheart. The boys' first single 'Delicious' is currently in its promotion cycle and doing well. Today, we will be looking at how to get a 'Delicious' inspired outfit for yourself!

This debut single is full of funk and shows off both the cool side and the sweeter side of the two. The MV for the song is full of cute bromance moments as the pair fight over the same girl, have a sleepover and help each other shave in the morning. It is a video full of silly humour that will have many a fangirl (and possibly fanboy) squealing in delight.
If you have yet to see the MV, check it out here:
The outfits for this concept are incredibly bright and include some very daring, bold prints. This is rather predictable for Key – with his often avant-garde fashion taste and larger-than-life personality. Woohyun is also a confident character, which makes it easy to see why these two get along so well, but he is often seen in less adventurous attire. It's good to see the guys' personalities communicated through their clothing – Key in bright yellow and zebra print trousers, whilst Woohyun resides in red and black and white stripes.
This is not to say that Woohyun's style is not adventurous of course. In fact, the entire costume for this concept is something that you will be hard-pressed to find on the British high street. This is why I cheated a little and included the British online alternative fashion outlet Attitude Clothing (don't tell anyone!)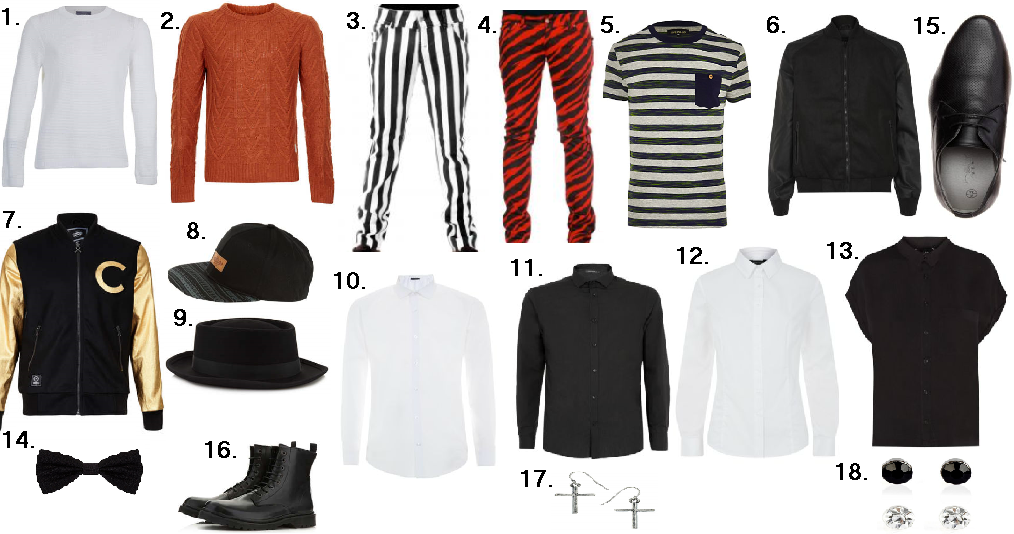 White Waffle Jumper – Topman: £32
Bellfield Cable Jumper – Topman: £40
Run & Fly Black & White Wide Stripe Men's Stretch Skinny Jeans – attitudeclothing.co.uk: £29.99
Jist Men's Zebra Stretch Jeans (Red) – attitudeclothing.co.uk: £29.99
Men's Grey Space Dye Stripe T-shirt – River Island: £18
Men's Black Contrast Sleeve Baseball Jacket – New Look: £29.99
Criminal Damage Gold Jacket – Topman: £70
Black Tribal Print Panel Flat Peak Cap – New Look: £8.99
Black Wool Pork Pie Hat – Topman: £20
Men's White Slim Fit Shirt – New Look: £12.99
Men's Black Long Sleeve Slim Fit Shirt – New Look: £12.99
Women's White Long Sleeve Fitted Work Shirt – New Look: £12.99
Women's Black Pocket Crop Boxy Shirt – New Look: £14.99
Black Bow Tie – River Island: £6
Black Leather Look PU Gibson Shoes – New Look: £19.99
Black Leather Hi Boots – Topman – £75
Cross Drop Earrings – Topman: £6
Black and Silver Diamante Earrings – River Island: £6
Toheart spend a lot of the video suited-up, looking very dapper and smart. I have not included any suits for this article, favouring their more casual looks from the video instead. However, there are some great suits available on the high street for men interested in making the investment. Obviously, the yellow and red number are custom-made for these guys, so you probably won't find one exactly like them, but there are a few suave alternatives around for under £100.
Some of these suggestions are on the pricier side, but a lot can be paired with much cheaper items like simple black or blue jeans. You can use those more expensive items to be the main focus of the outfit and still keep with the 'Delicious' style.
| If you see any items you like, be sure to search for them on the respective online store! |
What do you guys think of this Style Steal article?
Will you be trying it out for yourself?
[Sources: Topman Website, attitudeclothing.co.uk, River Island Website, New Look Website].