It is time for yet another Travel Thursday! Today I am taking you through all the best tourist sightseeing spots of Seoul, from N Seoul Tower to the Princess Cafe in Hongdae… Let's go!
Namsan Seoul Tower:
If you have seen any Korean drama, any Korean TV show at all… you will have seen Namsan Tower with it's love locks hung on the fence, in the decorations, anywhere and everywhere there are couple locks. At the top of the tower there is a stunning view of the City of Light, and if you time it right, you will catch the sunset along with seeing the city at dusk. You will never forget it.
Even though there are mostly couples hanging their locks, you can still go if you're single. Write a wish on your lock, hang it, and wait for your wish to come true!
To get to the top, there are busses taking you to the able cart, or you can enjoy a nice hike to the top.
Garosugil
Garosugil is korean and literally translated means "three lined street". It is located in Sinsa, and is considered the high class and expensive area of Seoul. Maybe not where you'd go looking for apartments, but boy oh boy if it isn't pretty! The high street is lined with cafes and little shops, and while on the more expensive side, you can find some great quality here. The area is also the home of among other fashion shop Joyrich, which SHINee, F(x) and other idols have been known to endorse, as well as Clazziquai Alex's very own Italian restaurant: D'asti Plate.
Gyeongbokgung Palace
I have always said that one of my favourite things with Seoul and Korea in general is the way they have managed to combine both new high technology and are rolling with globalisation, but they have still stuck with their old traditions. This is how you will find palace gates and through them, gardens, popping up all over Seoul.
Gyeongbokgung Palace is the biggest and grandest of all the palaces in Seoul. It is so big, it will take you hours to go through the myriad of different gates, gardens and check out all the rooms. But it is an amazing feeling to enter through the gates, and be surrounded by grass, trees and a peaceful atmosphere. The walls seem to block most of the big city noises out, and even though you can still see towering skyscrapers outside, it is almost like entering a new age, travelling back a couple hundred years, and seeing the life the old kings and queens lived.
Do try to catch the changing of the guard ceremony if you can, or if you're lucky: They sometimes have moonlight tours through the Palace at night!
Lotte World
Seoul's very own Disneyland. Lotte World is an outside and inside fun land, with carousels, roller coasters and an indoor skating rink. In the summer months the entire outside is open, but when the weather turns cold they close the outside part. It is still a wonderful way to spend a rainy day if you're tired of shopping!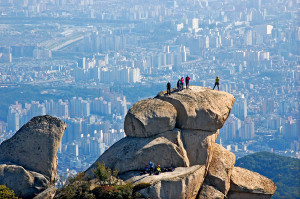 Bukhansan
Are you an outdoorsy type person? Enjoy hiking and getting away from the big city life every now and then? Mount Bukhansan is the place for you! On a clear day you will have a beautiful view of Seoul from the top, but even if you may not feel like hiking all the way up, there are several hiking trails in the national park surrounding the mountain.
Cheonggyechon stream
The Cheonggyechon stream is an 8 km long stream, flowing through parts of Seoul. It starts by Cheonggye Plaza, and ends flowing into the Han River Along the way it passes several lovely sights, and makes for a perfect stroll on a relaxing afternoon.
Han river cruise
There are several Han River cruises available for tourists to enjoy a nice evening on the river running through the heart of Seoul. Depending on whether you prefer dinner included, want to see a live magic show, a lve music concert for a date night with the beau, or you just want to enjoy the view of Seoul at night… make sure to book a place on one of the Hangang River Ferry Cruises.
Princess cafe
Seoulitians seem almost obsessed with cafés of various kinds. Cat cafes, dog cafes, they even have sheep cafes. And don't worry, they do also have some regular, everyday, normal places to enjoy a cup of coffee. However, if there is one place for you to check out, it is the Princess Cafe in Hongdae. The little shop provides Wedding dresses as well as traditional Hanboks for you to try on for a small fee. You are offered a selection of drinks before trying on the dresses and you may stay as long as you wish, flouting around and feeling like a proper princess. If you happen to have your prince, they do also cater to men with suits and a selection of male Hanboks.
Did you know about all these tourist sights? Will you be visiting anywhere special when you go to Seoul?