The super cute and girly group Apink came back recently with their latest mini album entitled 'Pink Blossom' and have released from it the single 'Mr Chu'! They give us another beautifully feminine concept that is perfect for the spring season. Let's see how we can get a similar look on the British High Street! The song 'Mr Chu' (as you might expect) is about wanting to kiss someone. The girls serenade the man they like, willing him to notice them. The girls float around in a dream-like state due to their feelings of love and affection. They each have a cute little present to give their loved one.
If you haven't seen the MV yet, you can watch it here:
The fact that Apink always have very feminine, yet quite conservative fashion choices in their concepts is very refreshing and sweet. It also means that not a lot of flesh is shown, allowing for the less brave ladies among us to try it out without fear.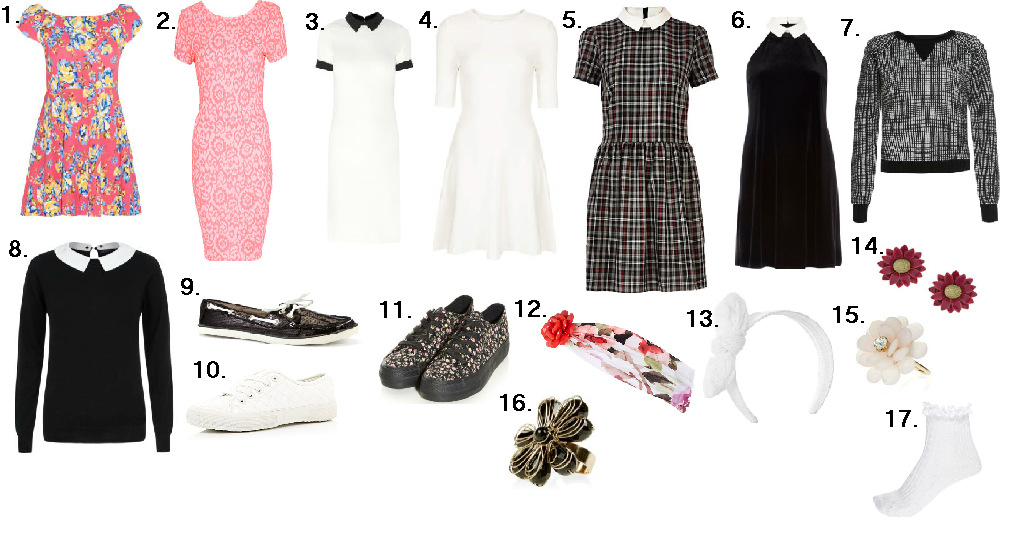 Pink Bardot Neck Floral Print Skater Dress – New Look: £14.99
Bright Coral Floral Jacquard Bodycon Dress – River Island: £28
White Textured 1/2 Sleeve Contrast Collar Bodycon Midi Dress – New Look: £10
Flippy Jersey Tunic Dress – Topshop: £20
Black Tartan Contrast Collar Skater Dress – River Island: £12
Black Chelsea Girl Velvet Collared Dress – River Island: £10
Black Mini Grid Print Contrast Trim Sweater – New Look: £12
Black (Black) Black Contrast Collar 2 in 1 Jumper – New Look:  £10
Rock and Candy Black Sequin Deck Shoes – New Look: £15
White Quilted Plimsolls – River Island: £20
Black Ditsy Floral Flatform Trainers – New Look: £14.99
White Floral Flower Front Hair Band – River Island: £12
White Crochet Bow Alice Band – New Look: £3.99
Pink Layered Petal Earrings – Topshop: £6.50
White Gemstone Flower Ring – New Look: £3.99
Black Wire Flower Ring – New Look: £4.99
White Frill Ankle Socks – River Island: £4
The Apink members are also shown to wear ankle and knee-high socks for this look, but of course, this is a very versatile style. This means that you can also choose to wear tights and plain leggings with the dresses if it is still a bit chilly for bare legs. There is a lot of pink featured in this look, but for those of you that are not such a fan of brighter shades, there are plenty of floral pieces available in darker colours which give a more edgy feel to the girly vibe. The floral look itself is one that also comes in many variations. There are many blouses and trousers steeped in flowery patterns available if you don't like dresses, but love this style.
| Remember to look for the suggested items in the article in the online stores! (Links below article). |
What do you think of this [Get the Look] article?
Will you be trying this look out for yourself?
Please let us know by commenting below!
[Sources: New Look Website, River Island Website, Topshop Website].