For readers that are unfamiliar with C-CLOWN, they are a six member group under Yedang Entertainment that debuted in 2012. They began with quite a soft-spoken and suave image, but made an altogether very contrasting comeback with the single 'Justice' back in February this year. Check out how you can 'Get the Look' for yourself!
This song is incredibly energetic, packed full of upbeat electro sound and a tough, hip-hop flavour; you can take a look at the MV below:
Clearly, the fashion centres on black, red and white looks. While we won't be able to get clothing emblazoned with the C-CLOWN logo, baseball tops are a prevalent look within this MV. So we are going a little baseball crazy for this article!
Baseball tops have been on trend for quite a long time on the British high street, and it's really easy to get your hands on some really cheap and simple baseball tops. Both the guys and girls can pull this look off with no trouble at all.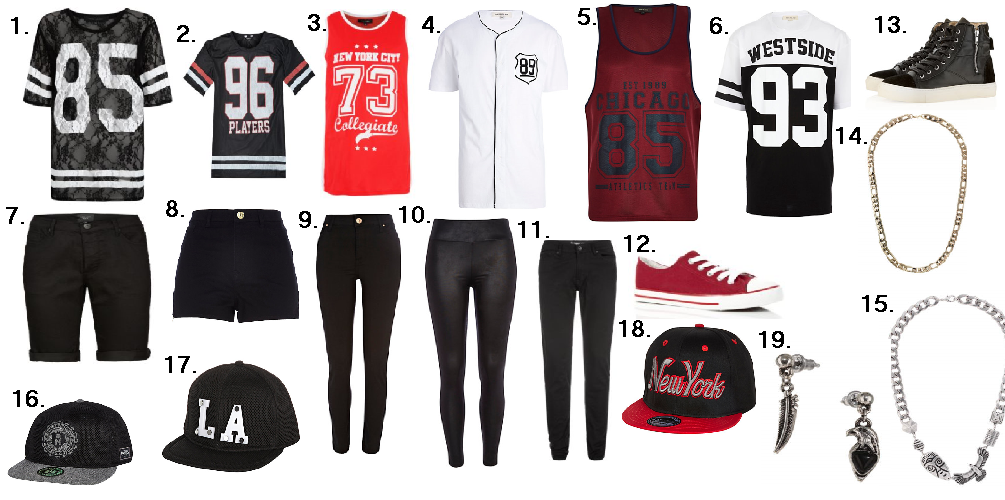 Women's Black Lace 85 Baseball T-Shirt – New Look: £14.99
Women's Black Players Baseball T-Shirt – New Look: £14.99
Women's Red 73 New York City Baseball Tank Top – New Look: £10
Men's White 89 Baseball Jersey – River Island: £16.50
Men's Dark Red Chicago 85 Mesh Vest – River Island: £13.50
Men's Black Westside Print T-shirt – River Island: £15
Men's Black Stretch Chino Shorts – New Look: £17:99
Women's Black High Waisted Stretch Shorts – River Island: £25
Women's Black Lana Superskinny Jeans – River Island: £30
Women's Black Leather-look High Waisted Leggings – River Island: £18
Men's Black Skinny Jeans – New Look: £17.99
Women's Red Lace Up Trainers [Also available in Black] – New Look: £9.99
'Tux' Black Leather Hi Top Boots – Topman: £75
Chain Necklace – Topman: £10
Chunky Aztec Necklace – Topman: £15
Black American Freshman Mesh Trucker Hat – River Island: £15
Black mesh LA Trucker Hat – River Island: £15
Black New York Snapback – River Island: £15
Bird and Feather Drop Earrings – Topman: £6
'New Look' in particular has also got some especially interesting baseball tops from the label 'Cameo Rose' at the moment. These tops feature psychedelic colours and floral patterns that will definitely get you noticed. They are also having a sale right now, which means that you can get a lot of the items for half their original price!
While we have fixated on black bottoms for these suggestions for ease of mixing and matching, of course you could go with some red or white jeans or shorts to be even closer to C-CLOWN's style. Leather-look leggings are also a simple and comfortable way to add some attitude to your baseball-themed look.
This is a great casual summer look for anyone, it is easy enough to look effortless, but still packs punch with its bold style. Top it off with some chunky jewellery and a cap to take this plain baseball look from sporty to edgy just like the boys from C-CLOWN!
| If you are interested in any of the suggested items, please search for them in the respective online stores! (Links below) |
What do you think of this look/article?
Will you be trying it out?
Please do let us know in the comment section below.
[Sources: New Look Website, River Island Website, Topman Website].