With summer holidays quickly approaching, check out our list of variety shows to keep you busy this summer!
1) KBS Happy Together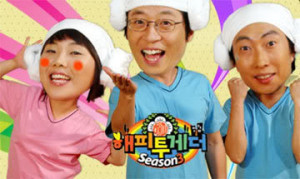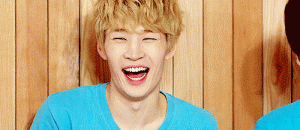 Happy Together is a variety and interview show that has been running for almost a whopping 13 years! The show is undeniably popular, and for good reasons. Though the format of Happy Together has changed over the years, the core remains the same; great laughs and fun games with the industry's best.
2) Infinity Challenge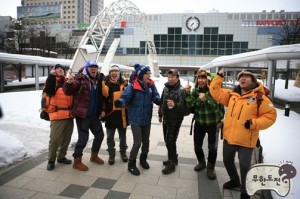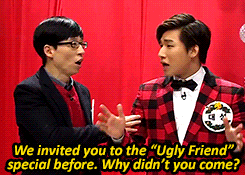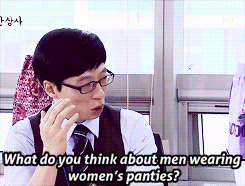 Some of Yoo Jae Suk's finest moments.
Infinity Challenge is a challenge show that is a little bit like a parody of a challenge show. With some of the tasks being wacky and near impossible to complete, the show takes on a satirical humour. As opposed to the challenge shows that take themselves seriously. The largely unscripted nature of the show makes for some cracking moments, as you can see.
3) SBS Star King
Star King is a show where there's talent, and then there's talent, if you know what I mean. The show comprises of 4 segments, the first showcasing people with awesome and wacky skills, the next has contestants who wish to be famous, the third is a mini weight loss show and the final segment is actually a separate show known as 'Hanbam'. People from all around the world appear on Star King, including recently debuted fellow Brit Shannon Williams.
4) 1 Night 2 Days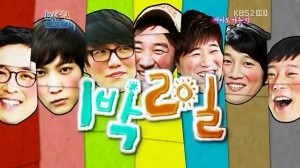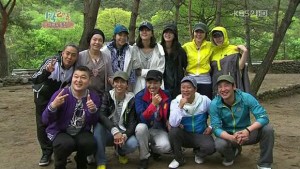 Another very popular show here, and it's nearly been running for 7 years now! Over the years, the cast has been shuffled and re-shuffled due to personal commitments of members or military service duty for the males. However, many popular faces have made appearances here including: Kang Ho Dong, Cha Tae Hyun, Defconn and Lee Seung Gi to name just a few. The programme, predictably, involves the members staying in different locations all over South Korea to 1 night and 2 days (did you see that coming?!) There are a lot of missions and tasks issued that are quite difficult and hard-going for the members. As a result, they frequently have to work as a team to get through things together.
5) Running Man
'Running Man' has recently passed it's 200th episode, so it is fair to say that it is doing quite well. This programme is often categorised as 'urban variety' as the cast members and guests will often congregate in well known buildings, towns and cities all over South Korea. The members will all compete and take part in a variety of weird and wonderful games and missions, with each episode often featuring the show's signature round of name tag ripping to determine the winner. Each member has their own unique characters and personality traits that they frequently play up to, from Lee Gwang Soo the 'betrayer' to Kim Jong Kook the 'Commander' which results in some really hilarious moments.
6) We Got Married
This is a show with a very unique premise, a male and a female celebrity will get together and begin to live as if they were a married couple. The two will often go on many different dates together and even engage in a wedding photo shoot and even honeymoon together. While none of these events are real in the traditional sense, it is interesting to see the real relationships formed between two people that have often never met before coming together on the programme. Where some couples visibly struggle to form a close bond with one another, other couples form strong and enduring relationships. Perhaps the idea from this programme has stemmed from the couple-shipping culture that is strongly present in so many fandoms today and has been made ever more visible by the Internet? In any case, it often makes for an intriguing watch.
7) Idol Show
'Idol Show' (A.K.A 'Idol Army') hasn't actually aired for a while now, but it is a definite watch if one of your favourite idol groups has hosted it in the past. That's right, the idols actually become the hosts of their own variety show for this one! As always, many struggle to take on the position, but it is great to see the group get comfortable in the demanding role as presenter. Of course, various missions and challenges are also issued by the production team, which gives way to often quite chaotic scenes. Some groups have been blessed with the help of comedians well-versed in the realm of presenting, but many are left to their own devices, which gives them completely free reign to show themselves off.
8) Beatles Code 3D
This is a relaxed programme where groups come on to discuss their careers and experiences with the comedian cast. Super Junior's Shindong somewhat takes the role of presenter as the group discuss and crack jokes about a plethora of issues they face. The show covers some fairly intimate topics, but still manages to maintain it's laid back image. It gives the impression of a catch-up with friends rather than a high-pressured expose of celebrity life and the idols must be happy that they are not being subjected to tough physical missions for a change!
9) SBS Roommate
This show involves 11 celebrities coming together and living under the same roof, it has often been touted as a response to the rapid increase of single-person households in South Korea in recent years. The aim is to bring these entertainers together and see how they bond and experience life together, presumably to also illustrate the importance of 'real' social relationships in a modern world where social networks can be said to be dominating our social lives. Some of the celebrities taking part in in this programme have previously never been very prominent faces on variety shows before, so it is fascinating for fans to see a new side to the people they like.
10) TvN Taxi
A taxi cab absolutely inundated with cameras is the setting for this show.  The two presenters drive the cab to pick up the guest at the beginning of every episode, the entire talk show then takes place inside the car as they drive around. This is undoubtedly mimicking the friendly conversation that one can have with a driver when in a taxi and it helps to give a really relaxed atmosphere for the programme. You feel as if the celebrity is just on their way to their next scheduled event or just on a relaxed drive as they chat and laugh during discussions.
11) Weekly Idol
Made somewhat obvious from the name, this programme features a different idol guest every week. Presenters Jung Hyung Don and Defconn put these idols through a series of question rounds and games in order to show their fans a different side to their favourite stars. The show is very stripped back and simple, with only a white background surrounding them. This means that all the focus is on the idols, giving them quite a lot of pressure, especially when you know how harsh Hyung Don and Defconn can be to certain guests. Still, viewers can easily see how much fun everyone is having as they mess around together in this very short and simple show. 'Random Dance Play' is a particularly good round to look out for, as idols are required to dance to different parts of their various songs in rapid succession. If they make a mistake, a punishment is issued.
12) Superman is Back
This programme originally aired as a Chuseok special last year, but was brought back in a fixed slot soon after. This programme shows celebrity dads left by their celebrity wives to look after their children for 48 hours. Each family is filmed in their own homes, which gives you a real glimpse into the personal lives of each family and what their relationships with their children is like. Some of the celebrities that have been featured so far include rapper Tablo, his actress wife Kang Hye Jung and their daughter Haru, and MMA fighter Choo Sung Hoon, his model wife Shiho Yano and their (now very popular) daughter Choo Sarang. There are also a lot of visits from the celebrity friends of the family.
13) Laws of the Jungle
Another programme for only the toughest celebrities as they are sent to the most wild and remote jungles in the world and required to survive alongside the local tribes and people. Many of the celebrities have found the experiences and challenges they have been faced with very difficult and even terrifying, and some have been able to blossom and show their resilience and bravery through the show.
Can you list any other shows? List them in the comments below!
What is this?
Thursday 13 is a weekly segment which features lists of 13 types of idols. Whether that's 13 idols with tattoos, or 13 soloists, we aim to bring a new and interesting lists every week. Since it's only a list of 13, we can't include everyone, so feel free to make suggestions in the comments!