4Minute member HyunA recently made a big solo comeback with the single 'RED'. True to her super sexy image, the MV is full of seductive imagery and an incredibly sexy and feminine vibe that shows us HyunA is the one in charge. This week, we are exploring how you can get her 'RED' style on the British high street!
You can remind yourself of the wonderful outfits featured in the MV by watching it below:
 
Red is quite a daring colour to wear, it really stands out against a variety of backgrounds and holds connotations of romance, seduction and promiscuity. This may be why some people do not feel very comfortable wearing this colour, but thankfully if red is not your thing, the MV also offers a few more styles that are a little less garish, yet still very fashionable.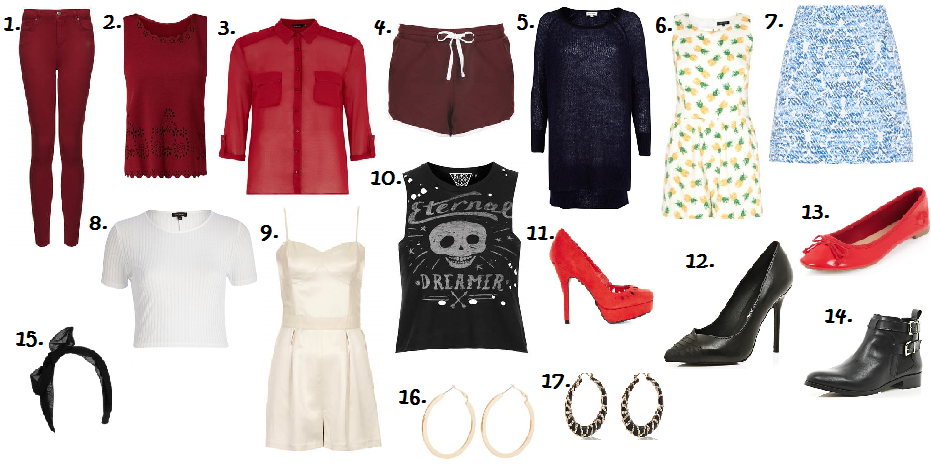 Moto Red Leigh Jeans – Topshop: £38

Parisian Burgundy Laser Cut Scallop Hem Top – New Look: £14.99
Red Sheer ¾ Sleeve Collared Shirt – New Look: £17.99
Contrast Sport Seam Runner Shorts [Burgundy] – Topshop: £10
Navy Mohair Stepped Hem Slouchy Jumper – River Island: £30
White Sleeveless Pineapple Print Lattice Back Playsuit – New Look: £14
Light Blue Floral Jacquard A-Line Skirt –New Look: £12
White Rib Cropped T-Shirt – River Island: £8
Satin Panel Playsuit – Topshop: £15
Eternal Dreamer Tank Top by Black Moon – Topshop: £15
Red Laser Cut Platform Court Shoes – New Look: £11
Black Contrast Toe Cap Point Court Shoes – River Island: £50
Red Patent Ballet Pumps – New Look: £7.99
Black Buckle Strap Chelsea Boots – River Island: £60
Black Bow Alice Band – New Look: £2.99
Gold Thick Hoop Earrings – New Look: £2.99
Black Diamante Zebra Hoop Earrings – River Island: £10

HyunA oozes femininity for this concept, which includes some very 'killer' heels worn. Fear not though, these looks are versatile enough to allow for some flat shoes too. This makes these outfits also great for traipsing around on long summer days in without such a high possibility of ankle fractures!
Large hoop earrings complete this look and are perfect to achieve that adventurously and unabashedly feminine vibe. You can really channel HyunA's confidence and power through this style!
|| Remember, if you like what you see, look for the suggested items in the respective online stores (links below). ||
What do you think of this look/article?
Do you think it is a summer look you will try for yourself?
[Sources: Topshop website, New Look website, River Island Website].