Today we'll be doing a quick review on the Etude House Lock 'n Summer range's Face Conditioning Fixer, as modeled by f(x)'s Krystal!
SEE ALSO: Make-up review: Etude House Rich Butter Foot Mask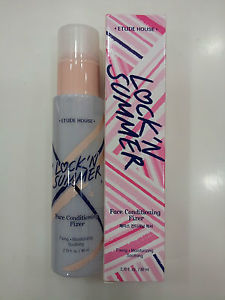 This product is amazing. It's a combined primer and setting spray, which can be used before applying make-up as a base, as well as to set it after. Quick, easy and super effective, it makes sure the make-up is long lasting and doesn't dry my face out like I find a lot of setting powders tend to do. I also use it to refresh throughout the day if I feel like my face needs a little extra boost of moisture or freshness.
It's been a total necessity for staying in Korea this summer, because the humidity in the air is so high, combined with heat, creating a problem for make-up freaks like myself.
Some days it felt like only leaving the house for 5 minutes had the make-up melting off my face. After I started using this one, the BB cream and other products stay on for hours and hours, and on a good day I won't even need to refresh them.
The size is good, and should probably last you for a few months per bottle, which contains 80 ml. It should last a while especially here in the UK (and Europe) where we don't always get that summer heat Korea has. Either way, it makes a great addition to your makeup kit. The product is fantastic and the packing itself is nice, though not the usual style for Etude House, it's slightly reminiscent of Maybelline's Baby line.
Etude House also do mascara, eyeliner, mineral foundation and more in their Lock 'n Summer range.
At the moment there are no UK or Europe based stores that sell the fixing spray, but you can still grab it from Jolse for just $10 (£6), with free worldwide shipping.
Overall Score: 10/10