The Girls' Generation sub-group TaeTiSeo are in the middle of promoting their second mini album 'Holler' right now. And their first MV release is full of their typical classy and girly style. There are also some great outfit ideas within the video for the upcoming party season!
Here is the MV for 'Holler'!:
As with many K-Pop MVs, there are a tonne of costume changes involved here. For this 'Get the Look' though, we are focusing on the zebra print, black and yellow, floral and denim styles.
Animal print and the colour yellow are things that many often steer away from in their fashion choices. However, it is possible to incorporate these styles into your look with a little more subtlety. If you are not a fan of going bold with your prints and colours,  choosing items with little hints of print or pastel colours  can work just as well.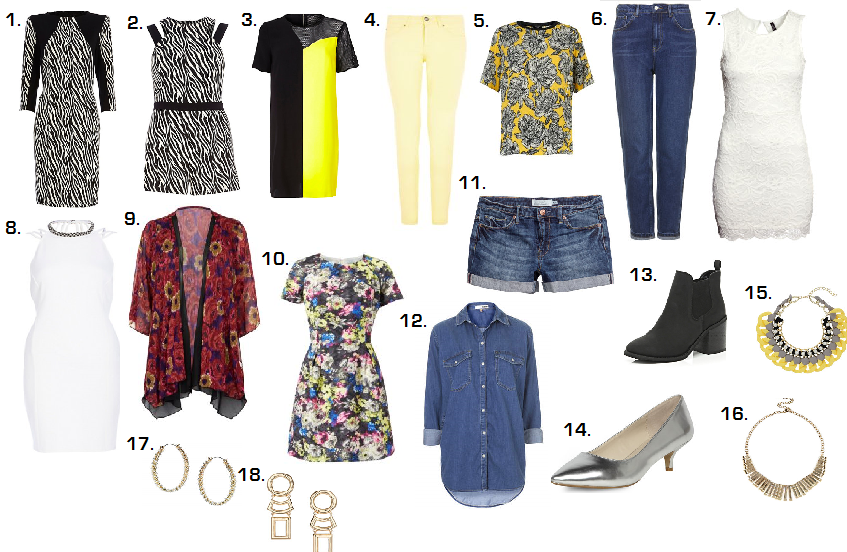 Black Zebra Panel Cut Out Back Tailored Dress – River Island: £20
Black Zebra Print Playsuit – River Island: £45
Yellow Mesh T-Shirt Dress – River Island: £40
Bright Yellow Skinny Jeans – New Look: £19.99
Petite Yellow Floral Print Ribbed Neck T-Shirt – New Look: £17.99
MOTO Blue Mom Jeans – Topshop: £40
Lace Dress [White] – H&M: £19.99
White Embellished Strappy Backless Dress – River Island: £45
Koko Burgundy Floral Print Double Layered Kimono – New Look: £35
Blue Crepe Floral Print T-Shirt Dress – New Look: £18
Denim Shorts – H&M: £19.99
MOTO Denim Oversized Shirt – Topshop: £34
Black Block Heel Chelsea Boots –River Island: £38
Silver Mirror Kitten Heels – Dorothy Perkins: £13.30
Woven Fabric Curb Chain Collar – Topshop: £30
Gold Tone Repeat Bar Necklace – River Island: £12
Chain Twist Hoop Earrings – Dorothy Perkins: £2.50
Cut Out Drop Earrings – Topshop: £12.50
Floral prints have been in fashion for quite a while now, and New Look especially has lots of gorgeous floral print dresses available at very good prices at the moment. They also range right from dark to bright shades meaning that they will suit quite a few different tastes.
A kimono is also included within the suggested items, and this is another trend that has been around for quite a while now. In fact, almost every British high street store's website has their own respective kimono section. If you can find one that you like, it can serve as a great addition to a plain, single colour outfit. This is a really simple trick to spicing up and adding interest to your clothing without much extra effort.
The girls of TaeTiSeo have their usual knee-high boots and high heels on, but flat ankle boots would also maintain that sparkly party vibe. Finish off the look with a statement necklace and/or some gold dangly earrings and you then you will have a look to really 'Holler' about! (I'm sorry about that).
Remember – if you are interested in any of the suggested items, please search for them on the respective online stores!
[Sources: River Island Website, New Look Website, Topshop Website, H&M GB Website, Dorothy Perkins Website].