BEAST recently released an MV for their beautiful track '12:30′. Their great vocals have once again ensured their winning of multiple music show awards and a lot of attention. Though of course, we are more concerned with their outfits for this article! Check out how you can replicate their looks for yourself!
The styles in this video are absolutely perfect for the colder winter months as the boys show off a mix of jumpers and winter coats.
They show us that style doesn't have to go out the window when you are dressing for warmth. These fairly chunky items can also go with a variety of different pieces, such as dresses, skinny jeans or leggings. Of course, this means that you will get a lot more wear out of each one.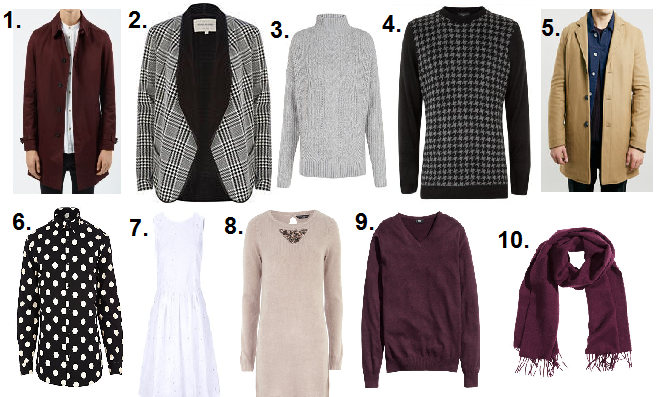 Men's Dark Red Single Breasted Mac Coat – New Look: £37.49
Black and White Check Waterfall Jacket – River Island: £35
Women's Grey High Neck Cable Knit Jumper – New Look: £17
Men's Black Contrast Sleeves Trim Houndstooth Jumper – New Look: £14.99
Men's Classic Camel Wool Mix Overcoat – Topman – £90
Men's Black Polka Dot Long Sleeve Shirt – River Island: £12
White Daisy Broderie Sleeveless V Back Skater Dress – New Look: £8
Mink Embellished Tunic – Dorothy Perkins: £20.30
Men's Fine-knit Jumper – H&M: £14.99
Men's Wool Scarf [Burgundy] – H&M: £14.99
You can pull this look off with the addition smart shoes or heels, but if you are feeling more casual, boots or all-black converses could also do the trick!
| Interested in any of the suggested items? Please search for them in the respective online stores! (Links below). |
[Sources: New Look Website, River Island Website, Topman Website, Dorothy Perkins Website, H&M GB Website].