This week's fan talent is nail artist, Leneha Junsu!
Leneha Junsu is a 24 year old student from Pakistan who dedicates her spare time to making YouTube videos of Kpop inspired nail art.
The videos come out on certain days, Mondays are for general nail art which could be based on anything, whereas Thursdays are for just Kpop nail art – so there's something for everyone! Her favourite idols include Junsu, Lee Joon and G-Dragon, so be sure to expect a few designs related to them. There's also other videos on her channel such as Kpop Reactions, Beauty Bible and one coming soon called Being Obese.
"When I became a Kpop fan I was actually quite young and I always wanted to do something unique to show my support for the artists. I know there are many other Kpop fans who want to do this as well, so I make videos for them and try to do simple designers so that even a beginner can do it."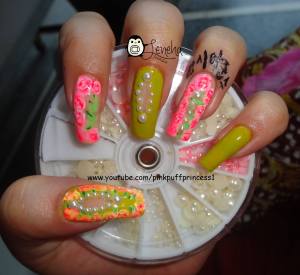 Alongside her tutorials and videos, she also hosts international giveaways on her official Facebook page, so be sure to give that a 'like' to win some goodies!
Don't forget to check out her Twitter and Tumblr for some inspirational nail art on your feed.
Check out her nail art video inspired by 4Minute's Cold Rain!