It's been officially announced that Boys Republic will bring their Royal tour to Europe!
Boys Republic are a 5-piece South Korean rookie boy group. Having just made their debut in 2013, they boast the title of Universal Music Korea's first ever K-pop idol group. Their debut single Party Rock topped the iTunes charts in Indonesia, Philippines, Thailand and Singapore, and are now hoping for European fans to warm up to them.
The tour begins in Paris, France, Le Divan du Monde on the 3rd of July, then the following dates will take place.
Academy, London, UK – 4th July 2015
Melkweg, Netherlands, Amsterdam – 5th July 2015
Wekstatt, Germany, Köln – 7th July 2015
Fabryka, Poland, Kraków – 9th July 2015
Durer Kert, Hungary, Budapest – 11th July 2015
Szene Wien, Austria, Wien – 12th July 2015
The 8 European shows will also be opened by popular pianist, Choi Soo Min, so don't miss out!
Tickets go up on sale on 13th of May, and can be found here on the day of release.
UPDATE: TICKET INFO
Tickets have been announced! There will be three separate categories.
VIP (80 available) – This allows early access, a chance to meet the band through a meet and greet, a pass to watch them privately rehearse two songs, and a signed poster. VIP tickets come to 90€/£90.
PRIORITY (80 available) – This also allows an early entrance, as well as access to watch them rehearse two songs. Priority tickets are around 60€/£60.
NORMAL – Access to the concert only. Normal tickets are 40€/£40.
                            Tickets are available now! Click here to get yours before they sell out!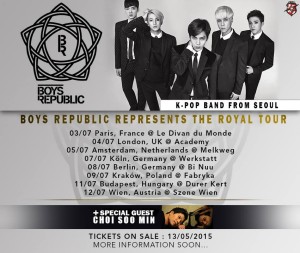 Check out their debut song below!