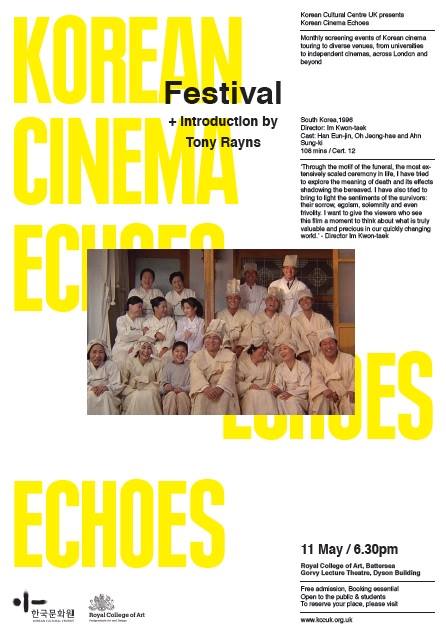 [Korean Cinema Echoes presents their next upcoming event! Here's the details of the event for those interested!
Where is it taking place?
This will be taking place at Royal College of art, Gorvy Lecture Theatre
What date of the event?
11th May 
The time it is taking place? 
6:30 pm with director Im Kwon-taek's 1996 film 'Festival'.
This screening will be introduced by the renowned film critic/programmer Tony Rayns.
For those interested in attending or have any enquires regarding Booking Information: please email kcc.projectteam4@gmail.com
Additional Information!
'Festival'
11 May / 6:30pm / Royal College of Art's Gorvy Lecture Theatre
Dyson Building, Royal College of Art, Battersea SW11 4AN
South Korea,1996 / Director: Im Kwon-taek
Cast: Han Eun-jin, Oh Jeong-hae and Ahn Sung-ki
108 mins / Cert. 12
For the further information, please visit their website.
http://london.korean-culture.org/navigator.do?siteCode=null&langCode=null&menuCode=200901120051&promImg=1198673979402.gif&menuType=BB&subImg=1198673979402.gif&action=VIEW&seq=59688