June's Book Corner features a treasure of a book for some of  the youngest readers. Dear Juno is a children's book, published by Puffin (the young readers branch of Penguin) in the UK, written by Soyung Pak and illustrated by Susan Kathleen Hartung.
Now, we know those reading this are very unlikely to be in the 4-8 age category, but bear with us. Maybe you know the perfect little person to share this book with.
With a whole list of awards to back it up, including the Ezra Jack Keats Award, Dear Juno takes us into the world youngster Juno, he is Korean, though along with his parents lives in an English speaking country.
Juno loves to receive letters from his Grandmother, though he's unable to read her Korean words, but that doesn't mean he can't understand her. From the photos she sends along with her letter Juno is able to tell she has a new cat.
So Juno wants to send a letter in return, and as he doesn't know Korean he sends her pictures he has drawn. His Grandmother can tell Juno is eager for her to visit him from his drawing and her next letter sends him a extra special promise.
Dear Juno tells of family ties and affection, interwoven with lessons of acceptance of difference. Told through the innocent eyes of a child to a child, understanding and acceptance and creating your own solution are the simplest of answers to the simplest of problems.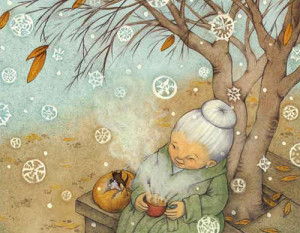 Hartung's beautiful oil-paint illustrations tie together the tale, presenting a child friendly visual that captures the spirit of its story, its image of Juno's Grandmother in Korea showing the beauty of the unusual land.
Her way with human characters show young readers that these character aren't your average white disney-esque people, yet her use of minimal facial definition allows imagination to play a part in the reading, the same imagination Juno uses to read his letter.
I was recently asked by a colleague how to explain to her four year old that everyone is the same, no matter their colour (her grandson had very innocently described half cast white-Asian children as 'dirty' much to the horror of the Asian parent). Having worked with children for nearly two years now I was aware that trying to explain such a topic is hard, and often it is far more effective to give children visual examples.
How does one explain to A that it doesn't matter B is ginger? Well, Mary Jane is ginger and Spiderman loved her regardless.
Books are great for this, one of my favourites is Where the Wild Things Are, Max isn't anything like the Wild Things, he's a boy and they're Wild Things, but they accept him, he becomes their King!
It is the children of today that need acceptance of diversity ingrained in their upbringing if we have any hope of changing the world, and it is books like Dear Juno that play such an important role in beginning this message.
—
If Dear Juno is a little young for you, then we might have something just up your street. Last month we featured Hwang Sok Yong's Princess Bari.
We have a signed copy of the novel to give away, all you have to do is follow these simple steps to be in with a chance to win the book.
1. Like UnitedKpop on Facebook – that's the easy part! 
2. Stop by our Just Giving page and donate anything you can to Amnesty International. 
3. Comment on this post and tell us your favourite book – it doesn't have to be of Korean origin! 
The T&Cs that you know you never read though probably should: 
The amount donated doesn't determine the winner of the novel, we only ask that you donate what you can. Every penny Amnesty International receives is important, and we don't mind if you can only give a little, UnitedKpop just want to help! 

Entries are restricted to those living in the United Kingdom. Though if the £50 Just Giving target is reached UK restrictions to entry are void and international readers are eligible to win

This is an English Language copy of Princess Bari, translated by Sora Kim-Russell and published by Periscope

UnitedKpop will not financially benefit from this giveaway

The giveaway will end at 9:00pm (BST) Friday 17th July