For this month's drama review, we're looking at k-drama 'Birth of a Beauty' which started on November 1st 2014 and concluded on January 11th 2015 with a total of 21 episodes. The cast of this drama includes Han Ye Seul, Joo Sang Wook, Jung Gyu Woon, Wang Ji Hye and many others. On IMDB, this earned a rating of 7.8/10 and awards and success did follow this drama, such as Excellence Award, Actress in a Drama Special (Han Ye Seul), Best Couple Award (Joo Sang Wook & Han Ye Seul) from the SBS Drama Awards and not to forget that the leading actress of this drama won Best Global Actress at the 15th Hwajeong Awards!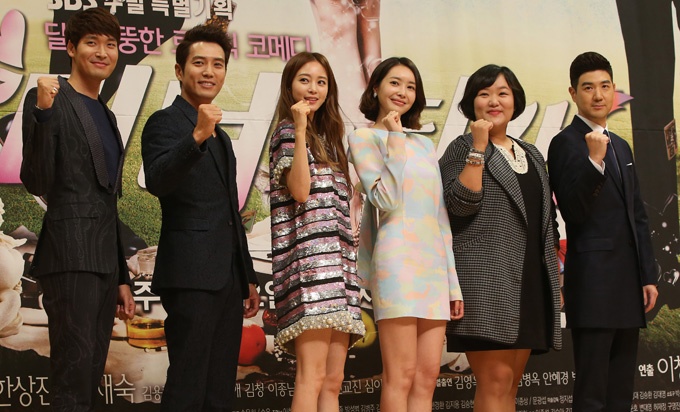 Main cast – From left to right:
Lee Kang Joon (The Husband) > Played by actor Jung Gyu Woon
Han Tae Hee (The Genius) > Played by actor Joo Sang Wook
(Post-surgery Sa Geum Ran) > Played by actress Han Ye Seul
Gyo Chae Yeon (Mistress) > Played by actress Wang Ji Hye
(Pre-surgery Sa Geum Ran) > Played by actress Ha Jae Sook
Han Min Hyeok (Main Villain) > Played by actor Han Sang Jin
Summary:
Sa Geum Ran is a middle aged housewife, who after eight years of being humiliated and poorly treated by her in-laws along with the absence of her husband (Lee Kang Joon), decides to apply for the TV show 'Change' and if she becomes successful she has the change to undergo surgery to turn herself beautiful. However, as time goes on, she uncovers betrayal as she witnesses her husband having an affair after being tipped off by the mistress herself (Gyo Chae Yeon). Shortly after confrontations with the mistress and husband, there is an accident which gave the impression that Sa Geum Ran had tragically died when her car crashed into the sea. However, she manages to survive, yet is determined to seek retribution, she persuades the 'doctor' of the TV show 'Change', who turns out to be his brother (Han Tae Hee) but begrudgingly agrees to help Sa Geum Ran transform into a beauty which gave her the alias (Sara). The heroine of the drama initially continues to pine for her two-timing husband as she undergoes a revenge mission with Han Tae Hee, but after events resurface themselves as Sa Geum Ran finds that she cannot overlook the wrongdoings of her husband, the mistress and trusted in people that weren't as innocent and nice as they seemed, she gradually becomes tangled up within the affairs of other key players in the drama, some very dangerous players indeed.
Good points:
Initial thoughts: Although there are heavy moments in this drama, particularly in the beginning, which can be a small glimpse of some of the hardships people may face on a daily basis, there are also elements in this drama that may make you want to cringe (namely, the couple scenes between Sa Geum Ran and Han Tae Hee) especially from the cheesiness of it all, though these kinds of overdramatic and exaggerated scenes have a tendency to pop up in K-dramas whenever a love scene between the main couple is about to take place. Nevertheless I found that these two characters had an undeniable chemistry and worked well with each other, dare I say it, they were adorable and yet frustrating to watch (the latter being during the awkward first half of the drama, when the characters usually try to brush off their feelings for each other, nice try but it's inevitable that they fall in love.)
Acting: The main actor and actress did catch my attention, especially with how well they portrayed the characters and the transition from how they were from the beginning right towards the end. In addition, the characters in dramas like Gyo Chae Yeon, the ones that make you frustrated and howl at your TV or laptop screen whenever these characters had a minor victory, I always remember from when I used to watch local UK dramas that if an actor or an actress can make erect some kind of emotional response from you, then they must be pretty good. In addition, I did also like some of the side characters in this drama. Honestly, I don't often pay attention to all the cast members, but I did find some particularly the in-laws to be comical to watch. I also liked that the addition of pre-surgery Sa Geum Ran had in a few of the episodes, especially with Han Tae Hee proving that he did not have feelings for 'Sara' but he loved Sa Geum Ran.
Message of the drama: Given the personal choice to choose which drama to talk about, the summary of this particular caught my interest. Plastic surgery can be a sensitive topic for some and while it may be considered 'fake', I do believe each to their own as long as it is not detrimental on their health and lives. Sa Geum Ran started off in the beginning as believing that she wasn't good enough the way she was, and sure she did receive buckets of attention and compliments from others, it was evident that they could only see her beauty and nothing else. As the drama goes on, she learns that no matter how much plastic surgery you get in a lifetime, that doesn't instantly change your personality or the person that you were before the surgery. Each person's journey to accepting themselves is an individual route, regardless of whether people may not like the way you look, as long as you're happy, then that's the bottom line isn't it?
This doesn't change the fact that people may choose to go through with plastic surgery, this is a personal choice. While not everyone has the opinion that we should learn to love ourselves and our own physical traits which make us different from others, it would not be fair to treat someone harshly because of the way they look. The danger with this drama is that it openly portrays the significance of vanity and the excessive need to look beautiful, by means of surgery.
Bad points
Dragging filter episodes – As with most K-dramas, the main plot is surrounded with an abundance of sub-plots which mostly conclude as loose ends towards the last few episodes, so some of the episodes did drag a bit (although I do find most dramas can fit into this category). While I was held interested with the initial stages of the drama, I found myself becoming somewhat bored during the latter half. It might have something with do with the fact that (not only this drama, but with others) the main female character will distance herself in order to protect her main love interest, leading to misunderstandings, episodes of moping characters and possibly even the watchers themselves getting annoyed over the fact that the main couple were happy together for a collective two episodes or so before they went their separate ways until eventually becoming reunited. I suppose that's not completely unrealistic and not something that hasn't been done over and over again in dramas.
Typical cliché moments – There's always going to be a small element of this in dramas, the kinds of plots you would expect a drama to have, the kind of Cinderella start with the cruel in-laws (namely the step-mother and step-daughters), scandals within the rich families (especially with illegitimate children) and sometimes an affair is thrown out there with a she-devil side character forever plotting the demise of the main protagonist. Even with the main villain, if you considered him that anyway (Han Min Hyeok), didn't seem like much of a threat. He was just kind of there, either being smug when things went his way or frustrated when the main characters got in the way of his plans.
Anti-climatic – Upon the last episode of the drama, it's the moment of suspense and although you have a knowing feeling that everything will work out in the end for the main characters whether that means the good ones have their happy ending and the not-so-good get the timely justice they deserve, I found the last episode somewhat disappointing. After all the build up in the previous episodes leading up to the ending, I kind of expected some kind of explosion, in which you might second guess whether the characters might have made it out alive or not. Perhaps it was because the last couple of episodes lacked in anything remotely exciting happening. I don't know, I suppose I wasn't one hundred per cent satisfied with the last episode and how it was conducted.
Overall:
I was somewhat sceptical when I first started to watch this drama. In places like South Korea, where topics such as plastic surgery can be considered to be a social norm, something that you can use to have opportunities in the future open up or it could be an attempt to diminish any self-esteem issues. The reason why I was unsure of this drama was the pure vanity of it all, having everyday normal characters like Sa Geum Ran feel like they are physically inadequate and treated poorly by those around them just because they aren't 'beautiful' nor skinny. Though, despite this, the drama ends with the main female character coming to terms with accepting that even if she went through the process of the surgery transition, that didn't mentally or physiologically change how she is, she learned both to love herself and that no one should change to switch people's opinions of you. Just because someone may look beautiful does not necessarily mean that they feel beautiful or that the person they are on in the inside will match their appearance. Everyone is different and the bottom line is that in an ideal world, if people can see past our physical appearances and get to know the person behind that (whether they're actually nice and friendly or the complete opposite), at least they have been given a chance.
To finish, this drama may not be everyone's cup of tea, obviously each country is going to have different views on topics and their perspective and social norms aren't always going to match up with ours, but I think the journey of Sa Geum Ran is an interesting one to follow.