EXO are currently enjoying success with their latest MV release 'Love Me Right'. For this edition of 'Get the Look' we will be focusing on their unique style shown in the video! Don't worry though, there's not a single American Football uniform in sight!
Take a look at the MV below to see where we are getting our inspiration from:
Some of these items are pretty expensive, which is unsurprising considering EXO's penchant for suits and blazers. However, these looks are also very unusual and allow you to add in your own individual flare and taste to it. Each EXO member has their own twist to the overall style, which gives them the space to look different even within a single concept, so don't be afraid to mix things up a bit and add your own accessories and jewellery.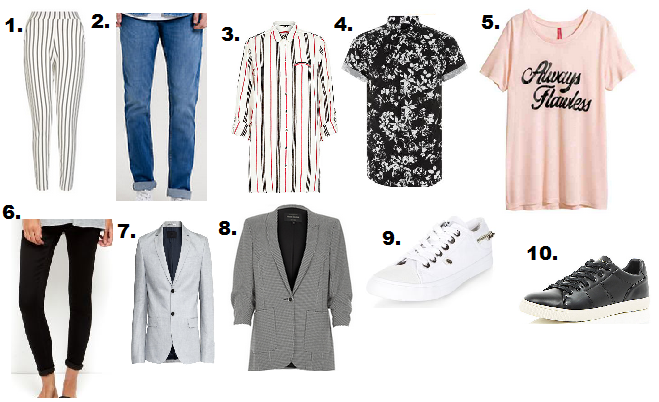 Women's Pussycat White Stripe Textured Trousers – New Look: £22
Men's Bright Blue Stretch Skinny Jeans – Topman: £30
Women's Red Stripe Shirt – River Island: £28
Men's Black Floral Print Short Sleeve Shirt – New Look: £14.99
Women's Pink T-shirt with Print – H&M: £7.99
Women's Black Cropped Skinny Jeans – New Look: £19.99
Men's Light Grey Jacket in a Linen Blend – H&M: £39.99
Women's Black Dogtooth Print Blazer – River Island: £55
Women's White Washed Lace Up Plimsolls – New Look: £17.99
Men's Black Lace Up Trainers – River Island: £32
Bold prints like these will not be up everyone's street, but plain versions of these items will still give you that EXO feel. The main focal points are collared shirts and turned up or cropped jeans which both genders can pull off well.
If ladies are a little apprehensive when it comes to wearing more masculine clothing, you can still go for paler colours and more feminine style blazers (of which there are plenty available). Also, why not try the look with shorts or a skirt and leggings instead?
What do you think of this look?
|| Like what you see? Please search for suggested items in the respective online stores. ||
[Sources: New Look website, Topman website, River Island website, H&M UK website].