In honour of the commencement of Boys Republic's European tour this week, we are looking at their MV for 'Video Game' as our source of 'Get the Look' inspiration!

The look for this concept is incredibly colourful and bold, mirroring the idea of in-your-face video games. Here is the dance version of the MV:
The original look itself is more suited for colder weather with the members' big jumpers and jackets. Obviously, this is not going to bode well for the warm summer weather a lot of the UK and Europe is currently experiencing, so we have given it a little summer twist.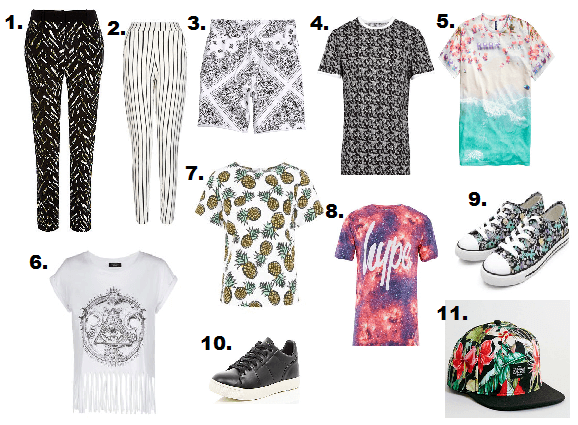 Women's Khaki Zebra Print Skinny Trousers – River Island: £42
Women's Pussycat White Stripe Textured Trousers – New Look: £22
Men's Sweatshirt Shorts with a Print – H&M: £12.99
Men's Black Leaves Slim Fit T-Shirt – Topman: £15
Men's T-Shirt with a Print – H&M: £7.99
Women's Petite White Eye Fringed Hem T-Shirt – New Look: £9.99
Women's Poppy Lux White Pineapple Print T-Shirt – New Look: £28
Men's Hype Pink Print T-Shirt – Topman: £25
Women's Black Floral Print Lace Up Plimsolls – New Look: £12.99
Men's Black Lace Up Trainers – River Island: £32
Criminal Damage Printed Cap – Topman: £25
This is a really fun look full of bright and bold colours and prints. The general idea is just to go crazy with your look and be confident with it. Of course, these items will also go well some more plain pieces if you don't want to overload your style. For example, a bold vest coupled with some plain denim jeans or shorts will easily give your outfit that pop of individuality without blinding everyone who lays eyes on you.
During summer, you often want to wear something light and simple, but the addition of some interesting print and colour can ensure that you still look stylish in the heat.
So make like Boys Republic and be bold with your look!
We hope that everyone attending the Boys Republic tour have a great time!
|| If you are interested in any of the suggested items, please search for them in the respective online stores! ||
[Sources: River Island, New Look, Topman, H&M UK].