B1A4 recently made their comeback with 'Sweet Girl', a smooth and funky serenade-style song that gives you a fresh, upbeat feeling when you listen to it. Today, the music video serves as the style inspiration for 'Get the Look'!

Here is the MV:
When looking at the more casual outfits worn in the MV, a simple summer style is shown. Many shops are now getting ready to showcase their autumn/winter collections, so there are a lot of great sales going on. If you're quick, you can get some good bargains to ensure that you have some new clothes to see out of the rest of the summer season. (It is still August though, remember!)
The main idea for this entire fashion concept is big, bold print (often involving a floral pattern). It is a very simple way to add some interesting focus points to your outfits. Even if you are not so keen on flowery print, there are a plethora of other options for you to choose from. For the girls, we see a bit more of a glamourous look going on (probably down to the fact that she is the object of the boys' collective affection in the MV).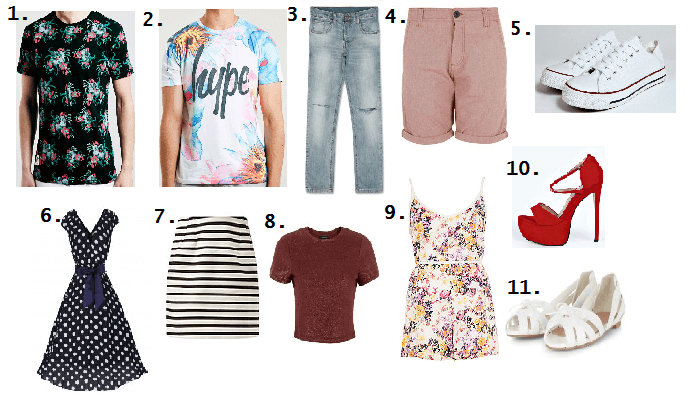 Worn by Black Tapestry Shirt – Topman: £20
Hype White Floral T-Shirt – Topman: £12
Men's Blue Slim Fit Ripped Knee Jeans –New Look: £19.99
Men's Red Textured Turn Up Oxford Shorts – New Look: £19.99
Men's White Canvas Plimsolls – boohoo.com: £12
'Mary Ellen' Frolicsome Rock 'n' Roll 50's Inspired Navy Polka
Dot Swing Jive Dress – LindyBop: £34.99
White Stripe A-Line Skirt – New Look: £7
Burgundy Glitter Crop Top – New Look: £14.99
White Blossom Print Cami Playsuit – River Island: £20
Beth Suedette Cross Strap Platform Heels – boohoo.com: £25
White Strappy Lace Front Peeptoe Sandals – New Look: £6
There are quite a few UK-based websites that sell many different kinds of 50s-inspired clothing, which of course, has been a popular trend for a few years now. Girls should also not be too scared about adding a little bit of sparkle to their clothing, which is extra appropriate if you are planning on wearing it for a special occasion.
As for the jewellery and accessories, it is advisable that you follow the boys' example keep it all understated. The bold prints will do the talking for your outfit, so you might not want to overload your look with even more adventurous jewellery!
|| If you are interested in any of the suggested items, you can find them in their respective online stores. ||
[Sources: Topman Website, New Look Website, LindyBop Website, boohoo.com, River Island Website].