April have recently made their debut, and for this 'Get the Look', we are looking at their debut MV 'Dream Candy' for our fashion inspiration!
Their concept is very 'fairy-like', which might remind a lot of people of the K-Pop concepts favoured by many of the first generation girl groups such as S.E.S and Fin.K.L. Here is April's MV for 'Dream Candy':
As you can see, the fashion consists mainly of light blues and whites. There are quite a few frilly tops and lace details on the clothing. This all gives a very girly and innocent vibe. However, this look is also fairly versatile, meaning that you can tweak it to make it a little more mature if you feel that it looks a little too young for you personally. This is a really simple look that should shoot a little freshness into your wardrobe with ease.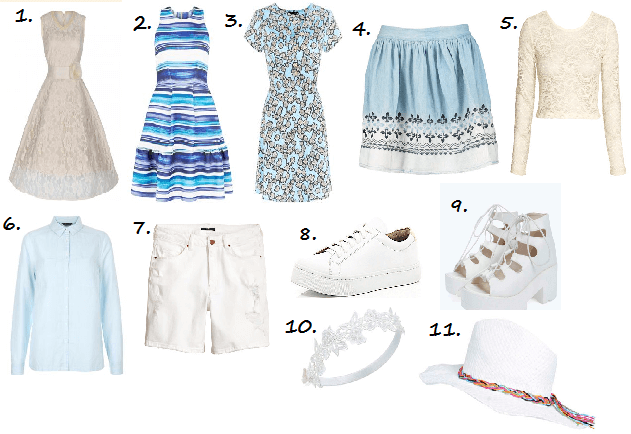 'Sally May' Cream Lace Swing Dress – Lindy Bop: £34.99
Closet Blue Scuba Stripe Skater Dress – New Look: £48
Blue Rose Print V Neck Tea Dress – New Look: £14.99
Emily Embroidered Denim Skater Skirt – boohoo.com: £6
Lace Top [White] – H&M UK: £14.99
Blue Linen Split Side Shirt – New Look: £17.99
Denim Shorts [White] – H&M UK: £19.99
White Lace Up Plimsoll Trainers – River Island: £15
Emma Ghillie Tie Lace Up Cleated Sandal – boohoo.com: £28
White Floral Crochet Elastic Headband – New Look: £3.99
Katie Plait Trim Straw Fedora – boohoo.com: £8
The girls do not show off much skin and they do not have a lot in the way of accessories. It is a very soft and uncomplicated style that would suit many girls. It is also perfect for you if you are not a fan of wearing lots of jewellery and hair accessories because you feel it bogs you down and feels uncomfortable.
It may be a look suited more for the spring/summer season, but there is nothing wrong with having a little change up now and again, and you can always go more down the blue and white knitwear route with this style whilst still keeping it girly if you think it might be slightly too cold to wear in September!
What do you think of this look?
Is it a style you like to wear?
|| You can find all the suggested items from this article in their respective online stores! ||
[Sources: Lindy Bop Website, New Look Website, boohoo.com, H&M UK Website, River Island Website].