Another interesting week for Kpop and Korea: iKON finally debuted; Korea's most turbulent drama continues with Kim Hyun Joong's ex delaying the paternity test; and Show Me The Money 4 finally receiving that fine for profanity and vulgar lyrics; it is always hard to keep up with the goings on in Korean media!
UnitedKpop don't always cover all the interesting news and releases from Korea, so we decided to put together UnitedKpop Hot Picks! Hot Picks shares with you those things we couldn't share that we absolutely love, and we hope you'll love too. You can find our Hot Picks at a glance below, because we're busy and we know you're busy too! Or, if you have a little time, why not continue reading for all the information you'd possibly need on each topic!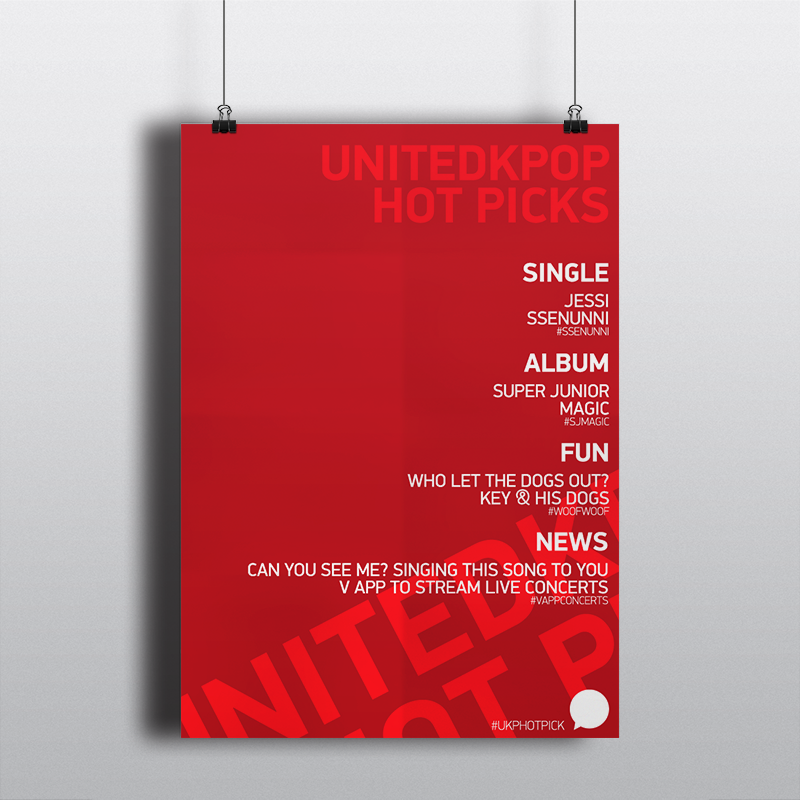 SINGLE: Jessi – ssenunni
#ssenunni
Unpretty Rapstar 1 contestant Jessi has released her first single since finishing the show. The single and video show off her title of Ssenunni, or Tough Unni.
The mv features former Aziatix rapper Flowsik, he doesn't at all feature on the track and is clearly there to have the line You think your flow sick but my flow more sick appear more like a smart punchline.
Jessi is a little bit like marmite, but this is definitely a catchy track that's worth a listen!
ALBUM: Super Junior – Magic
#SJMagic
This might be on our radar for all the wrong reasons, but it's there, and that is all that matters. The Devil repackage has flopped in the realtime charts, sitting in the 90s, and the mv isn't really making waves on YouTube, and that album art is hideous – but it actually isn't a bad track.
With an mv throwback to their It's You style, with that shiny 2015 look, the real magic in the video is Donghae's gravity defying hair, and Heechul's dancing!
In fact, Magic better takes into account the stronger vocalists of Super Junior and popular subunits, with KRY and D&E taking the reigns for the track. Heechul takes over control of a rap section, and Kyuhyun takes centre stage as lead vocalist, over Sungmin and Siwon (am I the only one who never understood that why KRY don't lead all SJ songs?)
They billed Devil as the song that would overtake Sorry Sorry as SJ's anthem, and although no track probably ever will Magic has a better chance than Devil.
FUN: Key & his dogs
#woofwoof
SHINee's Key attended the opening of DEFAYE's flagship Gangnam store this week. Reporters were able to get plenty of fun photos as his too Toy Poodles were able to make a quick escape from his car.
Ever the professional idol Key was able to quickly get them back in the car before attending the event.
NEWS: V App streams live concerts
#VAppConcerts
Have you downloaded Naver's V App yet? [Android / iOS] There's plenty of cool content available to watch live, and catch up with from a whole host of idols.
In interesting news the app is streaming parts of live concerts! Earlier today 2PM's Junho streamed from backstage before his Last Night in Seoul solo concert, then broadcast the opening act.
Lee Seung Hwan even streamed his six-hour-long concert yesterday.
Hopefully we'll get to see many more idols share parts, or all, of their concerts in the near future.
——–
You can use the hashtag #UKPHotPick to join in our conversation about this week's hottest topics, or use one of the topic hashtags to share your thoughts on our favourite stories.