Since G-Dragon started making guest appearances on  "The Return of Superman", the media seems to have gone bonkers over it. The content has been shared on numerous platforms and more recently, even G-Dragon himself uploaded some of the moments from the show on his personal Instagram account.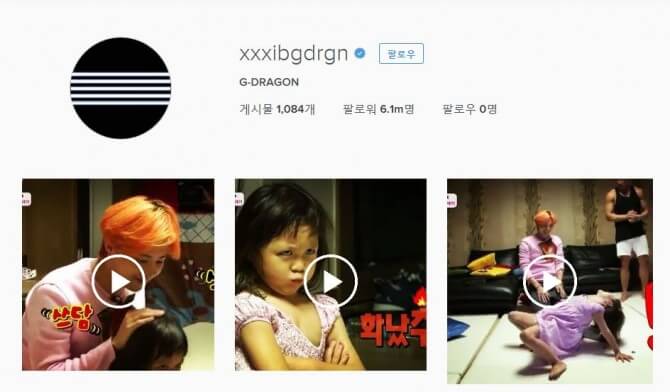 The Return of Superman (슈퍼맨이 돌아왔다) is a South Korean reality-variety show aired on KBS2 where celebrity dads are left on their own to look after their kids for 48 hours. During episode 97, G-Dragon was invited for a playdate with 5 year old Choo Sa-rang, daughter of mixed martial arts fighter Choo Sung-hoon and Japanese fashion model Shiho Yano.
The normally cool and collected G-Dragon turned out to be an excellent playmate, falling on the floor and playing dead when Sa-rang playfully pretended to shoot him. Exposing his warm and childish side on television was very well received by fans, who praised his sweetness and skills with children. Choo Sa-rang herself seemed perfectly comfortable around him, even jumping on him and happily dancing to some of Big Bangs hits.
One of the comical highlights of the encounter between the two is probably the moment when Choo-Sarang manages to make G-Dragon's face turn as red as his hair after he accidentally spills some dark sauce on her white dress. Although he was trying to clean the dress with a towel, Sa-rang had a different idea and simply proceeded to take her dress off after telling her father "Daddy, I think I should take it off", leaving G-Dragon flustered and visibly helpless while Sa-rang simply starts running around the house and jumping on the sofa. In a different episode in her underwear, Choo Sa-rang's father asks her if she thinks G-Dragon is good-looking, to which she immediately answers "no", making G-Dragon laugh at her bluntness. He then agrees with her, stating he looks better on screen. Nevertheless, G-Dragon really seemed to have enjoyed his visit, and his recent posts on Instagram clearly show the star's affection for the charismatic little girl.
On a separate note, "The Return of Superman" seems to be so popular that CSSPR, a major production channel based in the US, have expressed their interest on a U.S remake and suggested a contract to KBS. The proposed contract is set to be signed in the near future and will premiere in autumn 2016 if everything goes ahead as planned.