GOT7 are back with their latest MV for 'If you do'. The video boasts cool and edgy outfits, incredible choreography and a catchy song that'll be sure to get stuck in your head. Today I'll be showing you how to recreate their style for yourself in this week's 'Get the Look'
Here's the MV for 'If you do':
[su_youtube url="https://www.youtube.com/watch?v=T0iPB_JyS5g"]
From watching the MV, we can see the group sporting edgy ripped jeans, graphic t shirts and an array of different jacket styles from leather to a more formal blazer. This makes for an effortlessly cool look that is easy to recreate!  This particular style is perfect for the coming Autumn/Winter months, as getting to layer your outfits with leather jackets and loose t-shirts will be sure to keep you warm in the cold weather, and the darker colour pallet will fit the seasons mood perfectly.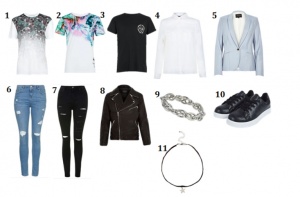 1. Roses Print Crew Neck T-shirt – Topman £16.00
2. Hype White Fade T-Shirt- Topman £25.00
3. Black Worldwide Crew T-Shirt- Topman £15.00
4. White Twill Military T-Shirt- Newlook £17.99
5. Light Blue long sleeve fitted Tailored Blazer- Riverisland £25.00
6. MOTO Bleach Authentic Ripped Jeans- Topshop £45.00
7. MOTO Super Ripped Jamie Jeans- Topshop £45.00
8. Black Leather Look Biker Jacket- Riverisland £70.00
9. Curb Stretch Bracelet- Topshop £7.00
10. Trixy Lace up Trainers- Boohoo.com £22.00
11. Silver Star Choker- Newlook £2.99
To complete the look and make it your own, finish it off with a chunky bracelet or chain necklace, and before you know it you'll be looking as cool as GOT7 in no time!
The great thing about the style they're sporting is that you can completely make it your own. By changing up the shirt design, accessories or the colour pallet you can create a look that's to your own individual style. Have fun alternating different designs into the look and experimenting with your own style!
What do you think about this look? Is it something you'll be recreating for yourself? Let us know in the comment section below!
Want to get your hands on any of the items shown? Follow the links to their corresponding stores below!
[Sources: Topman, Topshop, Newlook, Riverisland, Boohoo.com]