Today I'll be bringing you a review for the Tony Moly Cat Chu wink Lipstick!
The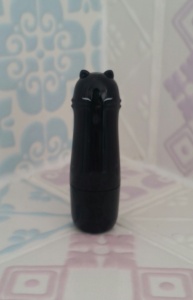 first thing that I love about this particular lipstick is how adorable the packaging is, the lipstick tube itself is adorned with a super cute cat face at the top. It's a must have product for any make-up and cat lovers like myself! Plus their products are incredibly affordable, generally falling under the £15 range so there's even more reason to stock up.
There are seven pretty shades to pick from and, although I always tend to prefer to stick to pink tones when it comes to lipsticks, I bought the Cat Chu wink Lipstick in shade 'No.5- Red Cat'; I find that this lipstick is amazingly opaque. The colour payoff is amazing and gives a rich red colour and an even coverage to the lips.
Aside from the packaging and colours, the lipstick itself has a lovely subtle fruity smell, another thing that makes me fall in love with this product even more- and it effortlessly glides on like butter! It has a highly moisturising and glossy finish formula which is perfect if you find you have dryer lips as it'll keep them hydrated and prevent them from cracking.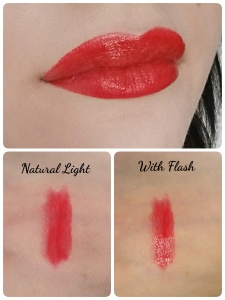 As the finish is glossy, if you want it to stay on longer I'd recommend just taking off some off the excess with a tissue to mattify it so it stays in place a little longer. Or using a matching lip liner underneath will give the same effect, but this will keep the high-shine finish. Just beware; this lipstick will be leaving marks on any cups you use!
If you love this super cute packaging as much as me, it's good to know Tony Moly also have more in the way of cute cat themed products! They have a Cat Chu wink Lip stain, a Cat powder compact, Lip-glosses and so many more items. It's just a case of which I'll be buying first!
SEE ALSO: [Make-up Review] Tony Moly Tint Crayon Delight
If you're interested in getting any Tony Moly product's for yourself, check HERE
[Have you tried Tony Moly products before, or have any to recommend? If you have let me know in the comments below!]