This time, we are taking fashion inspiration from female soloist IU and her MV for 'Twenty Three'!
Here is the MV:
As you can see, the concept involves both a girly a and more mature look. This encapsulates the feeling of confusion IU is communicating concerning where she stands as a twenty-three year old and how she is perceived by her fans and her critics.
In the MV, IU is portrayed as an Alice-style character (from 'Alice in Wonderland') as she chases a white rabbit and stumbles across a table set for tea. It is here that we see the more girlish style of white lace and an over-sized dress (perhaps, perpetuating the illusion that she is small and fragile).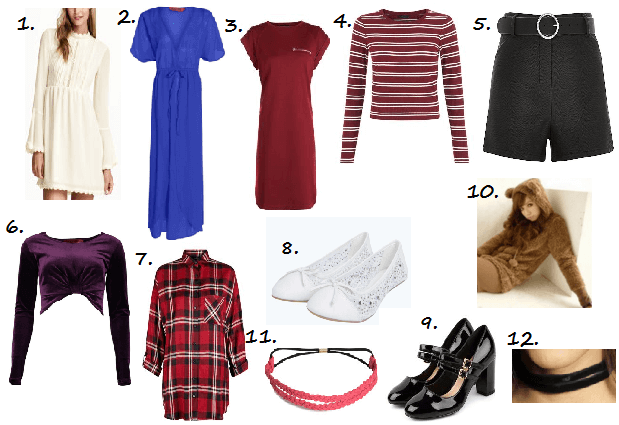 White Dress with Lace Trim – H&M UK: £29.99
Steph Wrap Front Chiffon Beach Maxi Dress (Royal Blue) – boohoo.com: £8
Burgundy Zip Pocket T-Shirt Dress – New Look: £17.99
Dark Red Ribbed Double Stripe Long Sleeve Top – New Look: £9.99
Black Leather-look Belted High Waisted Shorts – River Island: £15
Sophie Velvet L/S Knot Front Top (Plum) – boohoo.com: £14
Red Pocket Check Shirt – New Look: £22.99
Charlie Lace and Diamante Ballet Shoe – boohoo.com: £10
Wide Fit Black Mary Jane Block Heels – New Look: £19.99
Soft Bear Hoodie (Brown) – cutejapanesefashion.com: £19.99
Braided Hairband (Coral) – H&M UK: £2.99
Kim Double Velvet Look Choker – boohoo.com: £4
Throughout the course of the video though, IU also shows off a more womanly dress sense in crop tops and shorts. The shoes she wears also go from a flat-heel to a mid-heel in size, again, arguably to show the difference between girlhood and womanhood.
Regardless of the symbolism, this style is quite unusual, but the good thing is that IU has always maintained a fairly comfortable and approachable fashion sense. Whilst you may not like every style that is shown here, there is likely to be at least one item that will be easily incorporated into your wardrobe. Of course, you could also make these styles a little better suited to the winter months with the addition of thick tights or black leggings as well as some winter footwear.
The cute bear hoodie (a little bonus suggested item) will also help keep you toasty during the colder months!
|| If you are interested in any of the suggested items, you can find them in the respective online stores! ||
[Sources: H&M UK Website, boohoo.com, New Look Website, River Island Website, cutejapanesefashion.com].