Purfles returned with 'Bad Girl' back in November, and the super sexy look they sport in the MV is the focus for this GTL!
Here is the MV:
January is the time for big sales, couple that with some extra money you may have received over the Christmas period and there is no excuse to not treat yourself to some new clothes! Right? Come on!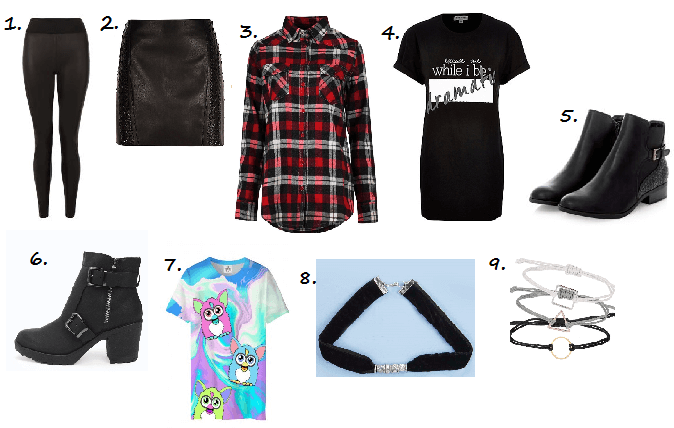 Black Leather-Look High Waisted Leggings – New Look: £7
Black Leather-Look Whipstitch Helmet Skirt – River Island: £35
Khloe Brushed Checked Shirt – boohoo.com: £15
Black Dramatic Slogan Oversized T-shirt – River Island: £18
Black Woven Back Panel Chelsea Boots – New Look: £24.99
Phoebe Double Buckle Cleated Boot – boohoo.com: £25
Sugarpills Clothing Furb Tee – attitudeclothing.co.uk: £29.99
Lexi Metal Bead Detail Choker – boohoo.com: £3
Mixed Shape Bracelet Pack – Topshop: £6.50
For this look, it is a simple combination of faux-leather, bold colours and some metallic detailing. There are ways to make this style more suitable for the winter months – if you add some thick tights (if you go for a leather skirt) and maybe even invest in a cool leather jacket, you will help guard yourself against the cold. Big boots would also go great with this outfit and protect your feet from all those puddles!
Finish it off with some metallic, spiky or studded bracelets and maybe even a choker, and there you have it –  Purfle's 'Bad Girl' look!