Teen Top are finally back after 6 months with the incredible 'Warning Sign'. The track is one of six, from their newly released EP 'Red Light'.
In the MV we can see Teen Top sporting a polished and cool style, and if you'd like to recreate the look yourself be sure to keep reading. There'll be a collection of different pieces you can find online that'll showcase the same style they sport.
If you hadn't had a chance to check out the new MV yet, take a look below:
[su_youtube url="https://www.youtube.com/watch?v=oLH8CxDfL_Y"]
If you're lucky, you can still manage to get some good pieces from the January sales with a bit of searching. Some may even be perfect to emulate this look so it's worth checking!
The silhouette of the look is mainly made up with a few key pieces combined. Taking a blazer with will give the same edge similar to the look that they wear. And this will help you recreate the style easily- with pieces you may already own instead of shelling out on lots of new clothes.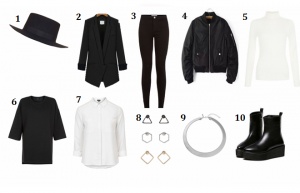 1. Straight Brim Fedora- Topshop: £25
2. Lapel Fitted Black Blazer- Romwe: £14.72
3. Black Super Skinny Disco Jeans- New Look: £19.99
4. Long Sleeve Black Zipper Jacket- Romwe: £12.88
5. Cream Ribbed Long Sleeve Turtle Neck- Newlook: £8.99
6. Black Ribbed Wide Sleeve Sweater- Newlook: £17.99
7. Long Sleeve Clean Shirt- Topshop: £29
8. Mixed Shape Earring Pack- Topshop: £4.50
9. Silver Ridge Clean Collar- Topshop: £12.50
10. Black Pointy Zipper PU Wedge Boots- Romwe: £25.35
If you wanted to switch the look up a bit, you could also swap out the jeans for a leather skirt to add an edgy twist to the look. And you could even mix and match the look, and add a tie to the shirt to emulate the looks they wear in the MV.
Luckily, the style is still great for the colder and damp weather we're having. Chunky boots and blazers will be sure to keep some of the cold at bay once you add a cozy scarf!
[If you're interested in any of the pieces shown, don't forget to check their websites!]
[Sources: Newlook, Topshop, Romwe]