For this week's review I'll be bringing you a look at Missha M's perfect cover BB cream. I've be using this product for around 2, maybe more years now! So it's about time I got round to sharing my thoughts about it (better late than never though, right?)
Recently, the popularity of BB creams extended from Korea and the rest of Asia. Maybelline and other brands available in the UK recreated the popular product, however they didn't have all of the same properties as the well loved BB creams coming from Asia. The Missha perfect cover BB cream will give a perfected coverage, a light weight feel as well as UV protection and SPF 42+++. I personally love products that come with SPF in, as if I ever forget to put any on, I know my skin is protected from any damage. The product also contains whitening properties so if you suffer with any acne scarring (like me) you'll actually find using this regularly will lighten up any imperfections. And give you a more even skin tone!
Below are some swatches of it on my hand, and a Before/After of it on my skin.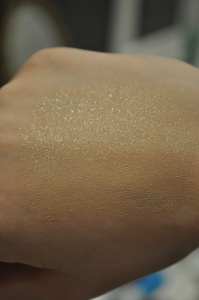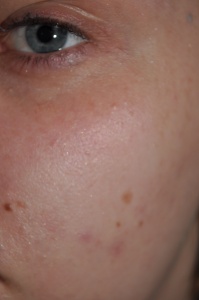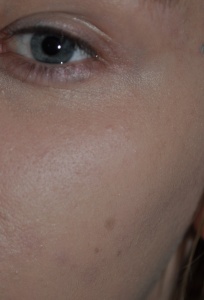 Missha do stock a couple other formulas and types of BB cream, but the perfect cover is their most popular formula. And I can really agree! When you first buy the product it does come in a box. However I've been on this tube for a while and I've lost it! But this run-down and these directions are printed on: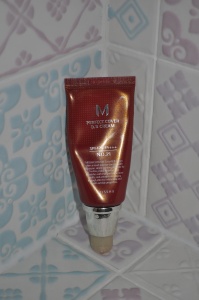 "The M Perfect Cover BB Cream makes your skin tone clean and natural by concealing blemishes with excellent skin coverage. It is a multi functional makeup cream with blocking UV rays, whitening and wrinkle care effects and simplifies makeup formalities. Its moisturized application with sleek W/S texture makes sleek skintone by supplying moisture and nutrition at the same time.
Directions: after basic skin care, apply an appropriate amount along the skin texture and finish with powder. Do not need to apply Sun cream in addition.
SPF (Sun Protection Factor): SPF of the product is measured by test methods of KFDA (Korean Food & Drug Administration)."
I own the BB cream in shade No.21 which I have to admit is a bit darker than my own skin tone on when compared to my neck. (I should properly order the lighter shade No.13 already) To fix this, I usually apply a white powder when setting it to get to match my skin perfectly. Which as I need a matte finish to keep my oily skin in check doesn't affect much! But if you find you're paler, and like a dewy finish, you may want to mix a lighter foundation in so it matches. Unfortunately Missha do only stock light to medium skin shades so you may struggle getting one to match but don't worry! You can always mix a bit in with a slightly darker foundation to get the great skin care properties. And having it still match your skin! As it does have SPF in, you may find a white cast in any flash photography.
I love the coverage this BB cream gives, it'll even cover any unsightly break outs. Which is why I keep going back to it time and time again! It feels so smoothing on the skin and the properties make me feel like I'm doing some good for my skin, even if I get lazy with skincare! I definitely recommend giving it a try if you're wanting a BB cream with more coverage to it as you'll probably fall in love with it.
You can order the perfect cover BB cream direct from amazon HERE