Seoul Fashion Week 2016 is concluding its final days as it predicts the fall and winter trends of the year. Many pieces presented on the runway have already made it from catwalk to wardrobe and we're seeing trends that promise to stick around until Winter.
Let's first take a look at the runways from last year's Fashion Week.
South Korean designer R.Shemsite's Spring/Summer collection consists of most fashion trends you'll see in street fashion and celebrity fashion this season. It's an eclectic mix of sport and smart and it's brimming with style inspiration. On the runway to present their SS collection in 2015, we can already the influence over this season's trends.
Souvenir Jackets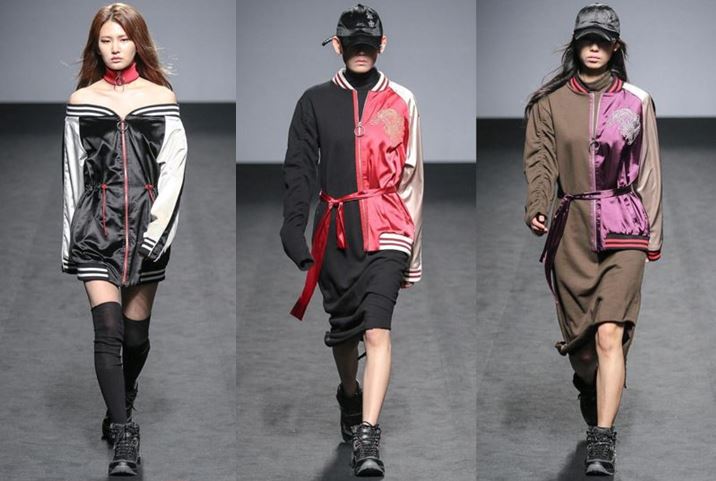 (cr. Vogue)
The 'sukajan' better known as the Japanese souvenir jacket has become a staple for Korean fashion this season and many idols have added one to their collections. Popular and on-trend, the vintage jacket has been creatively personalised by many designers. Hot brand, Valentino has added a contemporary camo print to the traditional style of jacket. R.Shemiste had already predicted the demand in their Spring/Summer collection and have included them in their Fall/Winter runways this week. The jackets customarily embroidered with dragons have been a hit with K-Pop idols and SHINee's Key is a perfect advertisement for the brand; sharing style inspiration on Instagram.

(cr. bumkeyk)
Traditionally worn by men, the souvenir jacket can be embroidered with a more feminine design with the inclusion of cherry blossom worn by Girl's Day's Yura. 4Minute leader, Hyuna has performed hit single 'Hate' in a unisex design by R.Shemiste.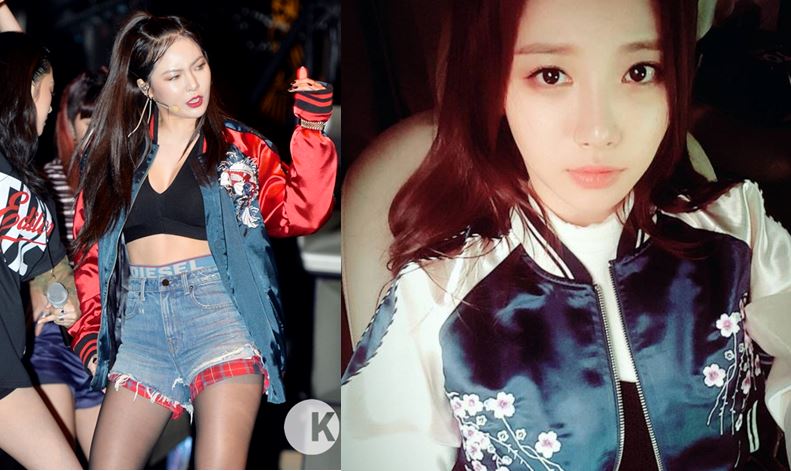 (cr. KFashionista, yura_936)
Common Cuts into Innovative Styles
This season has seen a surge of creativity where basics are concerned. We saw off-shoulder and cropped tops in the SS season of 2015 but this year they're back with a vengeance. The statement piece for Spring is the cropped sweatshirt, an essential for sportswear with an edge. Once again, R.Shemiste kicked off another fashion trend after scoring big with their sporty style last year.
Starship Entertainment's new girl group, Cosmic Girls (WJSN) made their debut with charming pop track, 'MoMoMo' and their outfits were a perfect accompaniment to the high-energy choreography. Both in the MV and on promotion stages, the twelve piece girl group can be seen wearing cropped sweatshirts and co-ordinated skirts. During Red Velvet's 'Ice Cream Cake' era, the cropped sweatshirt was an essential during their live performances. Although it was a 2015 favourite, this year we're looking at darker colours and sportier styles. Leave the pastels for this look and try matching with a snapback or baseball cap to complete an on-trend look.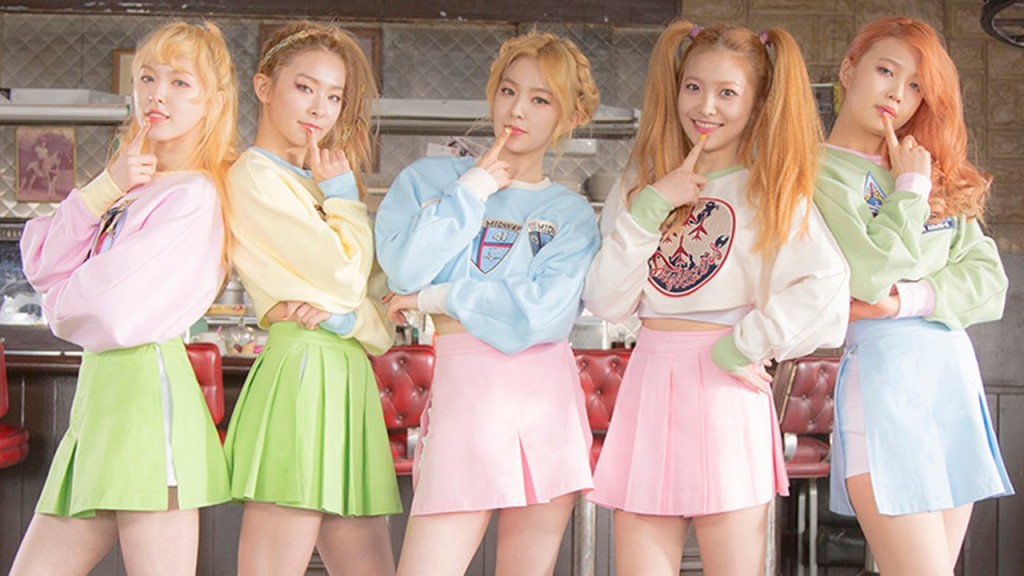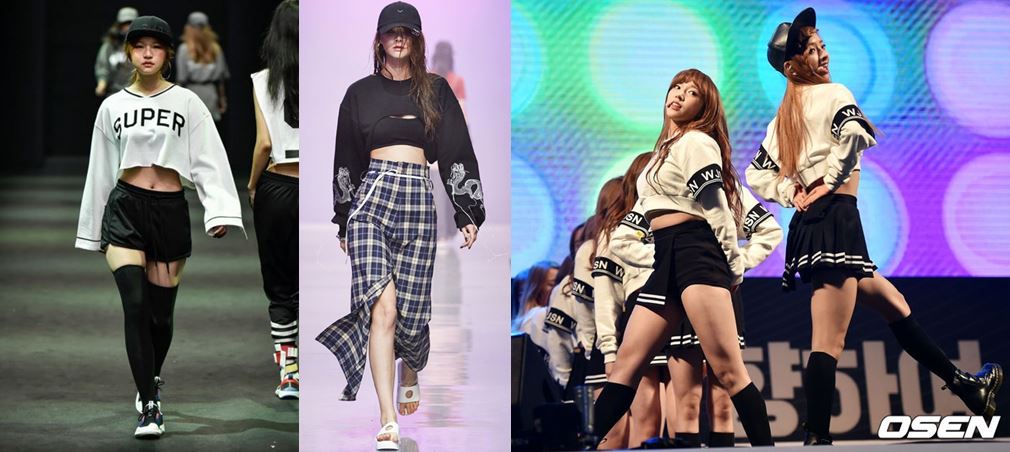 (cr. Vogue, KoreanModel and KpopHerald)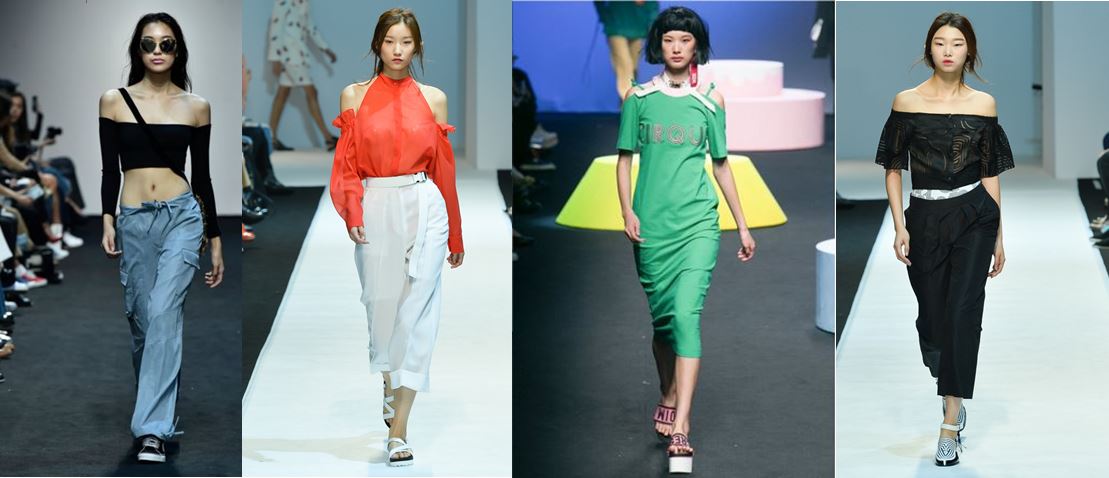 (cr. Supercomma B, Jarret, Cris E. Dim, Vogue)
Off-shoulder looks are fiercer than ever with straight cuts and tempting almost-there bare shoulder styles. A peek into last year's runway shows, we can see bold off-shoulder crops and sweeter, romantic styles with looser shirts. Androgynous designers Jarret & Ji Youn Lee, showcased their tailored aesthetic with a smarter approach to the style. Their SS collection is structured with industrious detail that can be easily replicated in your Spring wardrobe. If you're less confident with the bare shoulder look, take some inspiration from Cres. E Dim's collection. Swap the bold straight across the chest cut, associated with edgy Supercomma B's runway, and add a bold pop of colour or innovative print to a shoulder-peeping shirt. The street-style of Supercomma B is a favourite of many Korean celebrities and this season, it is no different. Fashionista and 2NE1 leader CL co-ordinates a bright off-shoulder style with her signature street vibe. Hyuna goes for that looser shirt look with a cut-out shoulder shirt that combines street with sexy. Some more feminine approaches to the Spring trend as Girl's Day's Sojin looks sweet with a barely-there shoulder peek and Mamamoo's Hwasa and Moonbyul keep it girly with their ruffled crops.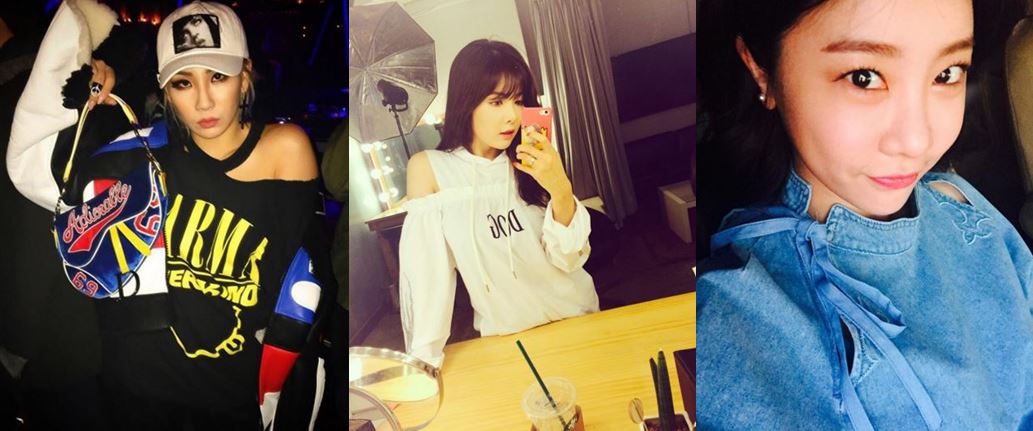 (cr. chaelincl, hyunah_aa, ssozi_sojin)


(cr. mamamoo_official)
The predictions from Seoul Fashion Week 2015 have emerged victorious in the glorious run up to Spring and Summer. Many styles have been adapted from last year so you can dig out those essentials and co-ordinate them with denim, darker shades and street style for an on-trend look. Seoul Fashion Week may be drawing to a close, but you can take inspiration from high-end designer collections and find some high-street alternatives more suited to your budget.