Today, we are getting our fashion inspiration from the very cute girl group Oh My Girl and their recent MV release 'LIAR LIAR'!
Here's the video:
As you can see, the girls have on a variety of dresses, which are the real focal point of this entire look. They are all fairly conservative in their style, with many including long sleeves and high neck lines. This makes them ideal for the highly changeable weather we are currently experiencing and as we move through the chilly, yet often still sunny spring season.
There is probably a dress to suit everyone's taste in this selection, from very feminine floral prints and bright yellows to the more edgy skirt/t-shirt combo. Don't be afraid to really go all out with your girly side for this look – the members of Oh My Girl show us that frills, bows and puffy sleeves can add an interesting twist to an otherwise plain dress.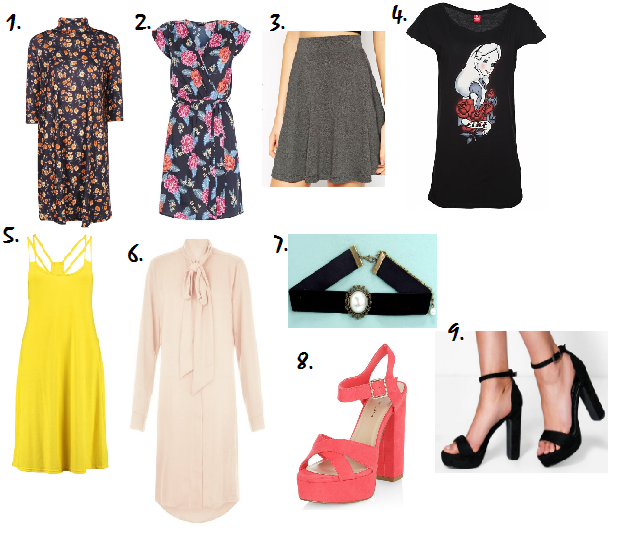 Arabella Floral High Neck Swing Dress – boohoo.com: £15
Blue Floral Print Belted Wrap Dress – New Look: £14.99
ASOS Skater Skirt in Jersey – ASOS: £14
Ladies Black Slouchy Disney Alice In Wonderland Tattoo T-Shirt – Truffleshuffle.co.uk: £21.99
Bella Strappy Swing Dress [Yellow] – boohoo.com: £12
Blue Vanilla Pink Pussybow Shirt Dress – New Look: £25
Grace Statement Pearl Choker – boohoo.com: £4
Wide Fit Bright Pink Suedette Cross Strap Block Heels – New Look: £27.99
Lola Two Part Platform Heels – boohoo.com: £25
All of these dresses would go well with some thick tights to help keep your legs warm, and will of course, also transition well into summer with some knee high or ankle socks. You could also easily layer up these dresses with a long sleeved shirt underneath or a fluffy cardigan over the top.
The girls keep the jewellery and accessories to a minimum, which really allows the dress to be a statement piece for them. However, a couple of the members are seen wearing choker necklaces, which adds a small fraction of detail to an otherwise very simple look.
As with most girl groups, Oh My Girl finish off their style with some high heels in bold, block colours. Some colourful flats or black ankle boots would also work quite well with this style though.
The main idea is to go bright and feminine. Choose a dress with a lot of detail and an intriguing design and you will find that it will do all the work for you with your outfit. No extras necessary!
[Sources: boohoo.com, New Look Website, ASOS Website, Truffleshuffle.co.uk].