Winner had their long-awaited comeback after a year and a half away at the start of 2016, with their EP Exit:E. Although it's been a fair few months since the release, the colourful and catchy track 'Sentimental' will be the focus of this 'Get the Look'!
Throughout the MV we see the members wear an array of different colours, from a really diverse colour pallete- this'll make the looks easy for us to recreate with pieces you may already own. A lot of the styling has a classic street fashion touch to it, and a classic rock hint with the ripped jeans and leather jacket combinations.
If you want to check out some pieces that'll help you recreate their cool look, be sure to check out the list we've put together below to help you get more inspiration if you're stuck for ideas!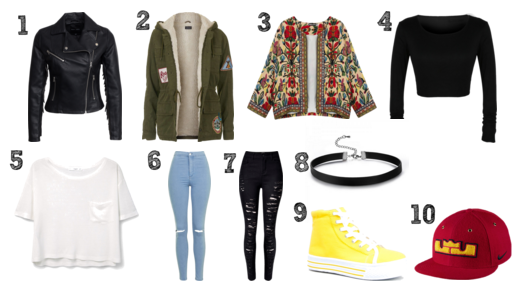 1. New Look PU Tassle Biker Jacket- £40 Nelly.com
2. Badged Hooded Jacket- £65 Topshop.com
3. Ethnic Floral Print Slim Embroidery Jacket- £18 NewChic.com
4. Monica Long Sleeve Crop Top- £5 SassySelife.com
5. MANGO Pocket T-Shirt- £15 MANGO.com
6. Bleach Rip Joni Jeans- £35 Topshop.com
7. Black Extreme Ripped Skinny Jeans- £30 WithChic.com
8. Black Leather Choker- £6 EverMarker.com
9. MANIAC-05 Sneaker- £19 ZooShoo.com
10. Nike Pro Adjustable Hat- £24 FinishLine.com

The base of the outfits mainly consist of ripped skinny jeans, so if you're trying this look out for yourself you may already have a pair (unripped work great too!) to set the base of the silhouette to build on! Plus- with summer approaching in the next couple months, you could also use denim shorts to keep the looks weather appropriate- if we get a miracle and have a heatwave…. The great thing about the styling in 'Sentimental' is that there's something for everyone; if you prefer a more edgy rock look, there's the leather clad styles. Or, if you prefer the urban street styles there's plenty to pick from!
What do you think of the style the members wear in 'Sentimental'? We hope you got some inspiration from the pieces above! Let us know what you think in the comments!
[All clothes listed can be found on their websites listed above]