K-Con 2016 in Paris is just a couple of weeks away so if you're still stuck on outfit choices, we've got you covered! This week we're dressing ME U's, Primadonnas and BBC's in fandom inspired outfits. Don't forget to grab your lightsticks to complete the looks!
F(X)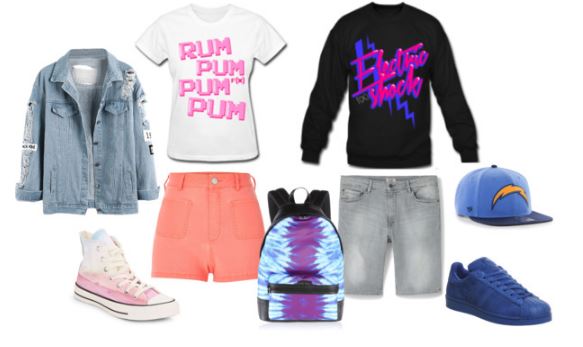 The Rum Pum Pum Pum/Electric Shock era of F(X) is a favourite among fans. Vibrant colour is key for this outfit. We've paired these fantastic printed t-shirts with two pairs of shorts, washed out grey for a male look and a peach pair of hotpants for a female look. Try and accessorise with thunderbolts! Here, we've picked out a snapback with a thunderbolt motif. You will be able to find plenty of lightning shaped accessories and jewelry online and in stores like Claires Accessories so shop around or get crafty and create your own! This era of F(X) was creative, fun and bright. Opt for neons and pastels and create a stand-out outfit to show your love for the group. Psychedelic prints and tie-dye are welcome here. Accentuate the wonderful patterns and colours just like the girls did in their debut era.
Rum Pum Pum Pum T-Shirt – Fyzzed.com £27
Electric Shock Sweatshirt – Fyzzed.com £35
Mango Denim Shorts – Mango £36
Adidas Superstars – Office £45
San Diego Chargers Cap – Nordstrom £16
Diesel M-Jungle Backpack – Diesel £80
River Island Orange High Waisted Shorts – River Island £22
All Star High Top Trainers – Converse £35
Light Blue Denim Jacket – Choies £22
FT Island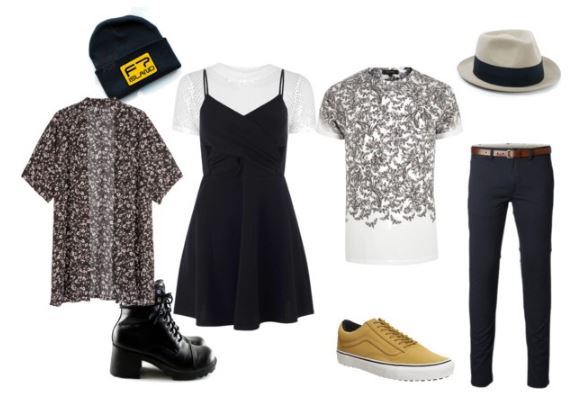 If you're a Primadonna, you'll be familiar with FT Island's chic style and rockstar vibe. The band has been on the scene for almost 10 years now and are finally performing in Europe! We've toned this look down for the occasion presenting a casual festival look. We've added splashes of their fanclub colour with a washed out monochrome look. For the female look, we've started with a basic skater dress and layered it over a mesh crop top. Kimonos are a hot festival favourite so cover up when the sun goes down with a ditsy floral print and finish the look with some grungy, vintage biker boots. For the male look, we've taken the 'FT Island' name and assumed a tropical vibe with this tropical bird printed t-shirt. Pair with some skinny jeans or chinos and a comfy pair of trainers. To complete both looks, add headwear! You can grab this super cute FT Island beanie from Kuurupop which is a UK based K-Pop store – that means it can arrive in time for the concert! Or you can carry the indie rock vibe through by topping it off with a trilby.
FT Island Beanie – Kuurupop £6.99
Black Skater Dress – Miss Selfirdge £15
Airtex Crop Tee – Topshop £14
Patterned Kimono – H&M £10
Vintage 90s Heeled Boots –  Etsy £21
White Print T-Shirt – River Island £18
Slim Fit Chinos – Selected.com £55
Vans Old Skool – Office £38
Brown Short Brim Hat – Topman £25
Block B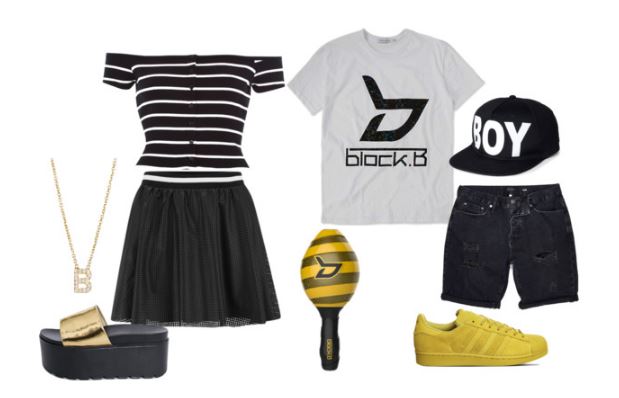 Think stripes and the colour yellow when piecing together a Block B inspired co-ord! These outfits are inspired by the unique lightstick of the group. Off shoulder pieces and crops are hot for the season so find a striped version for the concert (if it's yellow, that's even better!) Don't go too overboard with the stripes and the colour yellow. Mellow out the sunshine colour by accessorising in it. Carry the pattern through to the lower half of the outfit, we've added a skater skirt with a subtly striped waistband that neatly brings in the outfit. If yellow isn't your colour, opt for gold tones instead. We've added some gold slip on flatforms to really liven the outfit up. Add a flash of gold jewelry to complete the outfit. You can find initial necklaces anywhere on the high-street, try and snag a letter B and wear it with pride. For the male outfit, we've kept it nice and simple. Show your fandom support by wearing a Block B t-shirt and then you can wear whatever's comfy to complete the rest! Add in splashes of yellow through jewelry or be bold in these bright yellow Adidas superstars. Throw on a snapback or baseball cap to accessorise.
Striped Bardot Top – River Island £7
ONLY Women's Sofie PU Skirt – TheHut.com £13
Gold Metallic Flatform Sliders – PrettyLittleThing.com £8
Block B T-Shirt – TeamKpop £17
Black Washed Shorts – River Island £15
Adidas Suede Superstars – Selfridges £45
Boy London Cap – Selfridges £35
We hope you enjoyed our customised fandom outfit ideas. Next week we'll be dressing you fit for SHINee, BTS and I.O.I!