This week, we're back with a make-up review for you! A few months back we took a look at my go-to BB cream-  Missha's 'Perfect Cover BB Cream' recently I felt like changing my base make-up so I've gone for something different; this time, its Missha's 'Real Signature BB Cream'.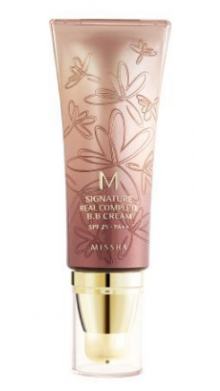 I absolutely love the formulas Missha have in their BB Creams, plus I know their products don't break my sensitive skin out, so I decided to stick within their BB cream range when trying a new one. Missha have a list of characteristics of their Real Signature BB Cream, so I'll list them below!
"1) A Skin friendly ingredient, Skin Liquid and patented Amino Acid Complex strengthen skin's natural moisturising factor (NMF) and balance out the water and oil content of the skin.
2) A fine texture created by Micro Multi Grinding Technology and melt-on-skin Vegetable Ingredients apply well and lightly onto skin, but give maximum coverage, and keep clean, flawless skin complexion for 12 hours.
3) Infused with organic ingredients, a patented natural healing complex and 7 free ingredients, this BB cream is very gentle to your skin.
4) Containing skin regenerating Peptide Complex, and soothing antioxidant Ginko Water and other vegetable complex, this formula retains moisture inside skin and gives abundant amounts of nutrients."
The aim of the Real Signature BB Cream is to soften imperfections and offer a great coverage, with a completely natural look; all while keeping the skin healthy and protected with its added SPF 25 and PA+++ with brightening and anti-ageing effects, and not irritating sensitive skin. Personally, I love the colour selection of the Real Signature range, than the Perfect Cover BB Cream;  there are lighter shades in this range (I got #21 in Light Beige, it's a much better match than the Perfect Cover) the shade range even goes lighter! This may not be any good for even medium skin tones as the colours are quite light, but they'd be good to mix into foundations for their great properties. There's even a good choice of pink or yellow undertones so you can find a good match!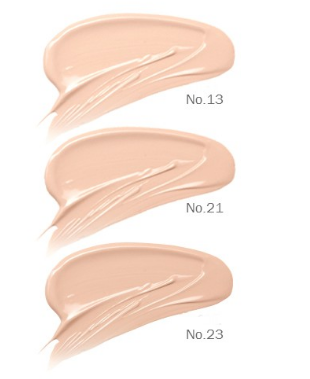 The formula definitely has less coverage when compared to the Perfect Cover BB Cream; however I actually find that you can still manage to get a great full coverage flawless finish with a couple layers (massive bonus) The packaging has a pretty flower design in a sturdy plastic pump bottle tube, which is good for hygiene and making sure you get the right amount of product. For oily skin, I can almost guarantee you won't get their listed 12 hour wear, but with powder and regular touch-ups you can keep it looking fresh throughout the day! This BB Cream would be ideal for Dry/Normal skin types and even sensitive skin!