Today, we are getting some romantic style inspiration from Baek A Yeon's 'So So' MV!
This style is very feminine, full of whites, pinks, and blues. Have a look at the MV below:
One of the main themes of Baek A Yeon's look is the billowy, ruffle sleeves. I often refer to these as 'Shakespeare sleeves' as they always make me think of the extravagantly 'poofy' style that was popular during Elizabethan times in Great Britain (though, I'm aware that I'm likely just stereotyping there).
Though the song is actually about the numbness one can feel after a break up, the fashion evokes a very lovey-dovey and giddy feel with its soft tones and floral designs. This is likely due to the fact that Baek A Yeon feels desperate to reclaim the feelings of love once again.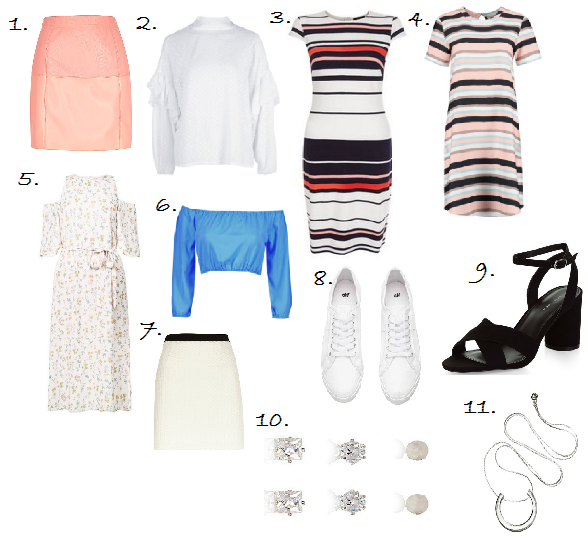 Pink Leather Look Pelmet Skirt – River Island: £12
Hannah Sheer Dobby Spot Ruffle Sleeve Blouse [White] – boohoo.com: £20
White Stripe Bodycon Midi Dress – New Look: £22.99
Valerie Striped Shift Dress – boohoo.com: £12
Cream Floral Print Cold Shoulder Tie Wiast Midi Dress (Online Exclusive) – New Look: £27.99
Sophie Woven off the Shoulder Top [Blue] – boohoo.com: £8
White textured A-line skirt – River Island: £12
Ladies Canvas Trainers [White] – H&M UK: £14.99
Black Suedette Cross Strap Heeled Sandals – New Look: £22.99
White Silver tone Stud Earrings pack – River Island: £8
Long Necklace – H&M UK: £6.99
This style might make some readers wrinkle their nose in distaste, however, there are many ways you can manipulate this style to fit you. There are lots of floral designs available on the high street, including in bolder and darker styles. You could also change up the colour palette to suit your tastes more by, for example, switching the whites, pinks, and blues out for reds and blacks.
Baek A Yeon finishes off the outfit with some simple, feminine, silver jewellery and white trainers or black, strappy heels. This completes a really simple, womanly look that is perfect for the summer!
[Sources: River Island Website, boohoo.com, New Look Website, H&M UK Website].