Xia is back with his fast paced song 'Rock the World', a catchy dynamic dance track, that will quite literally "bring the ceiling down"– featuring The Quiett and Automatic, the single is from his new studio album 'Xinature' which was released at the end of last month. The last time Xia came back with a music video, it was with the impactful 'Flower' from his 3rd solo album.
For this get the look, 'Rock the World' will be our colourful inspiration!
If you haven't had a chance to check out the music video yet, take a look below: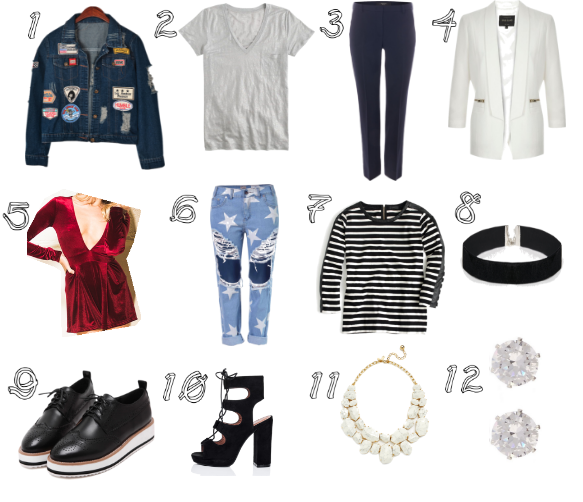 1) Distressed Fashion Denim Jacket- £20 CHICNOVA.com
2) J.Crew Linen V-Neck Pocket t shirt- £28 JCREW.com
3) Zip Detailed Slim-fit Trousers- £20 ManiereDevoir.com
4) White open back smart Blazer- £50 RiverIsland.com
5) Cheeky's Annie Velvet Playsuit in Burgundy- £40 SilkFred.com
6) YOINS Star Print Boyfriend Jeans with Extreme rip Knees- £27 Yoins.com
7) J Crew Striped t shirt with Zipper- £29 JCREW.com
8) ASOS Black basic Velvet Choker- £5 ASOS.com
9) Black Bush Pierced Lace up flats- £31 WithChic.com
10) Burma Lace up Block Heel Sandal Shoes Suede Style- £29 SilkFred.com
11) New York Accessories Quarry Gem Necklace- £24 NewYorkAccessory.com
12) Silver Tone Sparkly gem Stud Earrings- £6 RiverIsland.com
What's great about the style that Xia sports in this music video is how versatile the outfits are; you can get inspiration for more formal outfits from the colourful and patterned suit combinations. Or more casual urban influenced looks from the dance break cut-scenes. The style is great for the summer season too! You can easily incorporate more colours into your wardrobe's palette and make a multitude of outfits.
Want to find out more about the 'Rock the World' Mv? Check out the breakdown HERE
If you wanted to find any of the clothes listed, all pieces can be found on their listed websites.
[Sources: Chic Nova, J Crew, Maniere Devoir, River Island, Silk Fred, Yoins, ASOS, With Chic]