BEAST have had their first comeback as a 5-piece group since the departure of Hyunseung earlier on in the year- with the stunning summer ballad 'Butterfly'. BEAST are no stranger when it comes to belting out ballad's and, 'Butterfly' really has a special dynamic quality to it.
The video really has a stunning visual presence. We see the members wearing crisp and clean white button-up shirts paired with tailored trousers throughout. Splashes of colour are being brought in from their surroundings; such as the purple and blue flowers or the stunning woodlands they stand in. 'Butterfly' really is a great focus for this week's 'Get the Look'.
If you haven't already, be sure to take a look at the video below:
As all of the looks throughout the MV are extremely clean cut, and monochromatic we can take inspiration from the flowers and background design to bring in some colour and a variety of texture to the outfit! It's really easy to bring colour into different outfits; from your shoes to even simple accessories, this make's the outfit possibilities really easy to change up and combine with things you already own.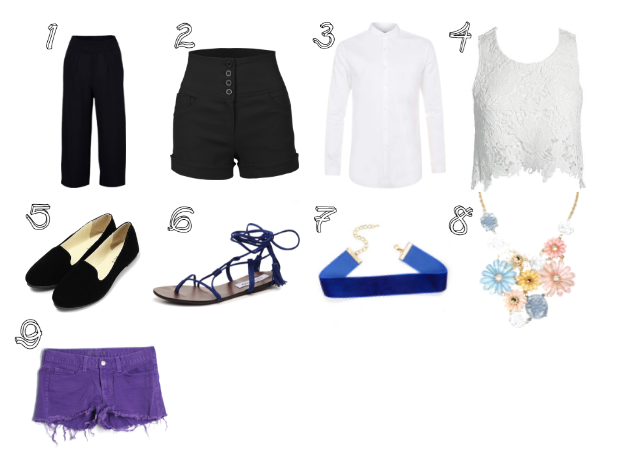 Amara Tailored Woven Culottes- £12 BOOHOO.com
LE3NO Women's Stretchy High-Waisted Nautical Shorts- £15 LE3NO.com
Premium White Penny Collar Formal Shirt- £40 TopMan.com
White Crochet flyaway Crop Tank Top- £17 SansSouciStores.com
Steve Madden Saleena Flat Sandal- £35 DSW.com
BLUE Wide or Why Not Velvet Choker- £3.45 GoJane.com
Mixit™ Pastel Flower Bib Necklace- £14 JCPenney.com
J Brand Purple Denim Shorts- £15 ThRedUp.com
I took some inspiration from the jewel toned blue and purple flowers, so we translated this into the shoes and accessories! You can do this with your own looks too to easily make them your own.
If you wanted to order any of the items above, you can find them on their listed websites!
[Sources: BOOHOO, LE3NO, TOPMAN, Sans Souci Stores, DSW, Go Jane, J.C.Penney, ThRedUp]