September is nearly upon us and whether you're heading back to school, college, university or work, we've got you sorted for summer vibe aesthetics. We've looked at the hottest MV's of this summer and have been inspired to create some high street looks you can easily squeeze into your every day wardrobe. We've focused on the perfect bag or backpack to create a K-style back to school look. Even if you have to wear a uniform to school, you'll find something you can wear on the weekends!
BLACKPINK- Whistle
Since their anticipated debut only a few weeks ago, we've been drooling over YG's latest girl group. BLACKPINK ooze attitude, confidence and talent in their debut MV's but it isn't only their talent that we've been drawn to. From the soft, feminine looks to the edgy, street style we just had to create two inspired looks from their MV for Whistle.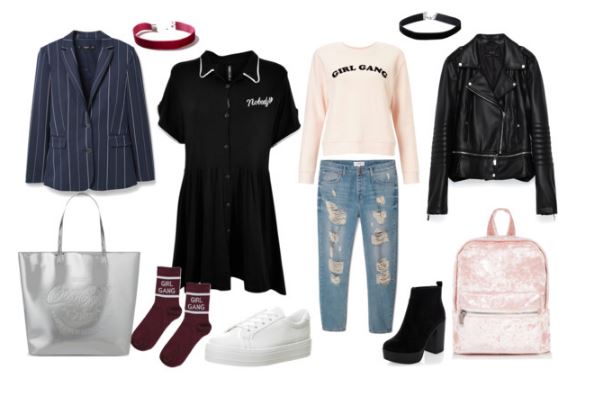 BLACKPINK are ultimate girl gang goals so we've created two looks around this idea. We think a pinstripe blazer is perfect for an academic vibe and we've chosen to layer it over a simple collared black dress in this first look. Lisa wears a pinstripe blazer in the MV and Jennie wears a stylish leather jacket with customised pinstripe sleeves for a more casual look. Varsity style socks paired with white flatforms are perfect when transitioning your wardrobe from Summer to Autumn. This wouldn't be a back to school look without a statement bag. You can fit almost anything into an oversized tote and we think this metallic Coca Cola tote bag suits the style of BLACKPINK to a T. Almost every member wears a choker at one point in the MV so we've matched a velvet red choker to this look to finish it off. The second look focuses more on black and pink as a colour palette rather than a style. An oversized sweater and ripped jeans for a comfy first day back at college or university paired with chunky chelsea boots. This look is a lot more casual but you can add BLACKPINK inspiration by throwing on a leather jacket and accesorising with a velvet choker. This crushed velvet bag is definitely a statement piece for the first day back and completes the outfit.
Pinstripe blazer – Mango £27
Retro skater dress – SpoiledBrat.co.uk £35
'Girl Gang' socks – Topshop £3.50
Red velvet choker – Topshop £6
Silver Coca-Cola tote – Skinny Dip £34
Flatform trainers – Office £32
'Girl Gang' sweater – Miss Selfridge £27
Ripped boyfriend jeans – Mango £15
Faux leather jacket – Zara £38
Black Chelsea boots – New Look £30
Black velvet choker – Miss Selfridge £8
Pink crushed velvet backpack – Skinny Dip £20
B.A.P That's My Jam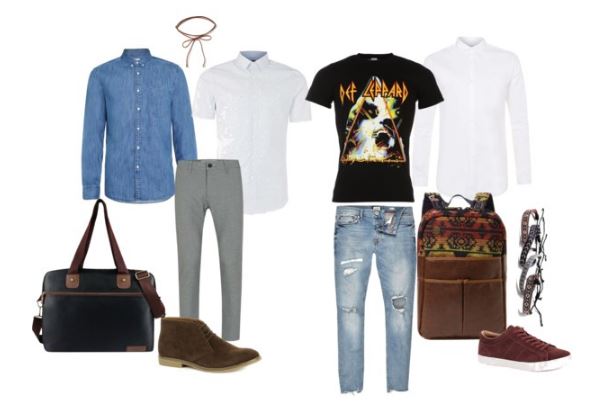 Still battling post-festival blues? Channel your inner Youngjae or Himchan with these two contrasting looks inspired from B.A.P's latest MV That's My Jam!  If you've got to be dragged back to reality in a few weeks and you're still holding on to the threads of you festival wristband, we've got the perfect look for you. Youngjae wears a bold shirt/t-shirt combo in the MV and it's perfect for a school outfit. Combine your favourite band t-shirt and a white shirt to pull off this look. Pair with some well worn ripped jeans and comfy trainers for an effortless look. If you've not collected a series of festival bands this summer, you can cheat and pick up some on the high street! Fit all of your school supplies in a large backpack and choose a funky patterned one for a fun look. Himchan is the king of suave so if you're looking for a smarter look this September, we've got the perfect one for you. Shirt, chinos and suede boots are a staple combination but we've spiced it up a bit for a back to school look. Try a denim shirt buttoned only half way down for a taste of K-style and finish off the look with a simple choker. Stay smart with a suitable over shoulder bag to carry your laptop.
Blue shirt – Topman £30
White short sleeved shirt – Topman £30
Faux suede choker – Topman £8.50
Laptop bag – Ebags.com £21
Faux suede boots – Topman £38
Grey houndstooth trousers – Topman £35
Burgundy trainers – Topman £36
White long sleeved shirt – Topman £38
Def Leppard T-Shirt – Amazon £13
Ripped skinny jeans – River Island £45
Festival style wristbands – Topman £14
Focused Space backpack – Gilt.com £37
Oh My Girl – Listen To My Word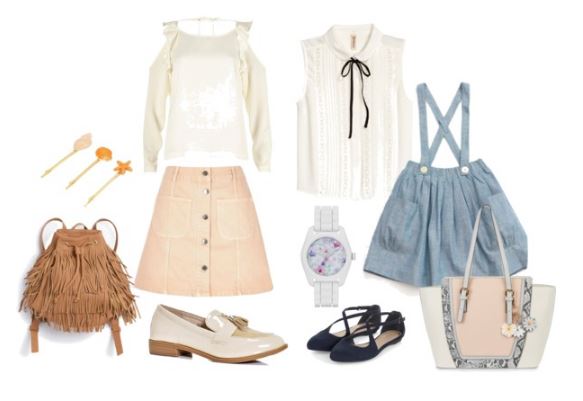 Oh My Girl are beach princesses in their latest MV Listen to my Word. Their bo-ho inspired style in on-trend at the moment and whilst we wish we could wear off shoulder crops every day, it just isn't practical at school or work. Instead, you can work summer vibes into your everyday outfits by accessorising! The first look would be perfect for the first day back at school or first day starting college. Now would be a good time to hit the summer sales and grab some long-sleeved off shoulder tops and pastel colours that won't see it to the Autumn. This cream, silk shirt paired with the high-waist pale pink skirt will compliment any skin tone. The two colours work perfectly together. We found a pair of patent loafers for that casual, summer days feel. Add any sort of summery accessory and you're set! Don't forget a backpack to complete your back to school look. We love this tan faux suede tasseled backpack! The second look is very similiar in colour and style but we took inspiration from the choreography scenes where Oh My Girl are dressed in school uniform style. The suspender skirt is perfect for a cute school look and if you want to create a really on-trend look, opt for a darker shade of blue or black! You'll look like you've walked straight out of a K-Pop girl group. Ballet pumps are super cute and on-trend at the moment! Accessorise with florals and pastels and try contrasting with darker colours. An oversized tote that holds practically everything for the day is a great finishing touch to your outfit!
Sleeveless white shirt – H&M £23
Suspender skirt – Olivejuice.com £32
Navy ballet pumps – New Look £20
Floral watch – JCPenney.com £11
Pastel tote bag – New Look £25
Cream frilly blouse – River Island £25
Pink denim skirt – River Island £15
Tasselled loafers – Boohoo £23
Starfish/Shell hair clips – Yoins.com £3
Tasselled backpack – Monki.com £35
Which outfit is your favourite?