Last month, GFriend came back with Navillera; making it their second title track release of the year! Compared to their other release 'Rough', 'Navillera' follows in the same sound style but increases the pace. The MV for 'Navillera' will be the focus for this week's Get the Look!
If you hadn't had a chance to check out the MV take a look below!
We see the girls sporting an extremely retro style throughout the video, the colour pallet keeps with the almost 70's feeling style. With plenty of browns, mustard tones and blues! This is great news if you want to re-create any of their outfits as you can easily find items similar in stores at the moment. All of their looks are completed with cute bows in their hair and other simple accessories. Once summertime comes to a close and the autumn season comes in, the styles they wear will work perfectly as the seasons change too!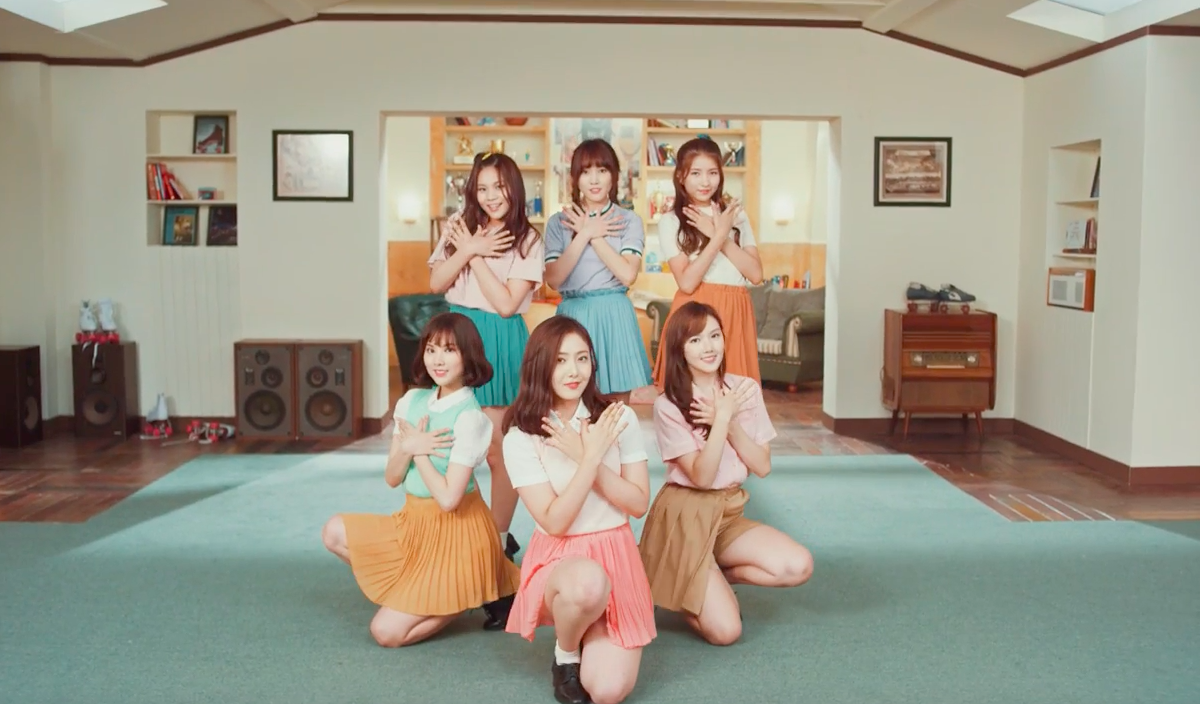 Below, you'll be able to see a collection of clothes and accessories we carefully picked out that'll work perfectly to re-create their 'Navillera' fashion. The looks themselves will be really easy to recreate by layering shirts and completing it all with a skirt or pair of shorts. You can easily add your own interpretation and work in bolder colours, or even swap colours out completely and alter it into monochromatic tones with just black and whites instead.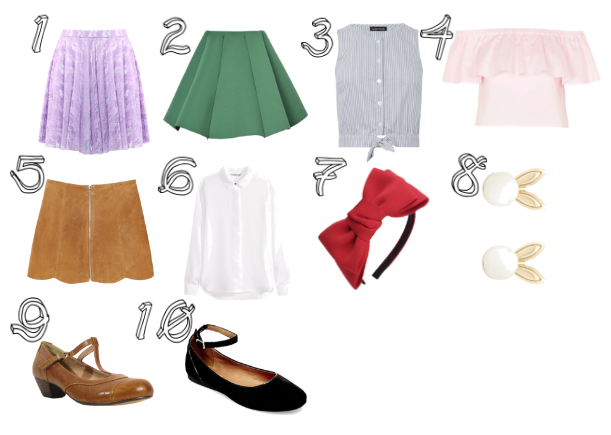 1) Yoins Stretch Waistband Mini Skirt- £14 YOINS.com
2) Green Structured Pleat Mini Skirt- £10 CHOIES.com
3) Warehouse Striped Cotton Tie-Shirt- £30 Warehouse.com
4) Off the Shoulder Bardot Blouse- Topshop.com £26
5) Monkie Sunny Suede Skirt- £25 Monki.com
6) Long Sleeved Blouse- £10 HM.com
7) Sweet Style Bow Headband- £4.10 ChicNova.com
8) Bunny Pearl Stud Earrings-  £7 VERY.com
9) Crew Tan Soufflé Mary Janes- £20 Zulily.com
10) Steve Madden Julia Flats- £25 SteveMadden.com
All items can be found on their retrospective sites!
[Sources: Yoins, Choies, Warehouse, Topshop, Monki, H&M, Steve Madden, Zulily, Chicnova, Very]