After many months of waiting, we finally get to see what the newest YG girl group has to offer in their debut. The members consist of Jennie, Lisa, Jisoo and Rose. Lisa's from Thailand, adding to the number of Thai idols in the industry, Rose studied in Australia and Jennie in New Zealand respectively.
They've already gained an all-kill, which is something that's only been achieved by fellow labelmate 2ne1 and JYP's MissA. The fresh new girl group have only been officially debuted under a week and they have already have a number of impressive achievements under their belt.

It's been a good seven years or so since a girl group debuted from YG, it's definitely been a long time coming in this case. Out of the two songs that BLACKPINK released, given by the title itself it was going to be the hyped one. As it was composed by Teddy and Kush, it's going to have a catchy and addictive tune. As this is from YG, there's almost an expectation that the rapping has to resemble the confident distinctive style of the company, with the focus not only being on the vocals – which with this group is pretty good, although we're looking forward to hearing the vocalists improve in the future.
There's a number of instances where English integrated into the lyrics, which heavily appeals to the international audiences, especially with the example of the opening few sentences of this particular track and also Whistle. As aforementioned, all the members reportedly are fluent in English which explains how they sound natural and comfortable speaking in it. Just by watching their MV, it could be argued that if a non K-pop fan were to stumble upon one of their music videos, they probably wouldn't think they were a new group. There's definitely similarities with 2NE1, with YG himself stating that he did not make an effort to make a distinct sound that's different from the other girl group, but only time will tell whether they will gradually start to drift away from the shadow of 2NE1 and become recognised for having a certain style of music that be associated with BLACKPINK.  
---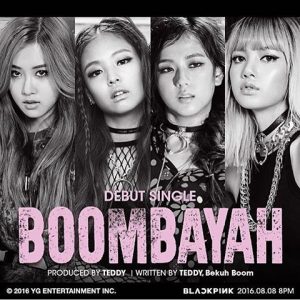 "The girl you've all heard of is me Jennie."

"I'm immature and bold, man." 

"I'll go higher beyond the sky."

"I wanna run fast without knowing the end."
---

First of all, they don't carry the rookie vibe, while they may appear to be already seasoned artists looking confident and sassy in their MV, they certainly have potential as shown not only by their domestic achievements but also international. It's inevitable that there's going to be comparisons made to 2NE1, they share similaries in the area of concepts. But it's still early days, as the YG girls only debuted a couple of days ago, we're sure they'll gradually build their own style and music that's unique for them .
From the moment it starts until it finishes, there's not a trace of the awkwardness you would expect to see from a freshly debuted group. Instead, you're assaulted with nothing short of the kind of confidence that YG artists seem to exude. The choreography is a pleasant surprise, as especially with the earlier groups in the company dance did not have as much focus as the music did. It's easy to see the hints from the dance practice they had released a few months prior to their debut of what you could expect, with all the girls looking natural as they relish in the fact that they're actually finally out and releasing music.