It was revealed that the girl group getting increasing recognition would form two sub-units, the 'Rapper Line' and the 'Angel Line' which consists of Moonbyul and Hwasa and Solar and Wheein respectively. The double tracks were released at the end of August, with the latter duo's song was leaning towards a serene and gentle ballad while the former's style remained close to Mamamoo's roots particularly from their debut days.
For this SOTW, we'll be looking at the rapper line's song 'Dab Dab'!

In all honesty, this wasn't the kind of sound that instantly came into our heads in regards to the rapper line's song. Especially with their past song release with 1cm – (Taller than You), we almost expected to hear a similar sound to that. However, instead this track revolved more around Mamamoo's trademark jazzy and retro style that they've been sporting since they were rookies as it's quite a piano heavy number. The term 'Dab Dab' isn't referring to the trend of 'dabbing', but rather it means 'frustrating'. It does show that they're versatile, with Hwasa belting out that high note and Moonbyul's husky rapping, though we did assume there would be more rapping from the former. Overall, it's a good tune to listen to!
So, the lyrical meaning of the song is all about the pair voicing their own two cent on guys who do not act on their feelings by being tentative, especially if they're trying to come across as being 'cool' in order to give off the impression that they don't care. Often there's miscommunication that occurs, with different interpretations being taken from each side, so they encourage the guys to take the risk and admit their feelings simply in a manner that they can understand. Which is, of course, easier said than done in this day and age.
"It's frustrating, your awkward attitude
It's too vague for my heart to be stolen away".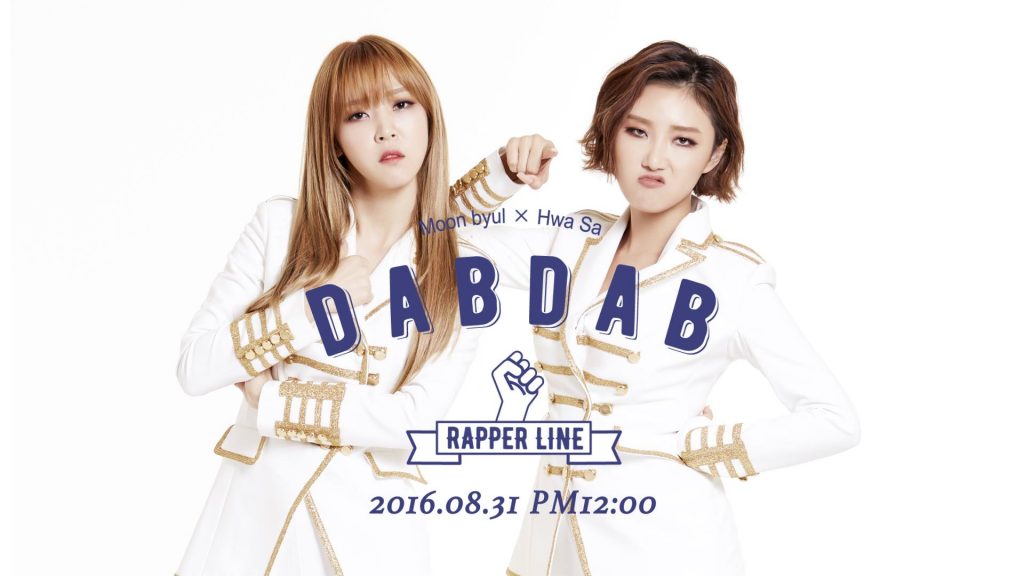 This MV, along with the 'Angel Line', was filmed during their live concert which is an interesting change from the usual set production that we always see in music videos. When we first saw their outfits, it did remind us of BIGBANG's T.O.P's eye-catching pink suit from their performance at the MAMA awards in 2012.
The duo appear on the stage, looking as comfortable and full of charisma while having fun and interacting with their fans in the mass of devoted fans. The latter which can really make a difference to the fan's experience watching their live stage. For some artists, can take time before they become fully confident in being able to perform well live but the girls make seem to make it look effortless.
Which style did you prefer? The rapper line or the angel line?