Crayon Pop have made a comeback with 'Doom Doom Chit', and we are looking to their MV for some fashion ideas today!
The helmets are long gone now, but thankfully Crayon Pop haven't lost their sense of fun and their eclectic style, here's the MV:
As you can see, a lot of their outfits have a real 70s vibe, with flare trousers and ruffle tops making a significant appearance. Luckily, there are many toned-down versions of these items available on the high street today. This means that you can keep the interesting and retro feel of this style without embracing it so much that you look like you are going to a fancy dress disco party!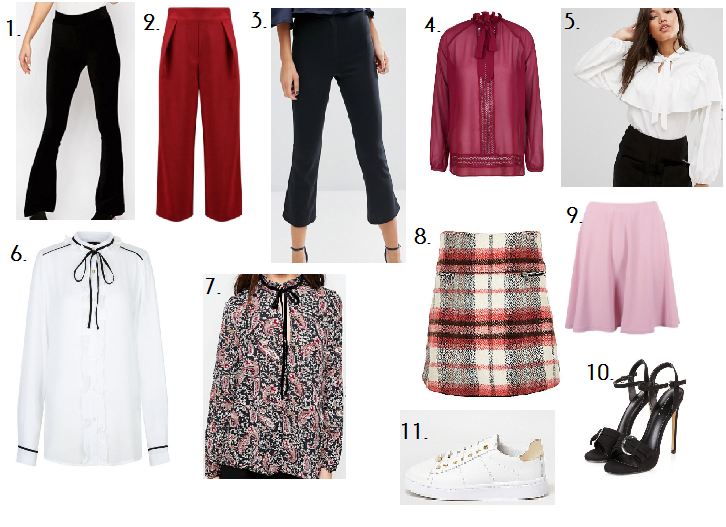 Chorus Stretch Cord Star Back Flares – ASOS: £25
Sierra Pleat Front Woven Wide Leg Culottes [Merlot] – boohoo.com: £20
ASOS Stretch Kick Flare Trousers – ASOS: £25
Blue Vanilla Dark Red Pussybow Blouse – New Look: £23
Boohoo Ruffle Neck Tie Blouse – ASOS: £18
White Contrast Neck Tie Frill Trim Shirt – New Look: £22.99
Madam Rage Blouse With Ruffle Neck In Paisley Print – ASOS: £20
Girls pink check A-line skirt – River Island: £15
Adana Full Soft Crepe Skater Skirt – boohoo.com: £6
Black Suedette Buckle Pointed Heels – New Look: £24.99
White Metallic Trim Platform Trainers – £28
There are many flared culottes also, so you can have a different twist on the classic flare trouser. The tops shown in the look are in ruffle and pussy bow styles, which are very cute and girly. Of course, you can also simply buy a bow accessory to tie or clip on a shirt and get a similar look.
There is also a look in the MV that involves brightly coloured tennis skirts, though you might not want to wear them in the cold weather unless you have some thick tights on! You can finish the look off with either heels or flats.
Overall, this look is very feminine and quite versatile. A few simple tweaks can make it perfect for the office, or for if you're out eating a meal with friends – it just depends on your mood!