SISTAR are back with their brand new music video for 'One More Day'. The song itself is a collaboration with popular DJ Giorgio Moroder who composed and produced the song; he even makes a cameo appearance in the star of the video! The video is completely different to anything we've ever seen SISTAR release before. Not only is the video showing an incredibly powerful story, it also features amazing fashion styling worn by the two actresses; making it the focus for this week's 'Get the Look'!
If you hadn't had a chance to watch the video, be sure to check it out below.
We've studied the video and trawled the internet to put together a list of 10 pieces that'll make it easy to recreate the edgy fashion they showcase in the music video! The edgy leather clad style they wear throughout the video is becoming increasing popular this Autumn/Winter season which makes it easy to find similar styles online and in-store near you! You may even be lucky enough to find some pieces in the sale.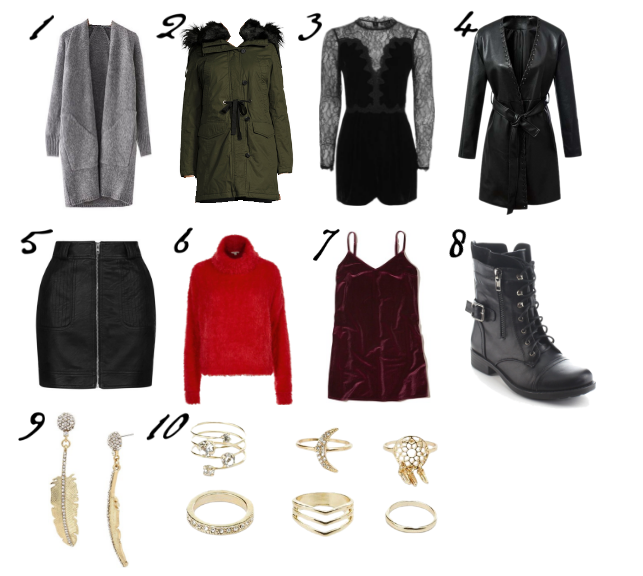 1) Rotita Solid Grey Long Pocket Design Cardigan- £19 ROTITA.com
2) French Connection Outerwear Faux Fur Hooded Parka- £40: GILT.com
3) Lace Velvet Playsuit- £55: TOPSHOP.com
4) PU Faux Leather Tie Trench Coat- £40: WITHCHIC.com
5) Topshop Stitch Detail Faux Leather Skirt- £40 NORDSTROM.com
6) Cowl Neck Fluffy Red Jumper- £36: RIVERISLAND.com
7) Velvet Slip Hollister Design Dress- £15: WITHCHIC.com
8) Refresh Daviccino Lace Up Military Ankle Boots- £20: OVERSTOCK.com
9) Betsey Johnson Crystal Feather Drop Earrings- £25: LORDANDTAYLOR.com
10) Charlotte Russe Rhinestone Stackable Ring Set- £5: CHARLOTTERUSSE.com
To complete the look, grab a pair of fishnet tights and a peachy lip tint and you're ready to go! Hopefully you've gained some inspiration on how to set about re-creating the look if you enjoyed the video's fashion style.
All pieces can be found on their listed sites!
[Sources: Rotita, Gilt, Topshop, With Chic, Nordstrom, River Island, Over Stock, Lord and Taylor, Charlotte Russe]