VIXX recently released an MV for their track 'Milky Way', in which the members don baby pink colours in their wintry jumpers, coats and cardigans. Let's see how we can fit some pink knitwear into our wardrobes this winter!
Check out the MV below:
Historically of course, pink is a much gendered colour. If a baby girl is born, she will likely be gifted at least one pink coloured gift (as a boy is often gifted items in blue). However, it is important to point out that there is NOTHING wrong with a male liking the colour pink, just as a girl can like the colour blue. It might sound obvious, but you do not need to stay away from certain colours just because you feel you 'shouldn't like it' because of your gender or anything else. Thankfully, nowadays, these old-fashioned ideas are beginning to fade away though, and pink items for men a bit are more available now.
Of course, you don't have to jump straight on the pink wagon if you don't usually wear the colour, for example, the suggestions include a reddish coloured jumper and a jumper that features grey as well as pink.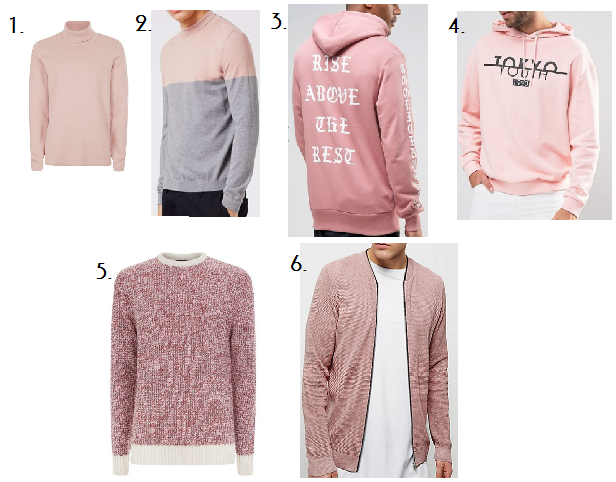 TOPMAN PREMIUM Pink Roll Neck Jumper – Topman: £35
Pink And Grey Colour Block Mini Roll Neck Slim Fit Jumper – Topman: £25
Good For Nothing Hoodie With Sleeve Print – ASOS: £45
ASOS Oversized Hoodie With Print – ASOS: £28
Red Twist Contrast Trim Jumper – New Look: £12.99
Pink Cardigan Bomber Jacket – River Island: £30
Pink can add a real note of interest to your outfit and definitely should not be left simply because it is often associated with a Barbie doll!
You may just not like the colour at all, but hopefully this article has shown ways in which you can introduce it into your everyday looks IF you ever decide to try it out!
[Sources: Topman Website, ASOS Website, New Look Website, River Island Website].