Have you ever wanted to make Jjajangmyeon (짜장면) but you don't have the right noodles? Instead, you can make easy Jjajangbap!
Jjajangbap (bap = rice) is identical to Jjajangmyeon (myeon = noodles), but the noodles can sometimes be difficult or expensive to come by! Rice is much easier to find, and equally as delicious. Below I will show you how we made Jjajangbap, but first, a little bit of history! Jjajangmyeon is actually a Korean Chinese cuisine. It comes from the Chinese dish zhajiangmian (Chinese meaning "deep fried sauce noodles") and was adapted by Chinese restaurants for working class Koreans during the Joseon Dynasty. Later, Koreans made Chunjang (춘장), a sauce made from roasted soybeans and caramel for Jjajangmyeon and started adding onions.
There are many variations of Jjajang dishes, with the meats, vegetables, and accompaniments varying, but here's the easy recipe we (we being my partner, the actual cook, and me being the lazy taste tester and writer) decided to go with!
Here are the ingredients that we had access to:
Pork Loin Chop (1 1/2 cups, diced)
Yellow Onion (1 cup, diced)
Golden Potatoes (1 cup, diced)
Zucchini (Courgettes) (1 cup, diced)
3 Garlic Cloves (minced)
Black Bean Garlic Sauce (1 cup/8 oz)
And of course, about 1 cup of cooked rice. I'm sorry we forgot to take pictures of the rice process! One cup of cooked rice will feed 2-3 people.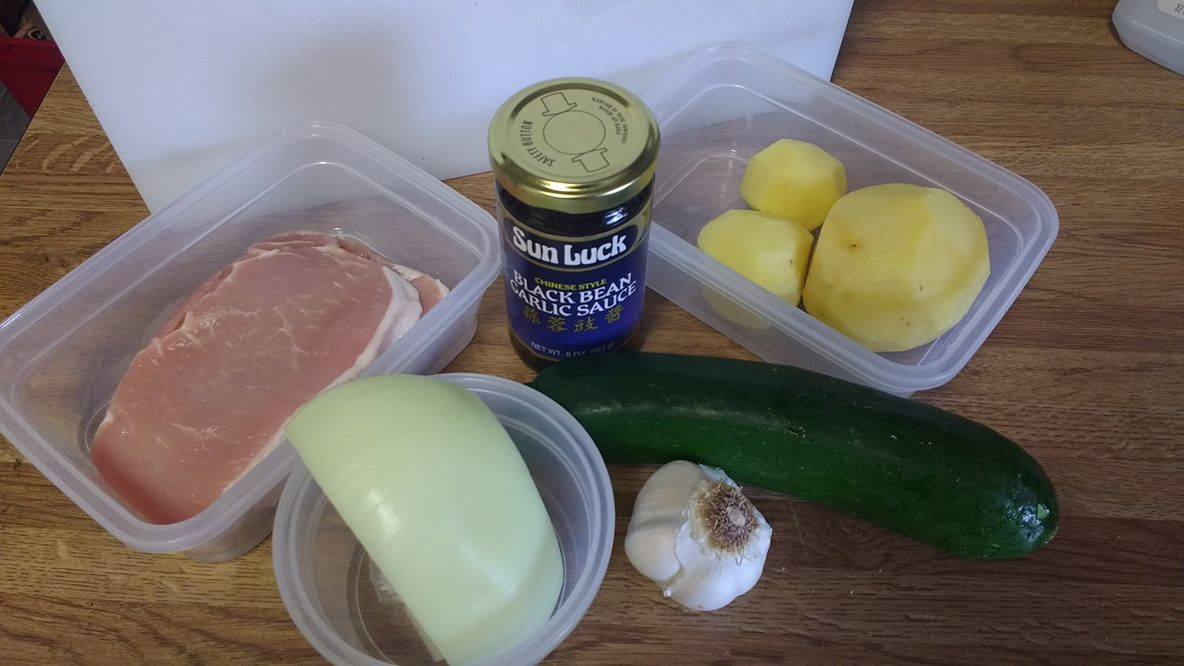 Here's what everything should look like all diced up.
With an addition of two tablespoons of cornstarch (you can also use potato starch.)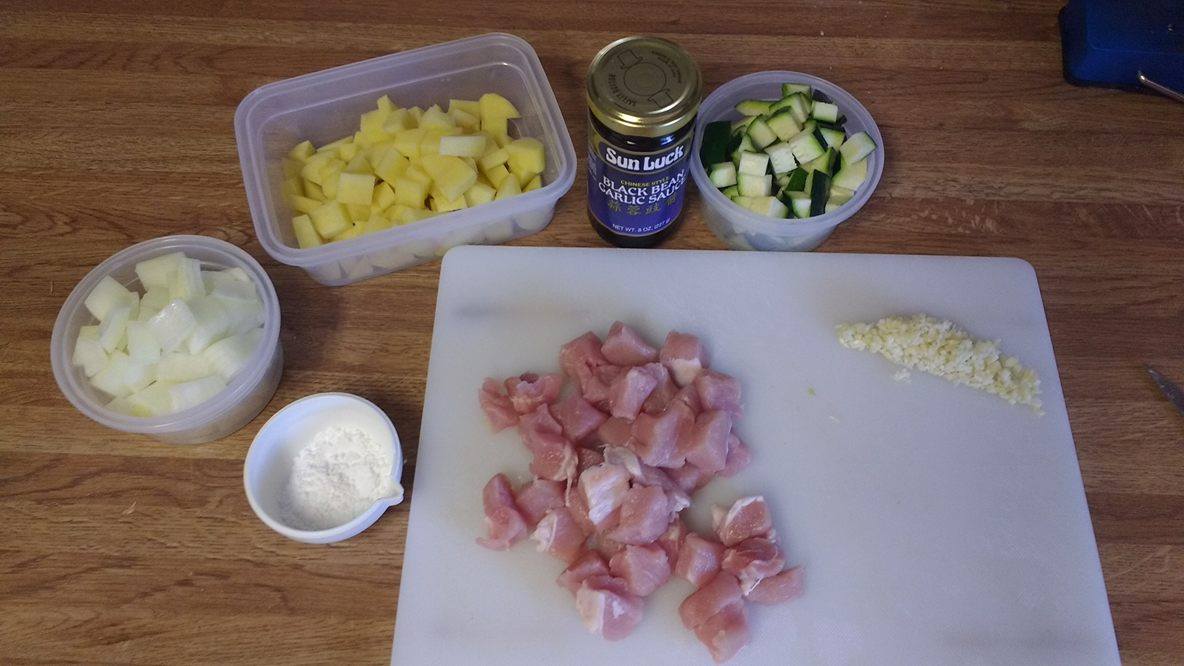 We seasoned the pork with black pepper, salt, paprika and sauteed it together with the garlic until the pork was browned.
Now add your potatoes or other vegetables that take longer to cook.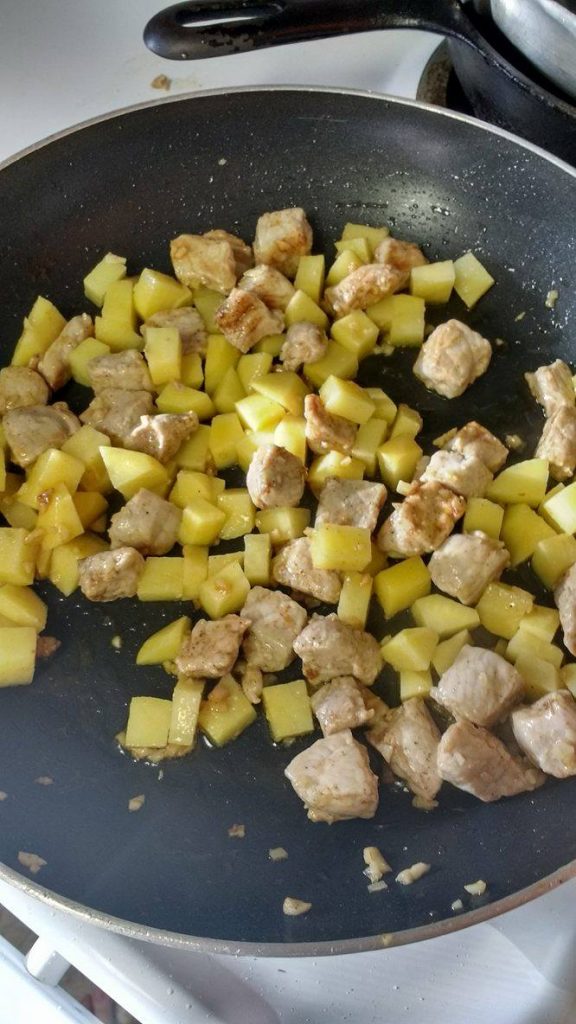 Saute for about two minutes on medium before adding your onion.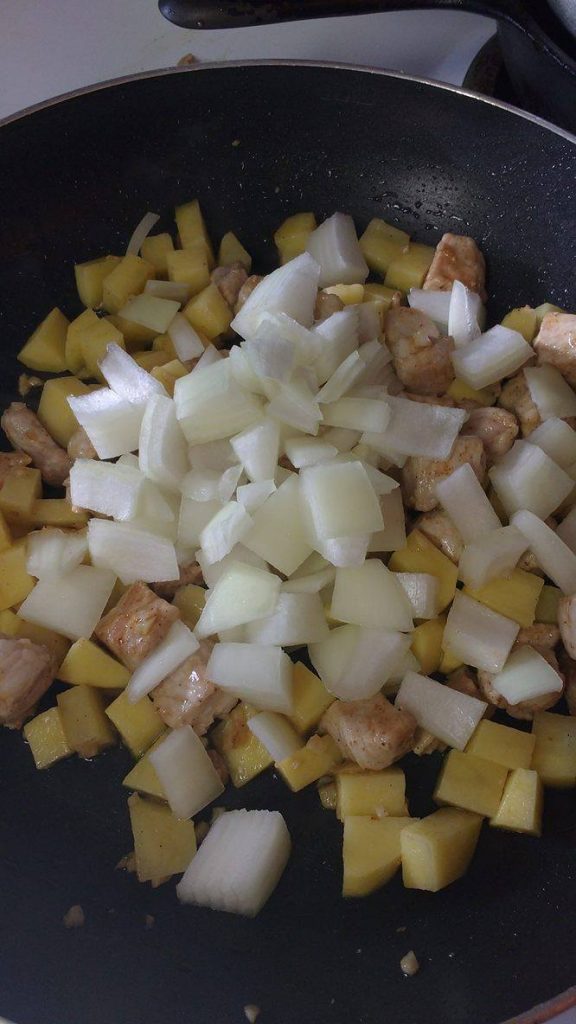 Saute this together for about five to six minutes on medium before adding the zucchini (courgettes.)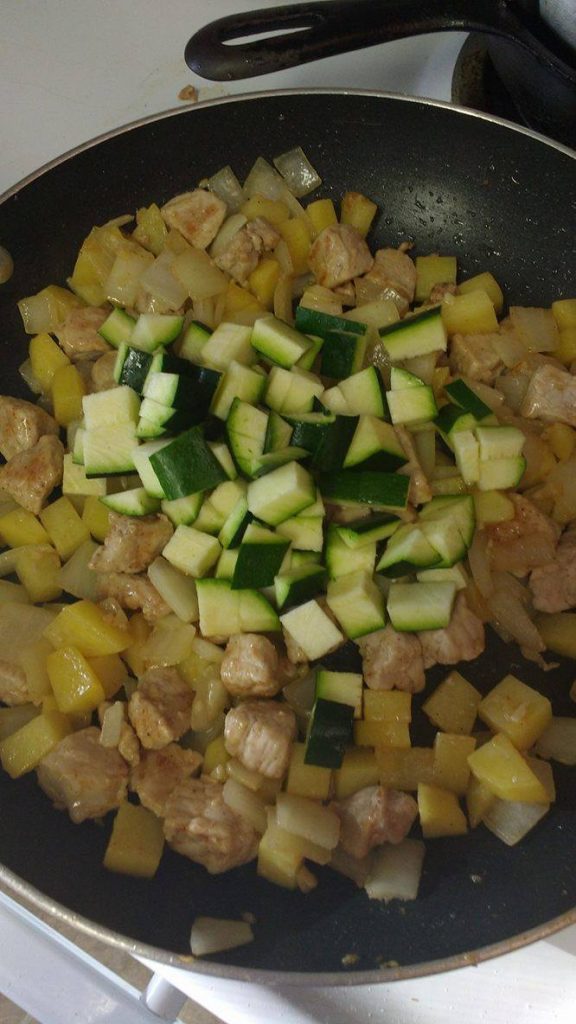 Saute until your vegetables are mostly soft (i.e. can poke through them with a utensil without too much trouble!)
Then you make a circle in the middle of your pan and add in your Chunjang (or similar sauce you have available) with about a teaspoon to tablespoon of oil (we used peanut oil because it's a cleaner taste and has a higher burn rate.) Once everything is added, you fry the sauce and oil together in the middle before mixing it all together.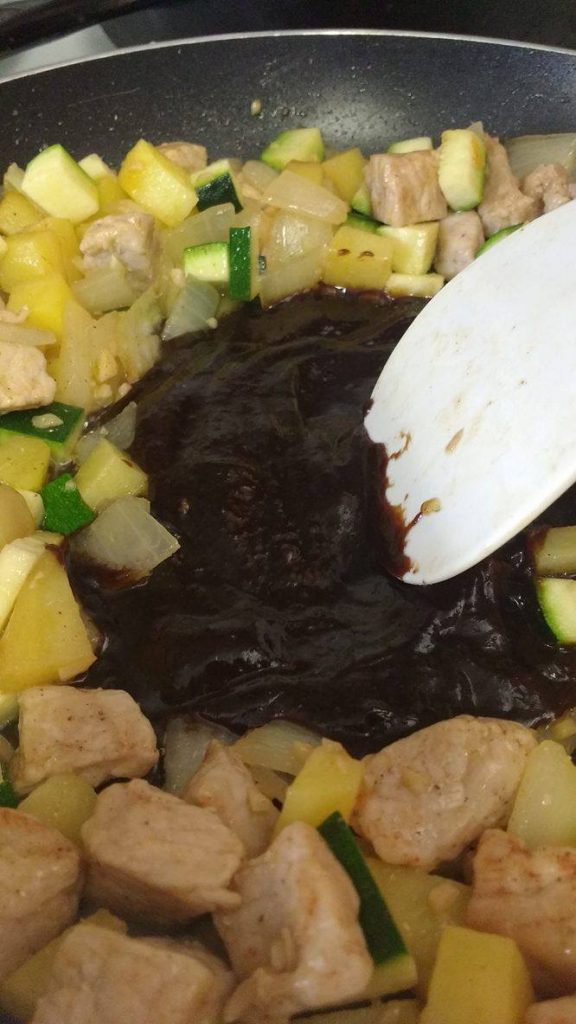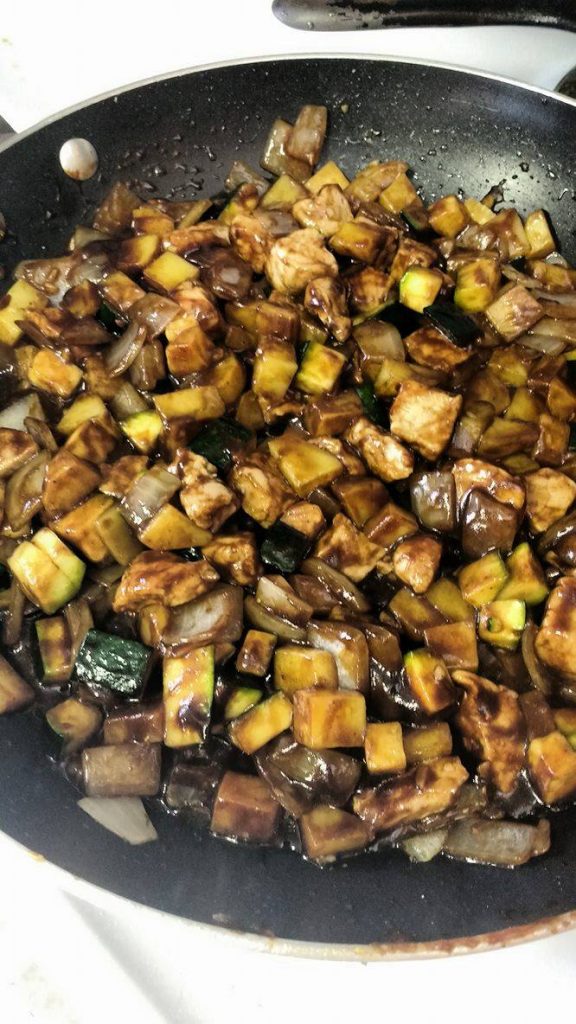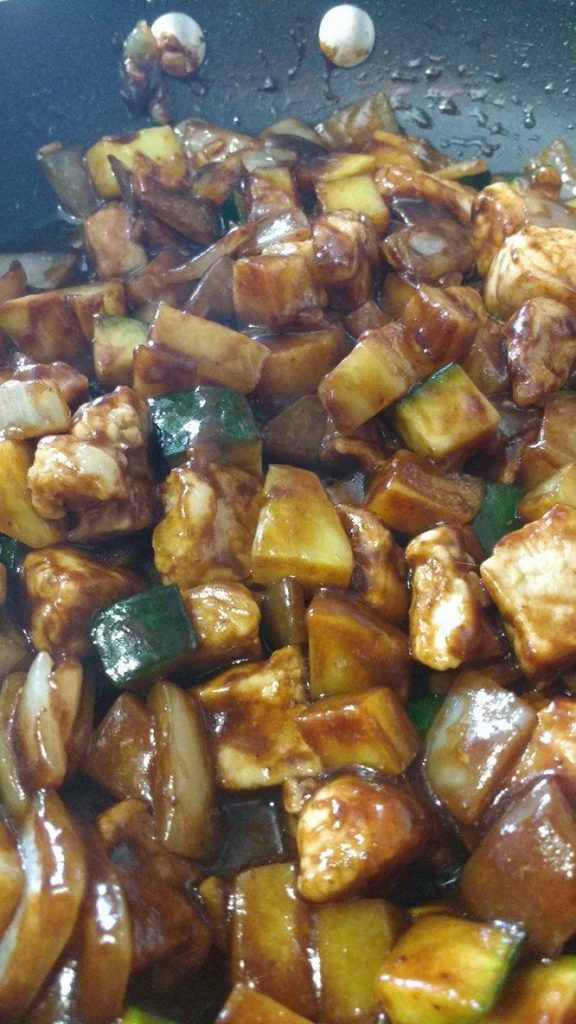 Once all the ingredients are coated, add 2 1/4 cups of water and bring to a boil. You can cover it or let it open boil – it's up to you.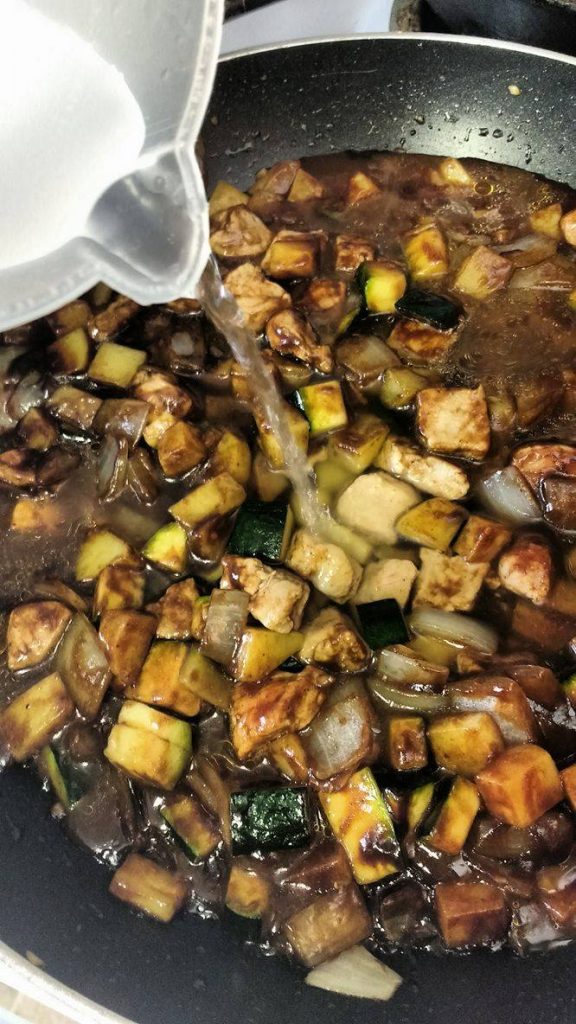 Next you add a cornstarch slurry (which is 2 tablespoons of cornstarch and two tablespoons of cold water mixed separately in a small bowl.) This is a very necessary step because it thickens the sauce as it simmers.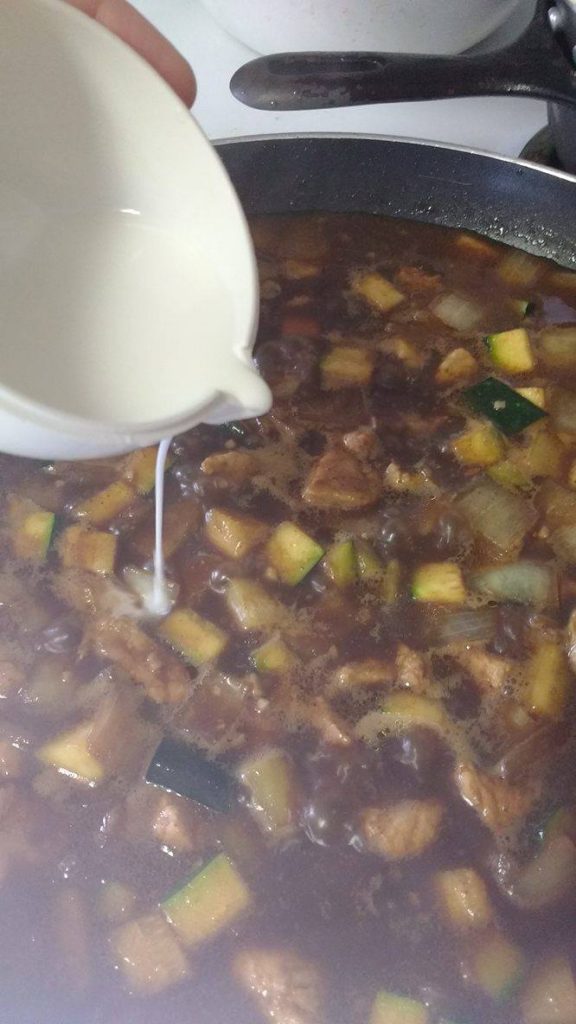 Remember to stir as it thickens so it doesn't burn on the bottom of the pan!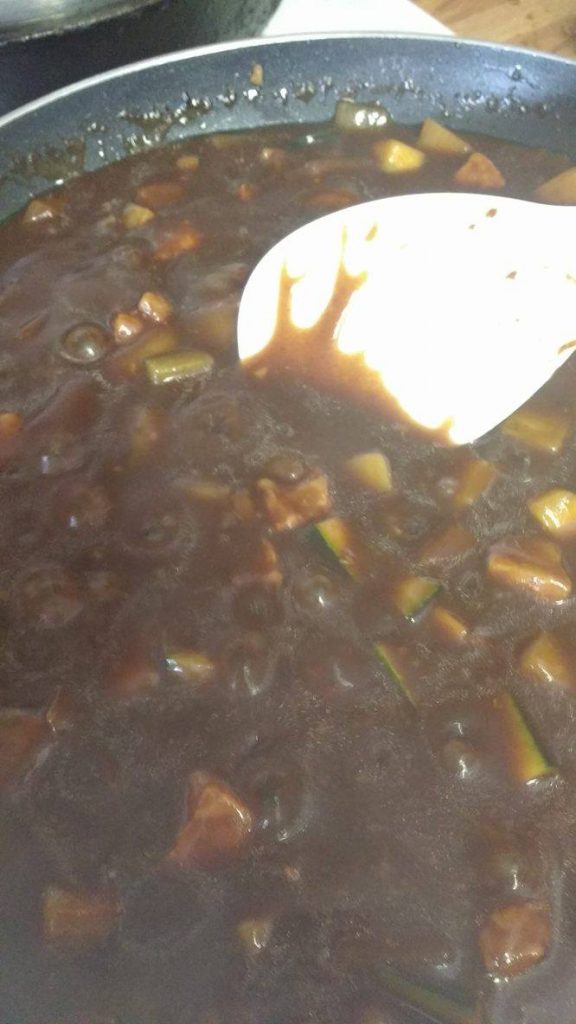 Ta-da! Thick sauce!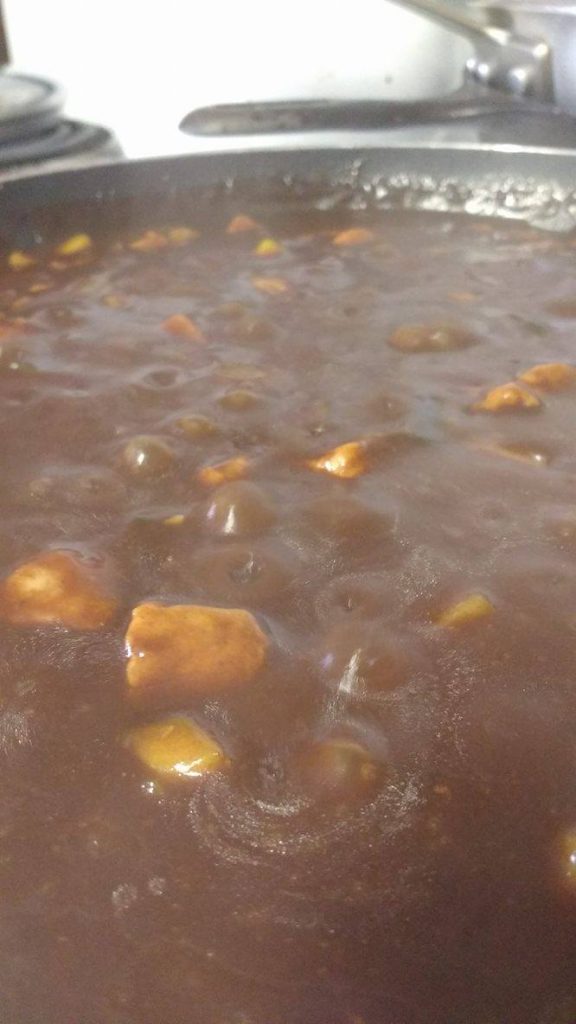 Once your sauce is thickened, you take the pan off the heat and start plating your Jjajangbap! Traditionally you lay out a portion of rice first and cover about half (or however much you'd like) with the Jjajang and garnish as desired! Most Koreans usually use julienned (thinly sliced strips) of cucumber, radish, or chopped onion – some even top it with a fried egg.
Side dishes that accompany it are usually a small plate of Korean pickled radish and another small plate of chopped onion with some of the black bean paste beside it. We didn't use any garnishes due to allergies and limited buying ranges but it turned out really yummy nonetheless!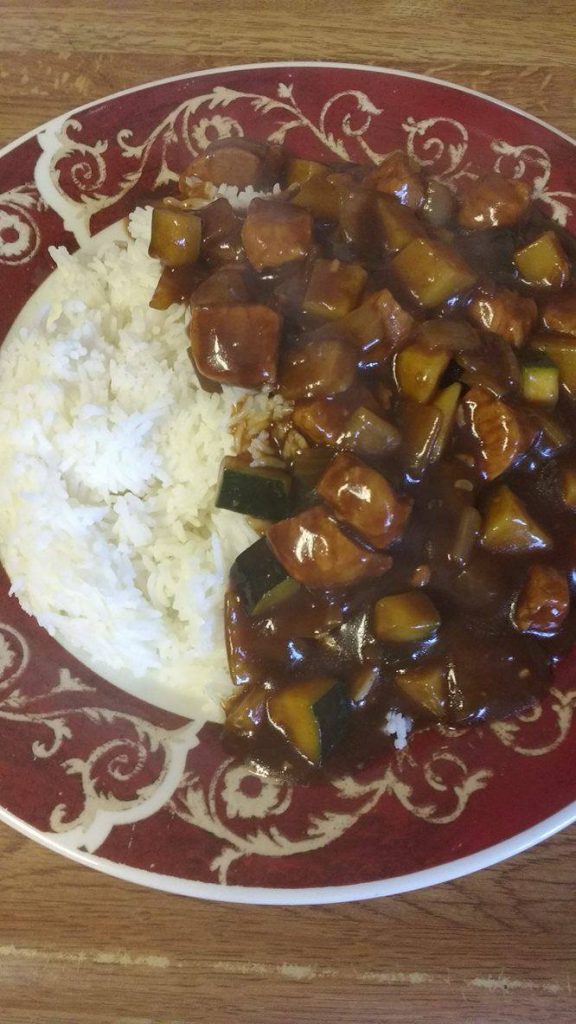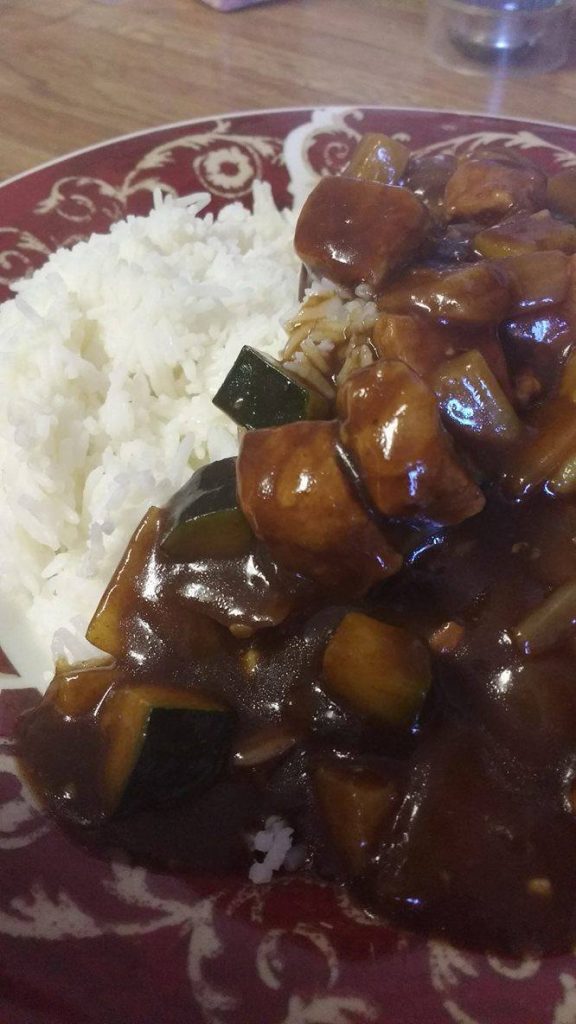 Ours is a little lighter than the usually ink-y black Jjajangbap because our black bean sauce was store bought. Use whatever you want with yours and don't be afraid if it doesn't look perfect; you gotta work with what you've got, right?
I hope this recipe helps some of you try Jjajangbap! We roughly followed Maangchi's recipe for Jjajangmyeon/Jjajangbap. Here's the video!
Did you try the recipe or would like to? 
Maybe you have a different variation you love?
Let us know in the comments!